Home | About us | Support the show | Contact us | Archives | Listen
2018 | 2017 | 2016 | 2015 | 2014 | 2013 | 2012 | 2011 | 2010 | 2009 | 2008
Archives - 2018
The Hoosier History Live archives are now organized by year. See the links above for all 10 years of our show descriptions and resources.
To listen to podcasts of old shows, just click on the link right below the show's headline.
September 29, 2018
World War II vets and their insights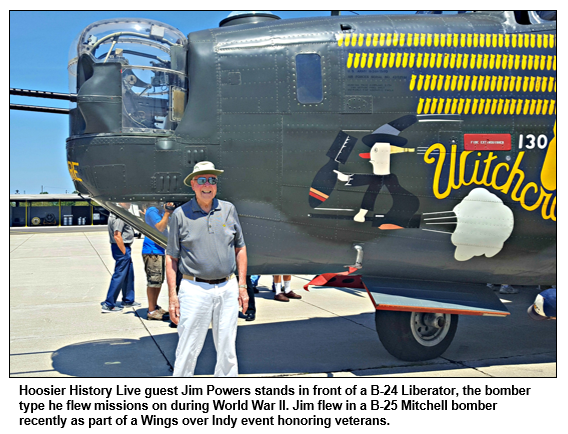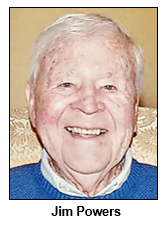 It's become an annual tradition on Hoosier History Live: a show that shares the stories of Hoosiers who served in - or whose lives were altered by -what many historians have described as "the most significant and influential event of the 20th Century."
Almost all veterans of World War II are more than 90 years old now, so first-hand accounts are dwindling of the global conflict in which the roles of Hoosiers ranged from combat pilots and gunners on battleships to nurses and medics.
For this show, Nelson's guests include a 93-year-old South Bend native who went from being a basketball star at South Bend Central High School to an Army Air Force radio operator on a B-24 bomber plane that flew combat missions over Italy. A few months ago, Jim Powers flew in a bomber plane again for the first time in more than 75 years as part of a Wings over Indy program that salutes veterans.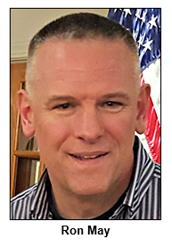 "Every day when we got back [from combat missions], the mechanics patched the holes in our plane from the flak fire," Jim is quoted as saying in a new book, Our Service Our Stories, Vol. 2.
Ron May is the author of the book, which tells the harrowing World War II experiences of 26 veterans who live in Indiana. Ron is a chaplain who serves a retirement community in Zionsville where Jim Powers lives today; he joins him as a studio guest for this show.
Nelson's guests also include the author of another new anthology that features interviews with World War II veterans. Kayleen Reusser, whose third book of veterans' stories is titled We Gave Our Best, is an author based in Bluffton in northeastern Indiana. The new book features the personal narratives of 34 veterans from several branches of the military, including both men and women who served. Kayleen also has accompanied Hoosier veterans on an Honor Flight of Northeast Indiana trip to Washington DC.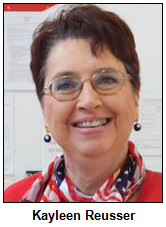 During our show, Jim Powers describes a mission in which his B-24 had to make a crash landing; Jim and other crew members were missing in action for two days.
After the war, Jim Powers became an outstanding high school coach and was inducted into the Indiana Basketball Hall of Fame.
At South Bend Central, he was mentored by a future legend: Coach John Wooden, then near the beginning of his spectacular career. In fact, Jim Powers was among the guests on a Hoosier History Live show in 2014 that explored the life of Coach Wooden. Jim Powers did not talk of his World War II experiences during that interview.
Authors Ron May and Kayleen Reusser also have been guests on previous shows. For those programs - in 2016 and 2015, respectively - they also were accompanied by veterans over age 90.
By the end of World War II, our guest Jim Powers had flown on more than 40 missions, including one of the final bombing missions in the European theater.
Other Hoosier veterans profiled in Ron May's new book include Ray McDonald, a Gary native who enlisted in the Army Air Force in 1945. The next year, he was part of the occupation forces of Japan. His son Robert McDonald, also a native of Gary, served as the U.S. Secretary of Veterans Affairs during the Obama administration.
With her three books and a series of newspaper columns written for The Fort Wayne News-Sentinel, our guest Kayleen Reusser has interviewed a total of more than 250 veterans of World War II. Women veterans featured in Kayleen's books include Fort Wayne resident Lorraine Davis, who joined the Coast Guard. Serving as a cryptographer, she was forbidden to talk about her duties of decoding messages. She has passed away since her interview with Kayleen.

History Mystery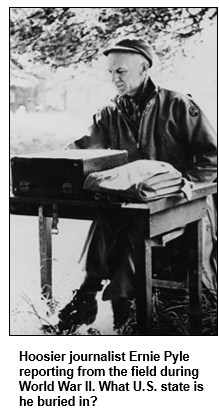 In addition to being an author and a chaplain, our guest Ron May is a history reenactor, portraying Indiana native Ernie Pyle, the World War II journalist widely admired by the American public. Ernie Pyle told the stories of ordinary soldiers, reporting from the front lines and rotating among the various branches of service as he joined U.S. troops fighting in North Africa, Europe and the Pacific.

In April 1945, as the war was winding down, Ernie Pyle was killed by a Japanese machine gunner when his jeep came under fire.

His remains were eventually brought to the United States, but he was not buried in his hometown of Dana in far-western Indiana. Instead, Ernie Pyle's remains were buried in another state.

Question: What is the state where Ernie Pyle was buried?

The call-in number is (317) 788-3314. Please do not call in to the show until you hear Nelson pose the question on the air, and please do not try to win if you have won any other prize on WICR during the last two months. You must be willing to give your first name to our engineer, you must answer the question correctly on the air and you must be willing to give your mailing address to our engineer so we can mail the prize pack to you. The prizes are a Family 4 Pack (four admissions) to the Indiana State Museum, courtesy of the Indiana State Museum, and four admission to GlowGolf, courtesy of GlowGolf.


Roadtrip: Rising Sun and Ohio County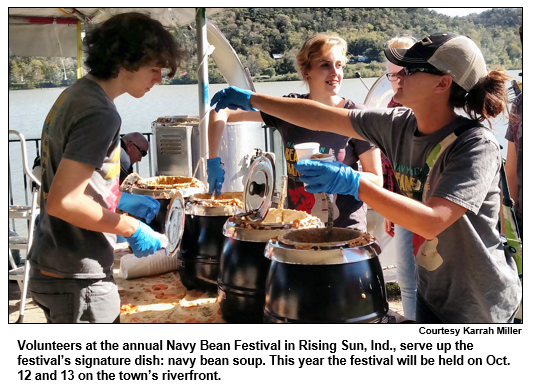 Guest Roadtripper Kendal Miller tells us that Rising Sun, Ind. and surrounding Ohio County in southeastern Indiana can make a great Roadtrip destination for those interested in history.
Situated on the beautiful Ohio River, Rising Sun was founded in 1814 as the county seat and is home to the oldest courthouse in continuous use in the state of Indiana; it was built in 1845.
Those interested in African American history will be curious to learn about recent revelations that Rising Sun was an instrumental part of the Underground Railroad. While the research on specific sites involved has not yet been released, the Ohio County Historical Museum will soon erect a historical marker commemorating this aspect of its past.
And if agricultural history is your thing, nearby Heritage Farms at Willow Creek is home to one of Indiana's top 10 Bicentennial Barns and boasts one of the few working 19th century hay presses in the state.
As you plan your Roadtrip to Rising Sun, think about scheduling it for October 12 and 13, the weekend of the town's annual Navy Bean Festival. You'll enjoy great food (topping the menu is navy bean soup of course), festival rides, live music and a festival parade in which you can pay your respects to this year's reigning Navy Bean Queen.
Epidemics in Indiana history: encore presentation
To listen to this show, click here!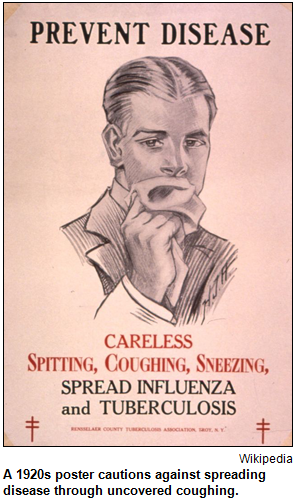 (rebroadcast September 22, 2018) With flu season on the horizon, Hoosier History Live will revisit a show from November 15, 2014, exploring epidemics in Indiana's past.
Did you know that a malaria epidemic swept Indianapolis just as the Hoosier capital was getting under way in the 1820s? Some doctors blamed the epidemic on the swamps and marshland that were on the new city's site, chosen because of its central location.
The impact of that early epidemic, plus others that affected Indiana, are the focus of this encore broadcast featuring two Indianapolis-based medical historians as Nelson's studio guests.
The influenza epidemic of 1918, a cholera epidemic of the mid-1800s, the polio scare that prevailed for most of the first half of the 20th century and the AIDS epidemic that caused panic during the 1980s and '90s are among the crises explored during the show.
Nelson and his guests also explore the devastating impact of tuberculosis during the late 1800s and early 1900s - even though "epidemic" may not be the most accurate term to describe the widespread TB cases. (Tune in to the show for an explanation.)
Our studio guests are:
Dr. William McNiece, president of the Marion County Historical Society. Dr. McNiece is an anesthesiologist at IU Health's Riley Hospital for Children.
Bill Beck, an author and historian who has written dozens of books about business and institutional history, including histories of Indiana hospitals. The founder of Lakeside Writers' Group, he is treasurer of the Marion County Historical Society.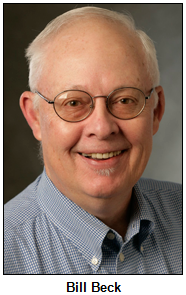 During the show, our guests share insights about the panic over potential epidemics, including a swine flu scare in 1976, when a vaccination program encountered various public relations problems. Fears of an epidemic proved unfounded.
Time-traveling much farther back, outbreaks of cholera during the 1830s, '40s and subsequent decades caused extreme panic in many Indiana communities.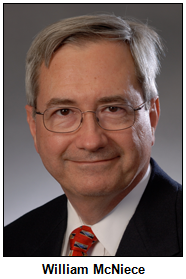 Take the town of Aurora on the Ohio River, which had a population of 2,000 in 1849. Fourteen deaths from cholera were reported in one day, according to a historical account supplied by Dr. McNiece, an associate professor at the IU School of Medicine. During the next three weeks in 1849, 51 other victims died in Aurora. As a result, 1,600 of the 2,000 residents fled the town.
Also in 1849, the town of Madison reacted to outbreaks of cholera by creating a board of health with the power to quarantine residents and to impose fines on people who brought the disease into the city.
On Hoosier History Live, we have explored some epidemics during previous programs. In 2012, Hoosier History Live described various aspects of the polio epidemic, including the involvement of Eli Lilly & Co. in distributing the polio vaccine during the 1950s.
For this show, we broaden the focus and explore that epidemic as well as several others.


History Mystery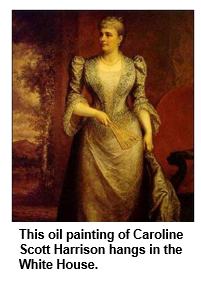 In 1892, the country mourned when First Lady Caroline Scott Harrison died of tuberculosis in the White House.
During her tenure as First Lady, she secured funding for an extensive renovation of the White House and oversaw the work.
One of the highest-profile victims of the disease in the 1890s, Mrs. Harrison is buried at Crown Hill Cemetery in Indianapolis. Her husband, former President Benjamin Harrison, also is buried at Crown Hill.
The couple were survived by two daughters.
A few years after Mrs. Harrison's tragic death, an Indiana chapter of a national organization was founded and named in her honor. To this day, the chapter carries her name. The national organization is one that she helped organize.
Question: What is the organization?


Roadtrip: The many delights of Linden, Ind.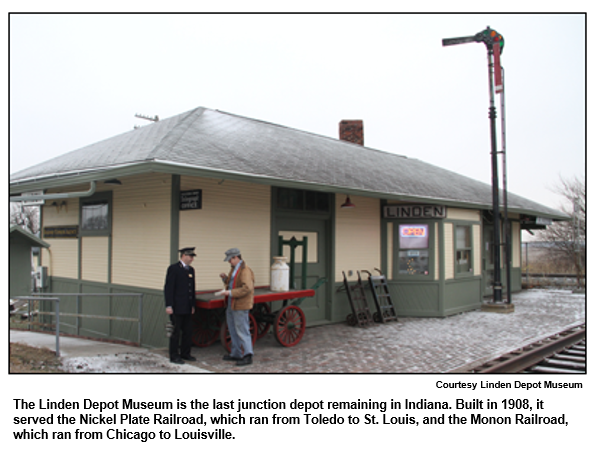 Guest Roadtripper and film historian Eric Grayson tells us, "I'm suggesting a visit to the historic tiny town of Linden, Ind., which is on 231 between Crawfordsville and Lafayette and was platted in 1851."
Eric continues: "Linden has a railroad depot museum, the Linden Depot Museum, which preserves a 1908 depot intact, with interactive history displays, including a telegraph and several model trains. The museum is famous for its Christmas decorations; look for a visit from Santa coming up soon."
Linden also has a Carnegie Public Library still in use; in addition, the town features one of Eric's favorite vintage ice cream stands, the Lindy Freeze. It is one of those independent ice cream places from the 1950s and is famous for its Peanut Butter Mountain sundae.
Lindy Freeze is right next to Linden Park, and if you're very lucky, the railroad won't have cleared the brush in October, when several kinds of butterflies use the park as a staging area on their migration southward.
Early Mexican heritage in Indiana
To listen to this show, click here!
(September 15, 2018) Although current immigration from Mexico has been in the news almost daily of late, how many Hoosiers know about the deep history of Mexican heritage in Indiana that began nearly 100 years ago?
With the start of Hispanic Heritage Month on Sept. 15 - and Mexican Independence Day on Sept. 16 - we spotlight early immigration to Indiana and the roots of the state's population that has Mexican heritage. For a range of reasons, 1919 was a pivotal year for Mexican arrivals in the Hoosier state, according to Nicole Martinez-LeGrand.
Nicole, whose ancestors came from Mexico to the Indiana Harbor area of Lake County as early as 1918, is the coordinator of multicultural collections for the Indiana Historical Society. She has organized Be Heard: Latino Experiences in Indiana, an exhibit of early photos of - and artifacts associated with - Indiana's early Latino population, including a doll that belonged to her Mexican ancestors.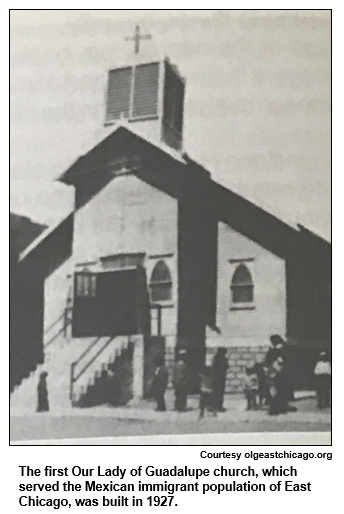 In addition to Nicole, Nelson's guests include Miriam Acevedo Davis, president and CEO of LaPlaza Inc., a non-profit that helps the Latino community in central Indiana with a range of services, including connecting Hispanics to educational and medical services. Because LaPlaza serves residents from more than 20 countries in Latin America - and because the Indiana History Center exhibit also features items associated with various Hispanic homelands - we periodically broaden our exploration during the show beyond early Mexican heritage.
But that will be the primary focus. According to Nicole, a massive strike in the U.S. steel industry in 1919 - as well as the Mexican Revolution that extended from 1910 to 1920 - were among the factors that led to waves of Mexican immigration to northwest Indiana. Many settled in East Chicago and other communities in Lake County. Like Nicole's ancestors, they took jobs in the steel mills alongside waves of Eastern European immigrants.
Mexican immigrants helped raise funds for Our Lady of Guadalupe Church in East Chicago; in 1927, it opened as the first Latino Catholic Church in Indiana, according to Nicole's research. A ledger kept by Nicole's great-grandmother, who raised funds for construction of the church, and the family's storyline is featured in the Be Heard exhibit.
Other factors affecting the impact of early Mexican heritage in Indiana involved restrictions on Eastern European immigration to the U.S. after World War I. Enacted during the mid-1920s, those restrictions resulted in an increase in the percentages of Mexican immigrants. We explored the restrictions on Eastern Europeans in the 1920s during a radio show on July 7 about Ellis Island, immigration and Indiana (click here for the podcast).
During the mid-1920s, the parents of Irene Osorio immigrated from Mexico to Indiana Harbor. Irene, who lives in Crown Point today, is a call-in guest during the show.
Her parents, whose families had owned a hacienda in Mexico that was affected by the revolution, opened a printing shop that published Indiana's first Spanish-language newspaper. It provided updates about post-revolutionary Mexico and offered information to help readers adjust to their new homeland.
Although the initial newspaper stopped publishing during the 1930s, family members eventually founded The Latin Times, a newspaper that served the Latino community in northwest Indiana until the early 1980s, when it ceased publication.
By then, many Mexican families had been living in Indiana for multiple generations. During the steel strike of 1919, East Chicago-based Inland Steel actively recruited large numbers of Mexicans and other Latinos to the area. Initially, many were "unaccompanied young men known as solos," according to the Be Heard exhibit. Once the strike ended, wives and other family members often joined the young men in northwest Indiana.
In addition to working in the steel mills, the exhibit notes, "Latinos also developed their own small businesses, including a print shop, bakery, restaurants and grocery stores."
History Mystery
An international consulate in the United States is similar to a branch office of the foreign country's government. In 2002, the Mexican Consulate made Indianapolis history by becoming the first international consulate in the Hoosier capital.
The Mexican Consulate originally opened in a landmark building that's listed on the National Register of Historic Places. Before the consulate opened in the massive, historic structure in downtown Indy, Mexican citizens and immigrants living in Indiana who needed documents such as birth and death certificates had to travel to a consulate in Chicago.
After being housed for several years in the landmark structure - which was built in the 1880s - the Mexican Consulate moved to a self-standing building on the southeast edge of downtown Indy.
Question: What landmark building was the initial home of the Mexican Consulate in Indianapolis?
The prizes are a gift certificate to Story Inn in Brown County, courtesy of Story Inn, and two admissions to the Indiana History Center, courtesy of the Indiana Historical Society.
Roadtrip: Beasley's Orchard - a hayride to the pumpkin patch, and more!
Guest Roadtripper and history enthusiast Jake Oakman says that with the nip of autumn in the air, it's a great time to head out to Beasley's Orchard near Danville in Hendricks County. Beasley's is open year round and is only a short drive from Indianapolis. It has great u-pick apple tree orchards and pumpkin patches, delicious apple cider and a Barn Market.
If the prospect of picking apples and sipping cider isn't enough to lure the kids away from their videogames, consider this Beasley's entertainment option: apple cannons! Visitors can launch apples from air-compressed cannons, shooting at targets or just letting them rip! Even adults are sure to find fruit-based artillery fire to be a real blast!
Jake points out that Beasley's Orchard is probably most famous for its Corn Maze; the intricate designs can only be seen from thousands of feet in the air, but the real fun lies in finding your way out of the eight-acre labyrinth of maise.
"It all adds up to a perfect destination for spending a day with friends and family," says Jake.


Talking French (influence) with Richard Day and Bob Dora
Early French influence in the territory that became Indiana
Click here to listen to the podcast.
(September 8, 2018) Indiana's French heritage isn't always as obvious as that of ethnic groups such as the Germans and Irish, who arrived in the Midwest in far larger numbers during the peak years of European immigration into Indiana in the the mid 1800s.
Few if any areas of Indiana have a concentrated population that can boast of French ancestry, and French cultural centers akin to the Germanic Atheneum are few in number. Alas, aside from the annual French Market festival in Indianapolis, it can even be hard to find authentic French cuisine in the Hoosier capital.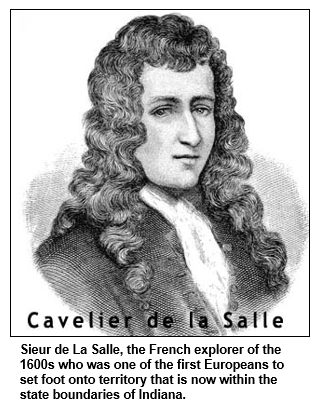 And yet, the place names give it away. From Lafayette to LaPorte, Vincennes to Versailles, DeMotte to DuBois County, Indiana's rich trove of Francophonic toponyms reveals a past that is intimately tied to early French exploration and colonization of the New World.
In fact, the French were the first Europeans to explore and settle in what would become Indiana, and their complex relationship with the Native American tribes - as well as their later rivalry with the British - set the course for historic developments that resound unto this day.
To take a look into the legacy of French explorers, fur traders, and missionaries in Indiana, Hoosier History Live associate producer and guest host Mick Armbruster delves into questions about the early French presence in Indiana. What brought the French to the region before any other Europeans? How did they interact with the Native American tribes who were already living here? How did the French mediate conflicts between those tribes, and later come into conflict themselves with westward-expanding British colonists?
And what is the legacy of the early French explorers, fur traders and missionaries today, given that so few of their descendents remain in the state?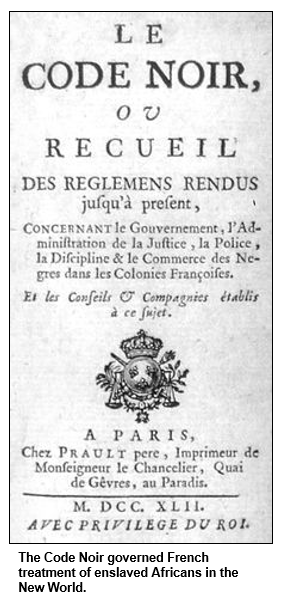 To look into these questions and more, Mick welcomes retired historian Richard Day, who worked for the Indiana State Museum at their Vincennes historic sites. Richard has authored several books on the history of Vincennes and is widely regarded as an expert in the field.
And even if you remember covering this territory in your fourth grade Indiana History class, Richard may have some surprises for you. For example, he talks about the Code Noir that governed the French treatment of enslaved Africans in the New World. He also expounds upon the role played by the Jesuit missionaries in the French colonial settlements.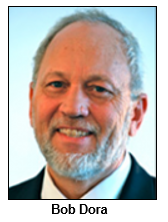 In addition, Mick and Richard are joined via call-in by Bob Dora, former board member of the Society of Indiana Pioneers and a specialist in the history of early French influences in Indiana. Bob's interest in the subject comes naturally: he can trace his Indana ancestry back to a member of the party of Sieur de La Salle, the French explorer of the 1600s who was one of the first Europeans to set foot onto territory that is now within the state boundaries of Indiana.
Bob grew up knowing almost nothing about his family history until he started looking into his genealogy as an adult. Among his surprising discoveries: he had ancestors who had participated in the American Revolution and had been granted land for their service in the fight for Independence.
Researching his family history has been "like an onion," Bob says. "You peel back a layer and find something extraordinary in the next layer."
History Mystery
Among the earliest representatives of French culture in North America were Jesuit missionaries, who sought to bring the teachings of the Catholic Church to the Native Americans.
The subject of this week's History Mystery is a Jesuit missionary who arrived in New France (what we now call Canada) in 1625. He spent most of the rest of his life among the Huron Indians, studying their language, culture and religion and attempting to convert them to Christianity. He was killed in 1649 when a band of Iroquois attacked the Huron mission where he was staying.
Although the Jesuit missionary in question never appears to have set foot in what is now the Hoosier state, he does have an Indiana connection: A Jesuit Preparatory high school in Indianapolis that opened in 1962 carries his name.
Question: Who is the 17th century French missionary for whom a Jesuit high school in Indianapolis is named?
The call-in number is (317) 788-3314. Please do not call in to the show until you hear Mick pose the question on the air, and please do not try to win if you have won any other prize on WICR during the last two months. You must be willing to give your first name to our engineer, you must answer the question correctly on the air and you must be willing to give your mailing address to our engineer so we can mail the prize pack to you. The prize is 4 passes to the Indiana History Center, courtesy of the Indiana Historical Society, as well as a copy of the book The American Vine-Dresser's Guide: A Treatise on the Cultivation of the Vine, and the Process of Wine Making Adapted to the Soil and Climate of the United States. The book was originally published in 1826 and written by John James DeFour, who established the first commercially successful vineyard in America in Switzerland County, Indiana, in 1798. Courtesy of the Switzerland County Historical Museum.
Roadtrip: French-Swiss history in Switzerland County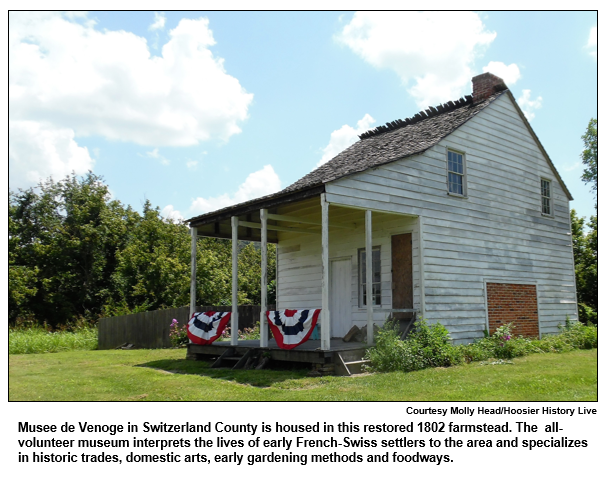 Guest Roadtripper Martha Bladen, Director of the Switzerland County Historical Museum, invites us to come visit two houses in southeastern Indiana that reflect French/Swiss influence. Settlers to the area began arriving in the early 1800s from the Lake Geneva area of Switzerland and spoke French.
The Thiebaud Farmstead sits on 165 acres originally settled by Frederick and Harriet Thiebaud in 1817. It overlooks the Ohio River and has been restored by the Switzerland County Historical Society. Visitors can learn about many aspects of Indiana's agricultural history; exhibits include the restored haypress barn, smokehouse and granary.
The second home reflecting French heritage is the tiny Musee de Venoge, which has been restored on the 30 acre tract of the Louis Gex-Oboussier farmstead that was a portion of the original 1802 French-Swiss settlement. To learn more about the Venoge farm, check out their newsletter, La Gazette Helvetique, published twice yearly (in English, not French!), which chronicles the museum's work.
And don't miss the Rural Heritage Tour of both of these homes on October 6 and 7, where you can experience hearth cooking, heirloom gardens, period music, historic trades and a haypress demonstration at the Thiebaud Farmstead. Martha tells us that the cost of the tour is only $2.00!


"County homes" show hits a home run!
County homes, once known as "poor asylums"
To listen to this show, click here!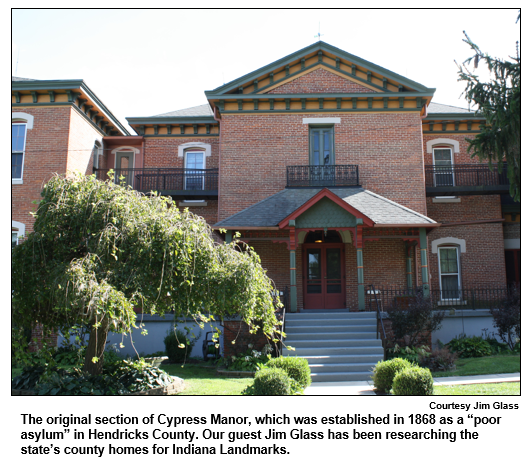 (September 1, 2018 ) In 1816, the first Indiana Constitution required counties "to provide one or more farms to be an asylum for those persons who by reason of age, infirmity or other misfortunes may have a claim upon the beneficence of society."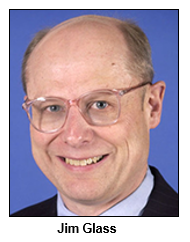 By the 1850s, "poor asylums" (as they were called then) had been opened in all 92 counties. According to Indianapolis-based historic preservationist Jim Glass, most of these residences - which later came to be known as county homes - had an adjacent farm. The houses were adapted to shelter the indigent and elderly; sometimes orphans and people with mental illnesses stayed in them as well.
Most of the county homes closed after the creation of Social Security during the 1930s. But ten continue to operate across Indiana to this day.
Among them is the Hendricks County Home, known as Cypress Manor, a 31-bed residential care facility in Danville. Its administrator, James McBryant, joins Jim Glass, principal of Historic Preservation & Heritage Consulting, as Nelson's studio guests to explore the heritage of county homes. Jim Glass has been researching various aspects of the homes, including their widely varying architectural styles, for Indiana Landmarks, the historic preservation advocacy organization.
According to Jim, the farms adjacent to many of the county homes during the 19th century (and, in some cases, well into the 20th century) were intended to produce food and work opportunities for residents of the homes.
"The farms ranged in size from less than 50 acres up to 350 acres and, in the early 20th century, many thrived," Jim says. Excess vegetables and fruit sometimes were sold to defray operating costs, he adds.
The Hendricks County Home and others that continue to operate do so under the belief that poverty relief is best handled by local government, our guest James McBryant says. Current residency in Cypress Manor, he adds, is restricted to people who are indigent and do not qualify for services in other facilities.
In addition to Hendricks County, counties in Indiana with homes that continue to operate include Carroll and Clinton counties. Elsewhere, including in Knox and Randolph counties, the residences have been closed, but the structures of the former homes still stand. Indiana Landmarks initiated the current research effort with the intent of getting several of these properties listed on the National Register of Historic Places.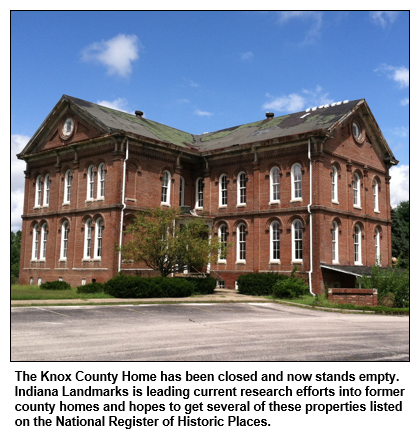 Architectural styles of the county homes range from Federal, Italianate and Queen Anne to Georgian and a modern/international style, Jim Glass reports.
"By the late 19th century, most homes included a front portion designed as a comfortable residence for the superintendent and his family," Jim adds. "The residents of the asylum/county home lived in wings to the rear . . . with men and women living in separate wings or corridors."
After World War II, the farmland adjacent to most county homes was sold. According to Jim, the focus "shifted to care for mostly elderly residents and less on providing a venue for work."
In Hendricks County, construction began in 1868 of Cypress Manor, which replaced earlier structures used as the county home. The farm adjacent to Cypress Manor once was hundreds of acres in size; today, the 3-acre property includes the lawn, flower gardens and a small vegetable garden, according to James McBryant.
All residents of Cypress Manor must be capable of feeding and bathing themselves, he adds. "Residents also are responsible for maintaining their sleeping rooms and doing their laundry."
Our guest James McBryant has been the administrator of Cypress Manor for 15 years. During his tenure, he has been an advocate for preserving county homes as a service to local communities.
Jim Glass, the former director of Indiana Department of Natural Resources' division of historic preservation, has been a guest on several Hoosier History Live shows. They have included a program in 2014 about the Natural Gas Boom of the 1880s and '90s.
History Mystery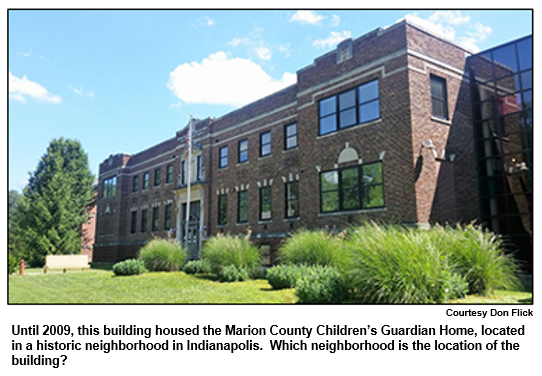 It wasn't a county home. Nor was the Marion County Children's Guardian Home an orphanage, contrary to public perceptions. Instead, the Guardian Home - housed in a massive structure built in 1918 in a historic neighborhood in Indianapolis - was a shelter for children who were neglected, abused or abandoned. In 2009, after more than 100 years of housing children ranging from preschoolers to teenagers, the Marion County Children's Guardian Home located in the historic neighborhood closed.
But the massive structure still stands. Today, it houses a charter school primarily attended by students who live in the historic neighborhood that surrounds the building.
Question: What is the historic neighborhood?
The call-in number is (317) 788-3314. Please do not call in to the show until you hear Nelson pose the question on the air, and please do not try to win if you have won any other prize on WICR during the last two months. You must be willing to give your first name to our engineer, you must answer the question correctly on the air and you must be willing to give your mailing address to our engineer so we can mail the prize pack to you. The prizes are is a gift certificate to Story Inn in Brown County, courtesy of Story Inn, and two admissions to the Indiana History Center, courtesy of the Indiana Historical Society.

Roadtrip: Old Medora Brick Plant in Jackson County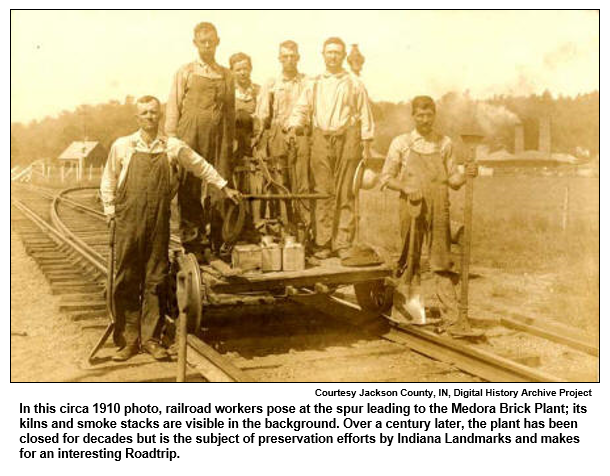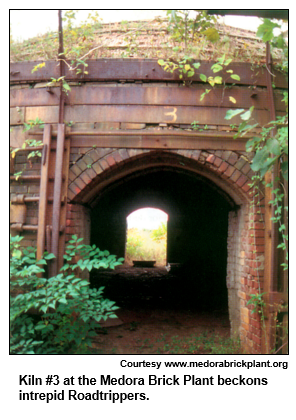 Guest Roadtripper Ken Marshall, an educator and Indiana backroads "bon vivant," invites us to learn about a defunct brick factory near the small, historic town of Medora in Jackson County. Around the turn of the last century, Indiana had about 55 brick factories, and a brick's origin was always proudly imprinted on it. As Ken explains, Medora Brick was one of the most highly regarded because the area's abundant clay produced a consistent brick color.
The Medora Shale Brick Company was founded in 1904. The nearby Baltimore and Ohio Railroad carried the finished Medora brick throughout the Midwest. At its peak, the Medora Shale Brick Company employed a 50 person workforce and produced 54,000 handmade bricks a day from its twelve domed kilns.
You can see Medora brick on the campuses of Ball State University, the University of Louisville, and the University of Kentucky.
In 2004, Indiana Landmarks put the plant on its Ten Most Endangered Landmarks list, and today the plant is owned by Medora Brick Plant and Historical Sites, Inc.
And if you're a fan of covered bridges, Ken also tells us that Medora Covered Bridge is nearby and has been fully restored! Learn more on Saturday!
Ask Nelson - and Keep Indianapolis Beautiful, too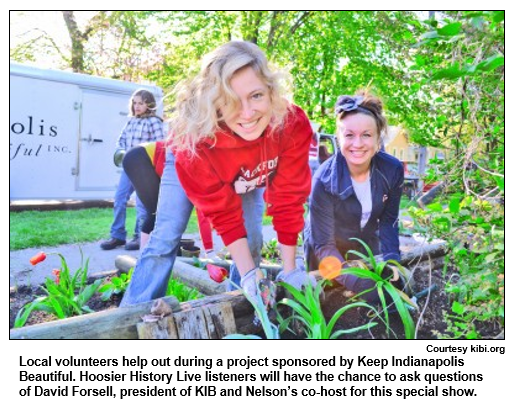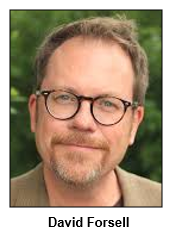 (August 25, 2018) It's time for one of our periodic, all call-in shows during which Hoosier History Live opens the phone lines so listeners can inquire about any aspect of our state's heritage.
Our host, Nelson Price, is joined by a co-host, civic leader David Forsell, president of Keep Indianapolis Beautiful Inc., the non-profit that's probably best known for partnering with neighborhoods and planting native trees throughout the Hoosier capital.
So this also is be an opportunity for listeners to call in with questions for David. The WICR-FM studio number is (317) 788-3314.
Between phone calls, Nelson and David interview each other. Nelson asks David about:
The Crossroads of America motto for Indianapolis that took on a high profile during the 1960s with the construction of the interstate system. In a recent letter to the editor of the Indianapolis Business Journal David Forsell wrote that the design of - and focus on - the interstates "had negative, transformative impacts on city neighborhoods." The issue is timely amid the controversy over plans by the Indiana Department of Transportation to expand and renovate the I-65/I-70 split downtown.
And the assessment by some critics that litter has become worse in Indy than in other major metro areas. Columns and letters in the Indianapolis Star and the IBJ recently - including some from out-of-state visitors and former residents - have described increasing amounts of debris that detract from the city's rejuvenation.
David Forsell was a studio guest on our show in 2011 about the tree heritage in Indy, including a look at the city's oldest trees and the evolution of the tree canopy.
Also during this show: Because football season already has kicked off, Nelson shares insights about two iconic gridiron figures who are featured in his book Indiana Legends: Famous Hoosiers from Johnny Appleseed to David Letterman:
To this day, Tom Harmon, who grew up in Gary, Ind., remains the only native Hoosier to have won the Heisman Trophy as the nation's outstanding college football player. Harmon (1918-1990) had an adventure-packed life. As a pilot during World War II, he survived two near-fatal plane crashes; after the war, he became one of the pioneer sportscasters in the early years of TV. Even so, he may be best remembered now as the father of TV and movie actor Mark Harmon.
And Ara Parseghian, the former University of Notre Dame coach who died last August at age 94. Parseghian devoted his retirement years to crusading for a cure for Neimann-Pick Disorder Type C, a rare, inherited disease that was fatal for several of his grandchildren.
During the show, we also describe the history of Ellenberger Park, the hilly, sprawling park near Irvington on the eastside of Indy. Earlier this summer, we explored the histories of Eagle Creek Park, Broad Ripple Park and other city parks, but did not have an opportunity to spotlight Ellenberger, which has been a gathering place for Irvington residents for more than 105 years.
Also during the show, David Forsell describes KIB's recent work in city parks and with historic neighborhoods.
In some of those neighborhoods - including Ransom Place, the first African-American neighborhood in Indianapolis, and Springdale on the near-eastside - KIB has been installing informational plaques called interpretive panels about the heritage of the communities.
The project is a partnership between the Indiana Historical Society and KIB. In Springdale, KIB's interpretive panels describe the history of a neighborhood landmark, a towering oak tree (often called the "Temple Oak") that's thought to be more than 300 years old. The tree is located next to Temple Avenue just south of Brookside Parkway.
In other neighborhoods, including Fountain Square and Windsor Park, KIB has been installing public artwork that David will discuss between phone calls from listeners.
David has been president of KIB since 2003. He describes the organization's history with a succession of city mayors (even pre-dating David's involvement), beginning with the late Mayor William Hudnut, whose four terms in office ended in 1992.
David is one half of a prominent local couple. His wife, Shannon Forsell, is CEO and artistic director of The Cabaret and an accomplished singer.
History Mystery
Keep Indianapolis Beautiful has been a partner in projects with a historic building in downtown Indianapolis. The distinctive building, which was designated a National Historic Landmark in 2016, houses the oldest restaurant in the city and a YMCA, among other entities. KIB has partnered with the building on the sensitive use of nearby greenspace and other projects.

Question: What is the building?

Hint: It is not the City Market.

The call-in number is (317) 788-3314. Please do not call in to the show until you hear Nelson pose the question on the air, and please do not try to win if you have won any other prize on WICR during the last two months. You must be willing to give your first name to our engineer, you must answer the question correctly on the air and you must be willing to give your mailing address to our engineer so we can mail the prize pack to you. Prizes are a Family 4-Pack admission pass to the Indiana State Museum, courtesy of the Indiana State Museum, and two admission passes to GlowGolf, courtesy of GlowGolf.

Roadtrip: Holcomb Gardens

Guest Roadtripper Gary BraVard suggests a visit to Holcomb Gardens in the Midtown area of Indianapolis on the campus of Butler University.
Holcomb Gardens offers a bit of everything for those seeking respite from the hubbub of the city. Just west of the garden you'll find the Central Canal Towpath, which provides a lovely place to take a stroll in nature. If you're feeling ambitious, you can take the towpath south to Newfields, the campus of the Indianapolis Museum of Art, or north to Illinois and 56th Street, where you can grab a cup of coffee or poke around neighborhood boutiques.
Immediately south of Holcomb Gardens you'll find a lovely pond, and just up the hill from there is the Holcomb Memorial Carillon that plays "Back Home Again in Indiana" on the hour. With a little hunting, you can even find a delightful statue of the Persephone, queen of the underworld in Greek mythology.
Although Holcomb Gardens are beautiful any time of year, Gary says he especially enjoys visiting in April, when two rows of very old lilac bushes dubbed "Lilac Lane" offer magnificent fragrance for just a few days.
To get there from central Indianapolis, take 49th Street west until you are on the Butler campus and then turn north on Garden Road. The Holcomb Observatory will be on your right. Continue down the hill on Garden Road until you come to the parking circle. Parking and admissions are free and open to the public from dawn to dusk.
Making a splash about Fort Wayne's riverfront
Weir Cook and Paul Baer: WWI aviators and former aiport namesakes
Both were pioneer aviators and heroic World War I fighter pilots from Indiana, and both were killed while flying aircraft overseas.
And Weir Cook and Paul Baer once were the namesakes of the airports in the two largest cities in their home state. Today, although those airports are officially called Indianapolis International Airport and Fort Wayne International Airport, the terminal buildings at each still carry the name of these two great airmen.
To explore the lives of the aviators who earned national acclaim for their valor during what once was known as the Great War, Nelson is joined in studio by:
William Bell, an Indianapolis-based writer and retired law enforcement officer who has researched Hancock County native Weir Cook (1892-1943), who was awarded the Distinguished Service Cross in World War I. Cook also was hailed as a hero during World War II even though he was well into his 40s when he returned to the Army Air Corp and flew combat missions over the Pacific.
And Tony Garel-Frantzen of Buffalo Grove, Ill., the author of Hoosier Aviator Paul Baer: America's First Combat Ace (The History Press, 2017). In his biography of Baer (1894-1930), Tony contends the Fort Wayne native became the first American to shoot down an enemy plane in combat and the first to earn the title of "combat ace." Tony writes that Baer's historic achievements often have been overlooked because he flew for a French squadron prior to the United States' entry into World War I.
The designation of "combat ace," which both Cook and Baer achieved, is given to pilots who accomplish five aerial victories during warfare.
After World War I, Cook helped develop the first municipal airport in Indianapolis, which opened in 1931; he also became its first manager. Following Cook's reenlistment during World War II, he commanded air bases on islands in the Pacific.
After Cook was killed while flying a combat mission, the Indianapolis airport at Indianapolis was named Weir Cook Airport. In 1976, its name was changed to Indianapolis International Airport, outraging many veterans groups. When the city's newly constructed airport opened at its current site in 2008, the mid-field terminal and the roadway leading to it were named in Cook's honor.
In Fort Wayne, Baer had grown up as a shy but adventure-seeking youth, according to Hoosier Aviator. After France declared war on Germany in 1914, Baer was among a few American volunteers who signed up to fight on the side of the French; America did not declare war until 1917. As a combat pilot, Baer flew missions for both France and the United States.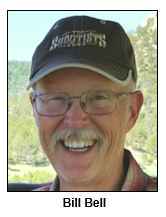 While working as a commercial pilot for a Chinese airline in 1930, Baer was killed in an aircraft accident near Shanghai. In his honor, the Fort Wayne airport was called Baer Field until the early 1990s, when it was renamed Fort Wayne International Airport.
Like Baer, Weir Cook received his initial flight training in France. He had been born Harvey Weir Cook in the small Hancock County town of Wilkinson, where a community park has been named in his honor. Cook grew up in Anderson, graduated from Anderson High School and attended both DePauw University and Washington & Jefferson College before moving to France at the outbreak of World War I.
During the war, Cook downed at least seven enemy aircraft and was promoted to flight commander of the 94th Aero Squadron, a pursuit (fighter) unit of the U.S. Army Air Service. After the war, Cook undertook many roles in the civilian aviation industry and helped bring the first municipal airport to
Indianapolis. He was killed during World War II in a crash while flying a P-39 Bell Airacobra fighter plane over the Pacific island of New Caledonia.
During World War I, Baer achieved his first aerial victory in March 1918, shooting down a German fighter plane while flying for a French squadron. That victory - which was quickly followed by others - made Baer the first U.S. pilot to shoot down an enemy plane in warfare, according to Tony Garel-Frantzen's biography. By mid-April 1918, Baer had felled five enemy planes, making him the first American combat ace, Tony writes.
In May 1918, Baer's plane was shot down. Although he escaped serious injuries, Baer became a prisoner of war and spent time in several German prisons.
"True to his reticent nature," Tony writes, "Baer rarely spoke in detail while he was alive about the day he was shot down or about the months he spent in captivity."
History Mystery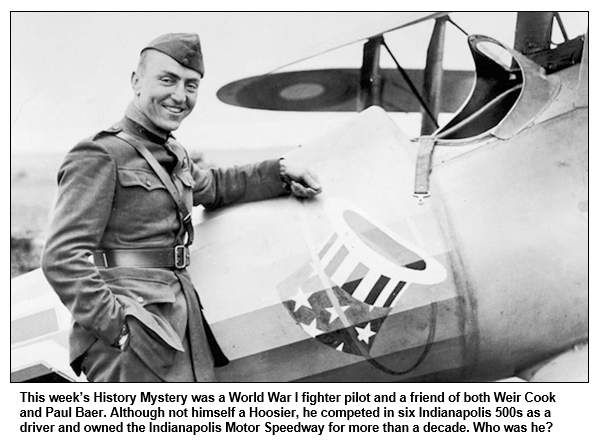 A fighter pilot during World War I who achieved international fame became a friend of both Weir Cook and Paul Baer. The pilot, who eventually was awarded the Congressional Medal of Honor, was not a Hoosier, but he was connected in several ways to Indiana.

As a race driver, he competed in six Indianapolis 500s. He even owned the Indianapolis Motor Speedway for more than a decade.

Question: Who was fighter pilot, Congressional Medal of Honor winner, race car driver and IMS owner?

Prizes are a gift certificate to Story Inn, courtesy of Story Inn, and admission for two to the Indiana History Center courtesy of the the Indiana Historical Society.



Roadtrip: Circle Tower on Indianapolis' Monument Circle
Guest Roadtripper Jim Lingenfelter invites us to join him on a trip to one of the Circle City's most intriguing buildings: the Circle Tower, located on Monument Circle in Indianapolis.
Built in the Roaring Twenties, the Circle Tower radiates the opulence and excess of the period. Marble-lined interior walls, bronze sculptural works on the facade and copious architectural details in the Art Deco style all conspire to convey a sense of wealth and sophistication.
There's a bit of ancient history here as well: constructed during a time when Egyptology was all the rage (King Tut's tomb had just been discovered in 1922), the Indianapolis architecture firm of Rubush and Hunter incorporated copious Egyptian motifs into the building's decor. The bronze grill above the Market Street entrance is replete with hieroglyphic-like imagery that seems to have been borrowed from the walls of a tomb in the Valley of the Kings. The upper stories of the building even have the form of a ziggurat (rectangular stepped tower), evoking an Egyption pyramid.
Jim's interest in the property stretches back before the Circle Tower's construction, however, and is based on a genealogical connection. Direct ancestors of his purchased that quadrant of the Circle in 1831 and by 1835 were operating a boarding house there. "They sold the property in 1873 but continued to live there until 1880 according to City Directories," Jim explains. He'll go into more detail during the show, including the property's years as location of the Franklin Life Insurance headquarters.
Be sure to tune in for this exciting Roadtrip to Egypt by way of Indianapolis!
Potawatomi Trail of Death in 1838
To listen to this show, click here!
(August 11, 2018) One of the most tragic episodes in Indiana history occurred during two months in 1838.
The Potawatomi Trail of Death was the forced removal of more than 840 Potawatomi Indians from their villages in the Twin Lakes region of northern Indiana on a grueling march of more than 660 miles to Kansas. Soldiers initially under the command of Gen. John Tipton enforced the march, during which many Potawatomi - particularly the elderly and young children, including babies - died of illness and exhaustion.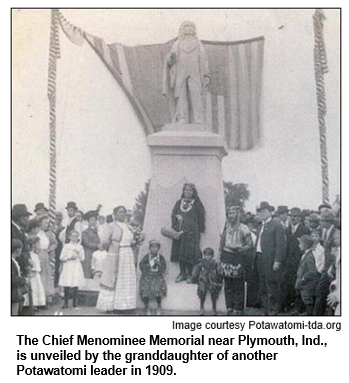 Beloved Potawatomi leader Chief Menominee and other tribal chiefs were caged in a "jail wagon" during the Trail of Death. The march began near the towns of Plymouth in Marshall County and Rochester in Fulton County.
We explore the Trail of Death in advance of the annual event that commemorates it, the Trail of Courage Living History Festival in Rochester. The festival at the Fulton County Museum is being held September 15-16, followed this year by a special caravan for those who want to drive the route of the tragic journey of the Potawatomi from Indiana to Kansas. In recent years, 76 historic markers have been erected along the trail that honor where the Potawatomi camped as they made the forced trek, primarily on foot or horseback; a few were allowed to ride in wagons.
Nelson's guests include Peggy King Anderson, award-winning author of Two-Moon Journey (Indiana Historical Society Press), a new children's book about the Potawatomi Trail of Death (the book's title alludes to the march's length of two months). Although her book is a work of historical fiction, Peggy thoroughly researched the history of the march and the suffering that the Potawatomi endured. Her late husband, Ken Anderson, was Potawatomi (and probably at least partially descended from those who lived in Indiana); their five children and grandchildren are listed on tribal rolls. Peggy is based near Seattle, Wash.
Under the Indian Removal Act signed in 1830 by President Andrew Jackson, the U.S. government forced many Native American tribes to move west of the Mississippi River to areas designated as "Indian Territory." In Indiana, Gen. Tipton, who fought the Shawnee in the Battle of Tippecanoe in 1811 and became a close friend of Jackson, was chosen to oversee the forced removal of the Potawatomi.
The Potawatomi defy many of the current stereotypes of American Indians. They lived in dome-shaped wigwams, cabins or rectangular lodges called longhouses, not tepees. Potawatomi men in the 1830s often wore turbans. In northern Indiana, many tribe members were Catholic. A French-born Catholic priest, Rev. Benjamin Marie Petit, learned the Potawatomi language, administered religious sacraments and accompanied the tribe on the Trail of Death.
"He believed that the forced emigration of the Potawatomi was a great injustice, and (he) provided care and comfort on their journey," according to our guest Peggy King Anderson, who features Rev. Petit as a character in Two-Moon Journey. Rev. Petit kept a journal about the Trail of Death, as did Gen. Tipton.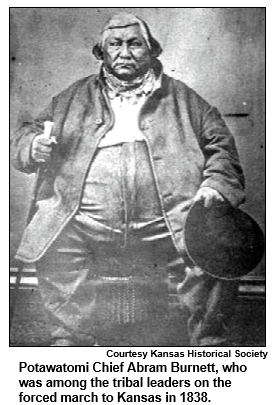 Although their journals and other accounts mention occasional acts of compassion by Tipton's soldiers, they also describe cruelty, including the use of bayonets to prod Potawatomi who walked too slowly. When the caravan came through towns such as Danville, Ill., soldiers forced the Potawatomi to wear ceremonial clothing to create a spectacle for townspeople as the Indians were paraded down city streets.
According to some accounts, more than one third of the Potawatomi fell ill during the Trail of Death, often from typhoid fever.
During our show, a descendant of a distinguished Potawatomi leader who was on the Trail of Death phones in to share insights. Sarah Hamilton, 35, grew up near Warsaw in northern Indiana and now lives in suburban Chicago. Her ancestor was Chief Abram Burnett, who, like Chief Menominee, was among the tribal leaders on the forced march to Kansas.
Sarah is a registered member of the Citizen Potawatomi Nation. Her grandfather designed a map that's featured in Two-Moon Journey; he also designed all of the historic markers that have been erected at the Potawatomi encampments along the Trail of Death. The Potawatomi arrived in Kansas in November 1838.
Earlier in the 1830s, the Potawatomi lived across most of the northern third of Indiana. In central Indiana, the Lenape (called Delaware Indians by white settlers) had been among the primary Native American tribes. During a show in 2014 we explored the Lenape heritage in Indiana, including what has been called the tribe's "forced immigration" in the 1820s to Kansas.
History Mystery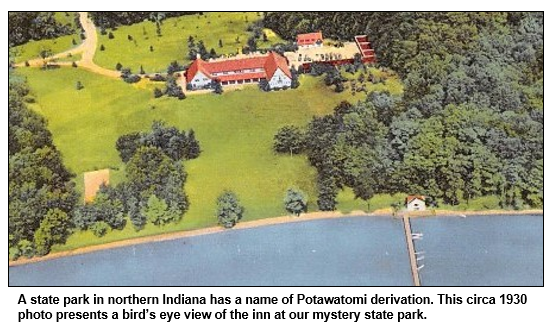 A state park in northern Indiana has a name of Potawatomi derivation.
The state park, which is bordered on three sides by lakes, is popular as a winter sports recreation site as well as a destination for summer fun. Its best-known winter attractions include a toboggan run, which initially was created during the 1930s by the Civilian Conservation Corps (CCC). Today, the track of the toboggan run is quarter-mile long.
The park's namesake was a Potawatomi chief during the early 19th Century.
Question: What is the Indiana state park named after a Potawatomi chief?
The prize is a gift certificate to GlowGolf, courtesy of GlowGolf, and two tickets to Conner Prairie Interactive History Park, as well as two tickets to the 1859 Balloon Voyage, courtesy of Conner Prairie.
Roadtrip: Deep River Park and Wood's Grist Mill in Hobart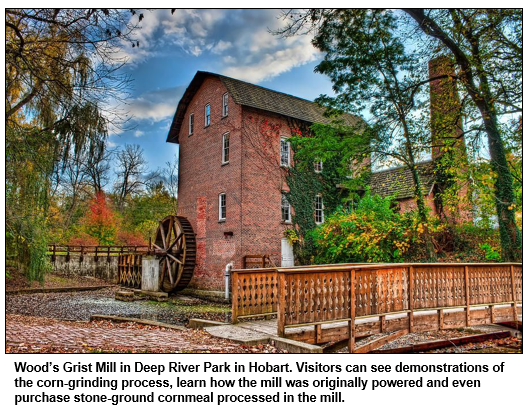 Guest Roadtripper, author and food and travel writer Jane Ammeson suggests a visit to Lake County's Deep River Park in Hobart in northwest Indiana.
Deep River Park is located on Old Lincoln Highway (Route 30) and is open all year long. It offers a wide array of recreational activities, from hiking and fishing to equestrian activities. Hayrides and bonfires are held in the fall. Its visitor center is housed in a repurposed church building that dates to 1904.
Jane says that if you're up for a little for "milling around," you should check out Wood's Mill, a historic saw and grist mill located in the park. Built in the late 1830s, it operated into the 1930s and was restored by Lake County Parks and Recreation in 1976. Visitors can see demonstrations of the corn-grinding process, learn how the mill was originally powered and even purchase the stone-ground cornmeal processed in the mill.
Post our podcasts, please!
As readers have surely noticed, we are posting links to weekly podcasts of Hoosier History Live at the top of our newsletter and website, generally on the Friday following the live Saturday show. Feel free to copy and paste the links to our podcasts anywhere you connect with others on the Internet. Tweet it to your followers and post it to your FaceBook friends - we love social media! We do request that you not edit or alter the audio files because they contain underwriter credits, and we need their support!
When you do post a podcast link, we appreciate it if you put "Courtesy of Hoosier History Live" and a link to our website www.hoosierhistorylive.org next to the post. As with all media, the more people know about us, the better.
Fort Wayne: riverfront heritage and historic building reuse
To listen to this show, click here!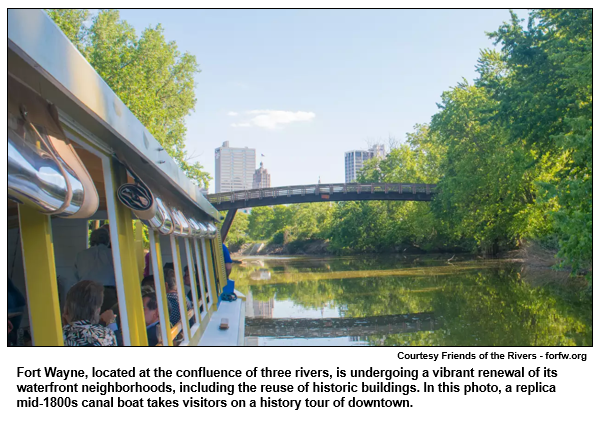 (August 4, 2018) The state's second-largest city is located at the confluence of three waterways: the St. Joseph, St. Mary's and Maumee rivers. Against the backdrop of a vibrant revival of the downtown riverfront in Fort Wayne, we explore the impact of the rivers on the city as well as current initiatives to reuse historic riverfront buildings.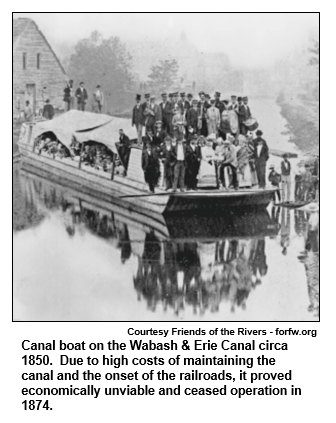 A significant aspect of the city's river history involves the Wabash & Erie Canal that began operating in 1835 and came right through Fort Wayne.
Recently, a replica of a 19th-century canal boat, "Sweet Breeze," was launched for history tours about Fort Wayne's waterways. The canal era in Indiana was brief; the last boat on the Wabash & Erie Canal docked in 1874.
The name of the replica canal boat is a nod to the region's Native American history. Sweet Breeze was the daughter of Little Turtle (circa 1751-1812), the widely admired chief of the Miami Indians based in northeastern Indiana.
Nelson is joined by two studio guests who will serve as our guides through Fort Wayne's riverfront history and the new ways it's being showcased:
Allen County historian Tom Castaldi, who writes a history column for Fort Wayne Monthly magazine and hosts "On the Heritage Trail" segments about local history for WBOI-FM Radio.
And Fort Wayne historian Randy Harter, the owner of Fort Wayne Food Tours, which offers downtown walking tours exploring the city's history, architecture and food heritage. Randy also is the author of several books, including Legendary Locals of Fort Wayne (Arcadia Publishing, 2015) - fellow guest Tom Castaldi is among those profiled in it - and Fort Wayne Through Time, which will be published this fall.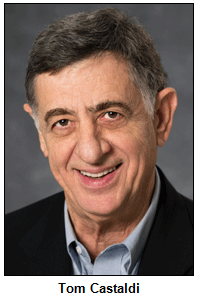 "Summit City," the historic nickname for Fort Wayne, was derived from its canal heritage. The city was the highest point (or summit) on the Wabash & Erie Canal. Built by manual laborers as a way to transport goods and people, the canal linked the Great Lakes with other canals and, ultimately, the Ohio River.
For several years, the town of Delphi in Carroll County also has been showcasing its Wabash & Erie Canal heritage to visitors. Cruises on replicas of historic canal boats, with costumed re-enactors as guides, are offered at the Wabash and Erie Canal Park in Delphi. Our guest Tom Castaldi helped plan and research displays at the park's canal museum.
In Fort Wayne, historic revitalization efforts underway include the revitalization of a stretch of Columbia Street in downtown Fort Wayne known as The Landing. In February, a major renovation project began there with the goal of reusing historic structures as restaurants, apartments, offices and retailers.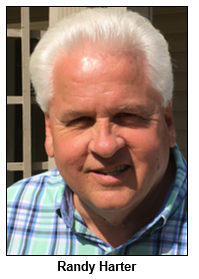 For most of the 19th century, The Landing was the hub of Fort Wayne's business activity because of its proximity to the Wabash & Erie Canal; it was also served by the railroads that later made the canals obsolete. The Landing was the site of Fort Wayne's first post office and hotel.
According to Riverfront Fort Wayne, famous landscape architect George Kessler used Fort Wayne's three rivers as the basis for his design of the city's parks and boulevard system in 1912. We explored Kessler's design of the Indianapolis parks and boulevard system on a show in 2010. Kessler, who was based in St. Louis, died in Indianapolis in 1923.
Even today, the St. Joseph River supplies the drinking water for more than 250,000 people in the Fort Wayne metro area, according to Riverfront Fort Wayne.
On a historic bridge over the St. Mary's River, groundbreaking for the first phase of Promenade Park occurred in June 2017. Completion of Promenade Park, which will include a pavilion for public use, is expected in 2019.
History Mystery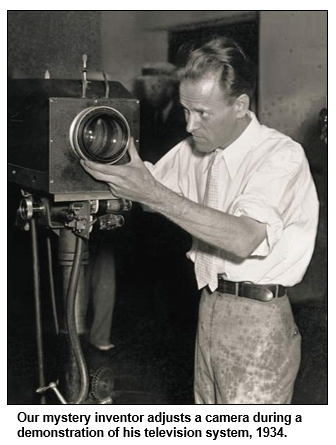 A pioneer in the invention of television was based in Fort Wayne during the peak of his career. Although he was born in Utah in 1906, the scientist moved to Fort Wayne during the late 1930s, where he established an early television and radio manufacturing company. He is credited with making significant advances in TV technology but was ensnared in a prolonged patent battle with RCA.

According to the book Legendary Locals of Fort Wayne by our guest Randy Harter, the inventor eventually held more than 165 patents. He had moved back to Utah by the time of his death in 1971.

Question: Who was the inventor?

The call-in number is (317) 788-3314. Please do not call in to the show until you hear Nelson pose the question on the air, and please do not try to win if you have won any other prize on WICR during the last two months. You must be willing to give your first name to our engineer, you must answer the question correctly on the air and you must be willing to give your mailing address to our engineer so we can mail the prize pack to you. The prize is a gift certificate to Story Inn in Brown County, courtesy of Story Inn, and two tickets to the Indiana History Center, courtesy of the Indiana Historical Society.
Roadtrip: Indiana State Fair and its history
Guest Roadtripper Jeannie Regan-Dinius, who works in Historic Preservation and Archeology at the Indiana Department of Natural Resources, invites us to join her on a trip to the 162nd Indiana State Fair, which runs August 3-19 this year.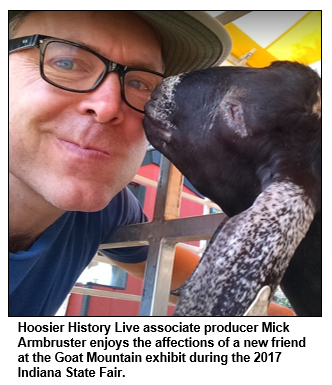 Jeannie shares some of the State Fair's history, pointing out that it was founded in the mid 19th century as one of the first acts of the newly created State Board of Agriculture. The first Fair in 1852 was held in what is now Military Park in downtown Indianapolis and was a resounding success. In its first decades the Fair was hosted by a variety of Hoosier cities, including Lafayette, Madison, New Albany, Fort Wayne, and Terre Haute. It took up residence at its current site on 38th Street in Indianapolis in 1892, when the area was still quite rural.
As Jeannie explains, the State Fair played an interesting role in the transportation history of central Indiana. The first electric interurban trolley in Indianapolis, traveling to Broad Ripple from downtown Indy, had a special line to serve fair goers. Also, the Monon Railroad had a siding for cattlemen and farmers to drop off goods at the Fair, as did the Nickel Plate (the diagonal line that in recent years transported history-loving Fair-goers from Fishers and Noblesville).
The Monon built a depot just north of 38th Street (then called Maple Road) in 1922 so passengers from northern and southern Indiana could disembark right by the Fairgrounds. If train history is your thing, take a close-up look at the still-standing Boulevard Station (often referred to as the Monon Depot) via the Monon Trail, which runs along the west side of the fairgrounds.
You can read more fascinating details about the history of the State Fair at the DNR website. Or better yet, tune in to the show and join Jeannie on this history-oriented State Fair Roadtrip!
Wawasee and Maxinkuckee: resort lakes in northern Indiana
To listen to this show, click here!
(July 28, 2018) As the two largest natural lakes in Indiana, they have been the scenic locations of summer homes for more than 100 years, with vacation lodging options ranging from waterfront mansions to cottages and bungalows. They've also attracted their share of celebrities and even notorious characters.
Lake Wawasee, southeast of the town of Syracuse in Kosciusko County, and Lake Maxinkuckee - with the town of Culver (Marshall County) near its shores - share glacial origins along with most of the lakes of northern Indiana. (Lake Monroe in southern Indiana is larger than either of the two, but it is man-made.)
Col. Eli Lilly, founder of the pharmaceutical business that eventually became an international giant, and his descendants have had summer homes at Wawasee since the late 19th century. A lavish hotel at the lake, The Spink, hosted visitors including Al Capone and Hollywood notables like Bud Abbott and Lou Costello. Originally built in 1926, the Spink was sold to a Catholic order in the 1940s and remodeled to become a seminary; it later served as a boarding school and was eventually remade into condominiums in the 1980s.
At Lake Maxinkuckee, several generations of the Vonnegut family from Indianapolis enjoyed summer homes. Reflecting on boyhood summers there, Kurt Vonnegut Jr. called the lake "my Aegean Sea" and "my Eden lost." Other famous Hoosiers, including composer Cole Porter and novelist Booth Tarkington, also visited friends or spent summers at Lake Maxinkuckee homes. Tarkington even wrote part of his first bestseller, The Gentleman from Indiana (1899), there.
Two Native American tribes lived along the shores of the lakes since at least the early 1800s.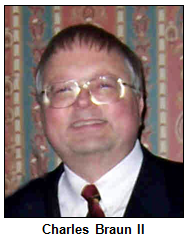 Miami Indians lived on the Lake Wawasee site that later became the location of the Spink Hotel. Potawatomi Indians lived at Lake Maxinkuckee, which occupies about 1,800 acres of spring-fed water and is 88 feet deep at its deepest point.
Two guests with lifelong involvements with the resort lakes join Nelson in studio:
Fort Wayne native Charles Braun, the attorney who hosts Legally Speaking, the WICR-FM call-in legal advice show, shares insights about Lake Wawasee. Over a span of nearly 100 years, five generations of the Braun family have rented or owned property on Lake Wawasee. For many years, Charles' mother owned a condo at the former Spink Hotel.
And Culver native Jeff Kenney, the archives manager for the Culver Academies Museum, who regularly provides historical commentary on boat tours of Lake Maxinkuckee.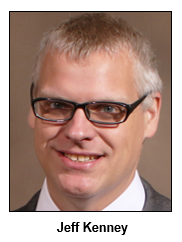 "Maxinkuckee is one of the most studied lakes in the world, thanks largely to the work of biologists Evermann and Clark, whose massive, two-volume study published in the early 1920s is still taught today in classes ;related to freshwater biology," Jeff says.
Culver Military Academy, the private, college-prep high school, is located at Lake Maxinkuckee, of course, but we will save the bulk of the school's history for a show down the road. We've got plenty to dive into with the resort lakes, where history continues to unfold. A cover story in the July 2018 issue of Indianapolis Monthly magazine noted that at Lake Wawasee, the historic Oakwood Resort has recently reopened, reporting, "The 125-year-old lodge hosts a salon, spa and the Pier Restaurant , with a great view of Wawasee's many expensive boats."
Referring to Kurt Vonnegut's affection for Lake Maxinkuckee, the magazine notes: "The author couldn't have fabricated a more scenic locale in his novels . . . Indiana's second-largest natural body of water offers shoreline restaurants, well-lit trails and a small town full of boutiques."
According to our guest Jeff Kenney, the arrival of a railroad to Culver in 1884 "launched the plethora of summer cottagers who settled on the lake . . . bringing some 7,000 visitors from across the state to Maxinkuckee on any give summer weekend." Current owners of homes at Lake Maxinkuckee include Jim Irsay, the owner of the Indianapolis Colts, and a brother of Vice President Mike Pence.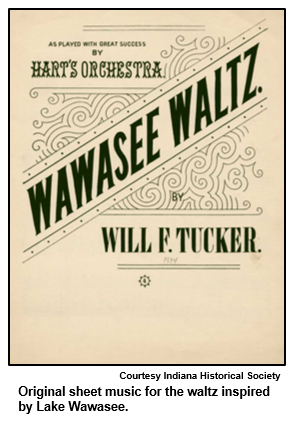 At Lake Wawasee, the original Spink Hotel was built in 1926 by Indianapolis entrepreneur Edgar Spink at a cost of $350,000, according to our guest Charles Braun. The hotel was operated for several years by his two daughters, who made it a nationally known resort, with opportunities for gambling among its enticements.
During our show, Charles also discusses Syracuse Lake, which is near Wawasee and doesn't have as much of the larger lake's "abundant boat traffic," as Indianapolis Monthly puts it. The magazine refers to Syracuse Lake as "a quiet alternative."
Some history facts:
Maxinkuckee ice was an export of the area in the days before modern refrigerators. "[It] was sold, thousands of tons of it, all over the Midwest from 1880 to 1937," Jeff Kenney says.
A Hoosier who was among the survivors of the Titanic shipwreck in 1912 became the head gardener at Culver Military Academy.
A musical composition called the Wawasee Waltz was written in the mid-1890s. The Syracuse Public Library and the Syracuse-Wawasee Historical Museum have posted a recording of the waltz online, along with period postcards of lakeside activities.
History Mystery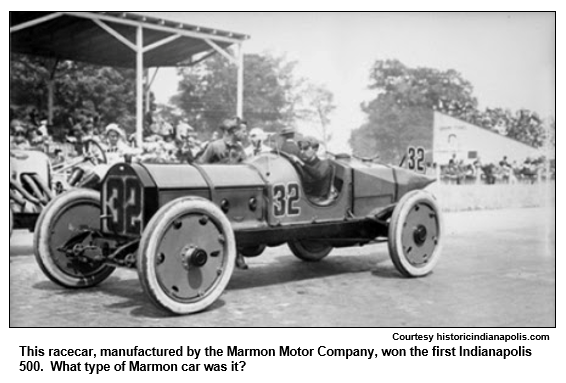 Influential families who owned cottages at Lake Maxinkuckee beginning in the late 1800s included the Marmons, the pioneering automobile makers. Howard Marmon founded the Indianapolis-based Marmon Motor Company, which built the winning car in the first Indianapolis 500 in 1911. By then, the Marmon family had enjoyed a cottage at Lake Maxinkuckee for more than 20 years.

Question: Name the type of Marmon car that won the inaugural Indy 500.
Hint: The car's name was derived from its color scheme.

The prize is a family four-pack admission ticket to Conner Prairie Interactive History Park, including passes for the Balloon Voyage ride, courtesy of Conner Prairie.
Roadtrip: the Dixie Sternwheeler and Lake Webster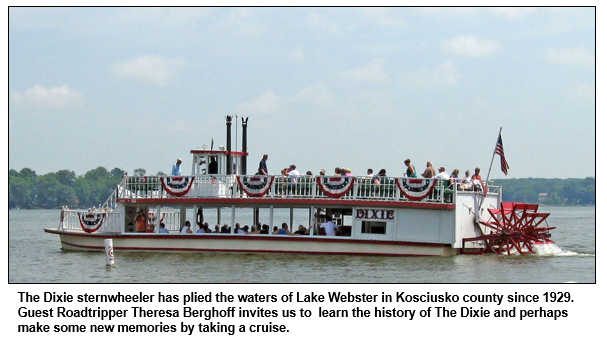 Guest Roadtripper and historic preservationist Theresa Berghoff invites us to join her on the banks of beautiful Lake Webster, just south of Lake Wawasee in Kosciusko County. The object of our journey: the Dixie sternwheeler, the oldest sternwheeler in the state of Indiana. (For the nautically uninformed, a sternwheeler is a steamship propelled by a paddle wheel positioned at the rear.) Docked in the town of North Webster, the Dixie has plied the waters of Lake Webster for the better part of a century and was added to the National Register of Historic Places in 2009.
As Theresa explains, the Dixie is one of three sternwheelers that have served the Lake Webster community. The first was called the City of Webster, built by German immigrant Joseph Breeck in 1906. Captain Breeck was a blacksmith and former riverboat pilot. He used the boat as a floating blacksmith shop and also delivered mail and groceries in it. In 1913 the boat hit some rocks and sank.
Captain Breeck built a second boat, this time with a wooden hull; he called it the Dixie and offered Sunday tours around the lake. The wooden hull quickly deteriorated, however, and by 1928 it was beyond repair. The captain salvaged what he could, burned the remains and sank them in a deep-water area of the lake.
The current Dixie was built of the salvaged parts of the original Dixie and a new flat bottom steel hull that was shipped from St. Louis by rail. After 89 years in service, it would seem that the Dixie proves the old adage, "the third time's the charm," at least when it comes to Captain Breeck's boats.
To get to know the Dixie in her native element, Theresa encourages Hoosier History Live listeners to board the sternwheeler and take a cruise around Lake Webster, available from Memorial Day weekend to Labor Day weekend for only $7.
A note of support
"...a great way to represent what I do..."
"I have thoroughly enjoyed my experiences with Nelson Price and the Hoosier History Live team. I feel being on the show was a great way to represent what I do with motorsports history. I am particularly excited by the show's new distribution through a podcast and making it accessible live through the Web."
- Mark Dill, owner, FirstSuperSpeedway.com
July 2018
Roadside motels, bygone Americana: Encore presentation
To listen to this show, click here!
(This show was originally broadcast on May 30, 2015; it was rebroadcast on July 21, 2018)
Remember the motels, cabin courts and other lodging spots that were so familiar on pre-interstate highways?
Many bit the dust long ago, but in this show Hoosier History Live explores their heyday - as well as their decline - just as many folks have been hitting the road for vacations. During our show, we even explore still-familiar chains such as Holiday Inn. But our focus is on the bygone style and architecture familiar to motorists from the 1940s through the '70s, rather than the type operated by the international conglomerate today.
Our studio guests include Jeff Kamm, who shared insights about former roadside Holiday Inns in the Indy metro area in this Historic Indianapolis article.
Jeff, a graduate of Purdue's hospitality and tourism management program, worked for 10 years managing various hotels in the Indy area; today, he works in the financial services industry.
Jeff and Nelson are joined by Joan Hostetler, founding director of the Indiana Album, who also collaborated with Nelson on the visual history book Indianapolis Then and Now and related projects; aspects of our heritage that Joan has extensively researched include roadside architecture.
Certainly the design of many roadside motels and hotels was distinctive, such as the orange and blue associated with Howard Johnson Motor Lodge chain. According to our guest Jeff Kamm, the first Howard Johnson Motor Lodge opened in 1954 in Savannah, Ga.
About 30 years before that, towns during the 1920s began establishing free "auto camps" as Americans took to the roads with the boom in car ownership, Jeff notes.
Prior to - and sometimes simultaneously with - the evolution of the roadside motel came lodging spots that consisted of cabins for overnight guests clustered around a check-in office. They were known as tourist cabins or cabin courts.
According to Jeff's research, by 1956 about 500 roadside motels were scattered across Indiana. Along U.S. 40 across Indiana that year, there were 120 of the motels.
Jeff's track record in the hospitality industry includes managing properties in the Marriott and Radisson families of hotels.
The first Holiday Inn in the Indy area opened in 1960 "across from the main gate of the area's biggest attraction, the Indianapolis Motor Speedway," Jeff writes in his historicindianapolis.com article. The Holiday Inn in Speedway featured the neon green sign that became such a common sight across Indiana and the rest of the country.
His article notes that the oversized neon signs and some other once-standard features of Holiday Inns have vanished as the chain evolved.
"Drivers may recently have noticed a pile of rubble on U.S. 31 immediately south of the I-465 interchange," Jeff writes. "This is the last reminder of the Holiday Inn in the Circle City in its traditional incarnation."
In recent years, many former roadside motels across Indiana - particularly those that were locally owned - have been converted into apartments or lodging spots with extended-stay occupancies.
Remnants of a few auto camps or tourist cabins remain across Indiana, including in Hendricks County, according to our guest Jeff Kamm, who grew up in Plainfield.
Early auto camps sprang up along the Lincoln Highway in northern Indiana during the 1920s near cities such as Elkhart and Columbia City.
Along the National Road (U.S. 40), the cabins could be found near cities such as Richmond and Cambridge City.
According to Jeff, developers began building connected cabins (thereby saving on materials), which kicked off the era of the motel as the most popular roadside lodging spot. In 1946, Best Western created a "membership association" of motels.
After the opening in Indianapolis of the first Holiday Inn on West 16th Street near the speedway, the chain quickly built several other motels in the Hoosier capital. By 1967, Jeff reports, there were seven Holiday Inns in Indy, including one on Pendleton Pike and another near the site then of the city's airport.
Some of these original Holiday Inn buildings became a Motel 6 or a Classic Motor Inn before being razed. The former Holiday Inn site near the old airport, Jeff reports, "now operates as the more upscale Crowne Plaza."
Lighthouse heritage and the Eastland maritime tragedy
To listen to this show, click here!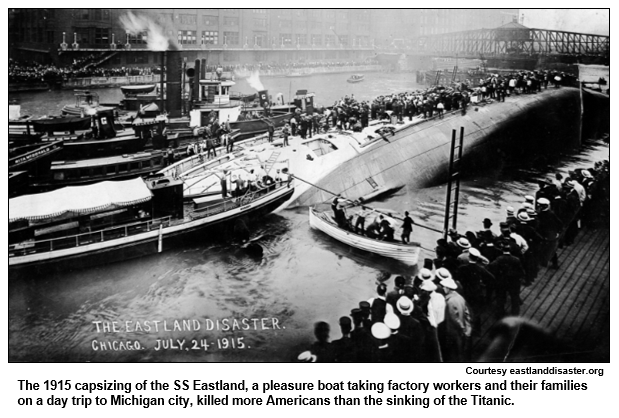 (July 14, 2018 ) About 845 factory workers and their families aboard an excursion ship on a day trip to Michigan City, Ind., for a picnic were killed in a tragedy in July 1915 that's been mostly forgotten - even though more Americans perished that day than during the Titanic shipwreck three years earlier.
The SS Eastland, which overturned while still tied to a dock in the Chicago River, had a total of 2,501 passengers on board that day. A memorial to the Eastland victims - and exhibits about the ill-fated excursion ship - can be seen at the Old Lighthouse Museum on the historic lakefront in Michigan City.
As we explore the Eastland maritime tragedy, we also spotlight the Indiana heritage of lighthouses that were so crucial for navigators on watercraft ranging from small boats to large cruise ships on Lake Michigan.
Jim Retseck, president of the Michigan City Historical Society, which oversees the Old Lighthouse Museum, is Nelson's guest. The museum is located in the former Michigan City Lighthouse built in 1858 that housed a live-in lighthouse keeper until the U.S. Coast Guard took over operations in 1939. According to Jim, the definition of a lighthouse is a building in which the keeper actually resides; contemporary structures on Lake Michigan, the Ohio River and other waterways that people refer to as lighthouses should technically be called "navigational devices," Jim says, because they are unoccupied.
The best-known lighthouse keeper at the Michigan City Lighthouse was colorful Harriet Colfax, who served (and lived in) the lighthouse from 1861 until her retirement at age 80 in 1904. She climbed steep, narrow steps to the top of the structure until her final day on the job. The Chicago Tribune hailed Colfax as "the oldest, staunchest, and most reliable lighthouse keeper in the United States." She was the cousin of Schuyler Colfax, an equally colorful South Bend politician who served as U.S. vice president under President Ulysses S Grant.
The lighthouse heritage in Michigan City dates to the mid-1830s, when a "postlight" - defined as a lantern on a tall pole - was erected near the site of an initial lighthouse, a whitewashed tower built in 1837 that preceded the 1858 structure. According to the Michigan City Historical Society, the site's beacon "served as a guiding light for Great Lakes sailors for more than 100 years."
A series of anniversary events were set for later in July, including a memorial service July 21 commemorating the 103rd anniversary of the Eastland tragedy. The U.S. Coast Guard intended to place a wreath near the Old Lighthouse Museum, and Patricia Sutton, author of Capsized: The Forgotten Story of the SS Eastland Disaster, was slated to speak. More information on the events is available at the Michigan City Historical Society's website.
Most of the passengers aboard the Eastland, which overturned in the Chicago River, were family members and employees of a Western Electric factory in Cicero, Ill. The company had planned a massive picnic at Michigan City, a popular destination for day trips at the turn of the century. Most of the fatalities in the Eastland disaster were passengers, unlike the sinking of the Titanic in 1912, in which scores of crew members perished as well. We explored the lives of passengers with Indiana connections aboard the Titanic on a show originally broadcast in 2010.
As with the Titanic tragedy, hundreds of women and children were among the fatalities in the Eastland disaster. The excursion to Michigan City was a highly anticipated annual event for Western Electric employees because many of them did not have holidays off work.
Known as the "Speed Queen of the Great Lakes," the Eastland was top-heavy and had a pattern of listing. Later analysis determined that the steamship had inherent design flaws.
Some history facts:
The original Michigan City lantern tower in the 1830s was fueled with whale oil. Beginning in the 1880s, kerosene was used, according to the Michigan City Historical Society.
On the fateful day in the Chicago River, the Eastland rolled over in water that was about 20 feet deep. Many of the victims were trapped beneath the overturned ship.
Our host, Nelson, has a family connection to the Eastland tragedy. His maternal grandfather, a 7-year-old boy in 1915, was supposed to be aboard the ship with his father, a Western Electric worker. They were spared only because they arrived too late to board. In the aftermath of the tragedy, he had the heart-breaking task of helping identify the bodies of his co-workers.
History Mystery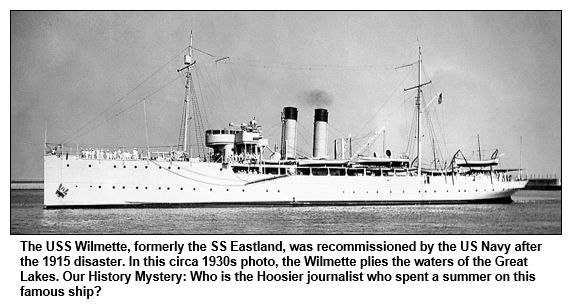 Several weeks after the SS Eastland overturned in July 1915, the ship was recovered from the Chicago River and eventually recommissioned by the U.S. Navy. A Hoosier who later became nationally famous spent one summer aboard the ship - renamed the USS Wilmette - while he was in the Navy Reserves and attending Indiana University.
The Indiana native became well-known during the 1930s as a syndicated columnist - or "roving human-interest columnist" - for the Scripps-Howard newspaper chain. Sometimes filing stories as "The Hoosier Vagabond," he reported everywhere from Chesapeake Bay in Maryland to Good News Bay in Alaska.
His greatest claim to fame, though, came as a war correspondent during World War II. He won a Pulitzer Prize for his stories and columns during the war.
Question: Who was the Hoosier journalist who spent a summer on the former SS Eastland?
The prize is two tickets to 1859 Balloon Voyage, courtesy of Conner Prairie Interactive History Park a gift certificate to Story Inn in Brown County, courtesy of Story Inn, and two tickets to the Indiana History Center, courtesy of the Indiana Historical Society.
Roadtrip: Chesterton and the Dunes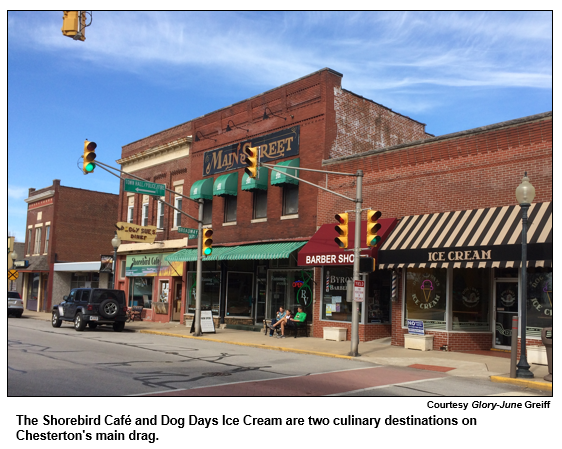 Guest Roadtripper and public historian Glory-June Greiff suggests a trip up to northern Indiana to Chesterton and the Indiana Dunes.
Chesterton is a charming historic town, much of which is listed in the National Register. Finding a restaurant is not a problem, but choosing one may be! Glory-June recommends Ivy's Bohemia House for a fun and varied menu, suitable for all tastes. "What atmosphere!" she says.
For more casual dining try the old-style Shorebird Cafe (aka Peggy Sue's Diner), and for dessert or a treat Glory-June recommends Dog Days Ice Cream. Both are on are the main north-south street in Chesterton, Calumet.
And though there's nothing like a beach town in summer, Glory-June tells us she prefers to visit Chesterton in the spring and fall, when the weather tends to be more pleasant and the crowds smaller.
And those who love poetry can hear Glory-June doing a poetry performance at Indiana Dunes State Park on Sept, 22 at 6:30 p.m. Central Daylight Time as a part of an Arts in the Parks event.
Enjoy the Indiana Dunes, one of our state's most unique geographic features!
Ellis Island, immigration and Indiana
To listen to this show, click here!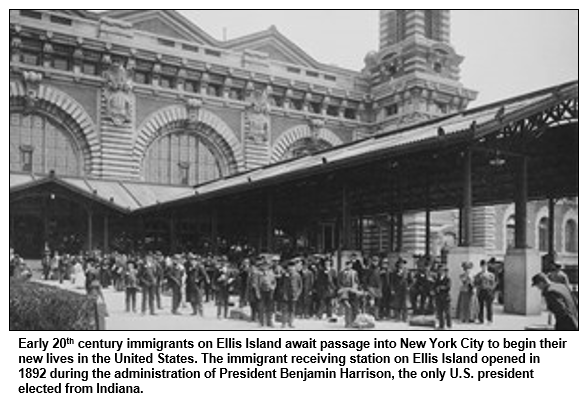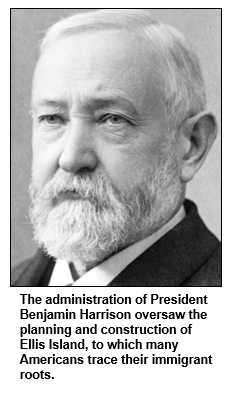 (July 7, 2018) Ellis Island - the "gateway to America" for generations of immigrants - is located in New York Harbor, of course, hundreds of miles from Indiana. Even so, a little historical sleuthing reveals various connections between Ellis Island and the Hoosier state, and it is these connections which will be the focus of our show.
The receiving station for aspiring Americans now celebrated as an iconic aspect of our shared history opened on Ellis Island in 1892 during the administration of President Benjamin Harrison, so the only president elected from Indiana oversaw the lead-up to its debut. According to some estimates, about 22 million immigrants passed through Ellis Island during the years between 1892 and 1924, its peak period as the country's "door." (Ellis Island remained open as a receiving center until 1954, but during its final 30 years, limitations on immigration - and the creation of other points of entry - meant that far fewer immigrants were handled at the island.)
Not only will we explore the challenges that confronted all involved during the early Ellis Island years - immigrants often endured shockingly crude medical exams - we also will look at the waves of ethnic heritage groups that came to Indiana from the 1890s through the mid-1920s. Nelson's studio guests will be:
According to timelines in Teresa's books and in other reference sources, the 1890s through the early 1900s in Indiana was an era of heavy immigration from Eastern European countries including Poland, Hungary and Russia, as well as such Mediterranean countries as Greece and Italy. Significant percentages of the immigrants were Catholic and Jewish.
During our show, we will frame the early decades of immigration through Ellis Island by describing the waves of ethnic immigration to Indiana that preceded it, including early Irish, German, English and Scottish arrivals.
Between the 1890s and the start of World War I in 1914, many waves of immigrants came from what then was the Austro-Hungarian Empire; today, after more than a century of geopolitical shifts and cartographic reconfiguration, their countries of ancestral origin are the modern nations of Hungary, Austria, Ukraine, Belarus, Poland and Slovakia.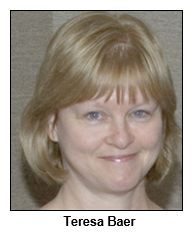 According to Peopling Indiana: The Ethnic Experience (IHS Press, 1996), South Bend received larger numbers of Polish immigrants than any Indiana city during this era. Many Eastern European immigrants also settled in Lake County and other northwestern Indiana counties after U.S. Steel began operations in the early 1900s. The city of Gary was founded in 1906 and became the new hometown of many mill workers, as did Whiting, East Chicago and Hammond.
Italian immigration during the late 19th and early 20th centuries included hundreds of marble-cutters who settled in southern Indiana, including the town of Bedford, to work as limestone carvers. Hoosier History Live explored this aspect of Italian immigration in 2010. Other shows that explored immigration to Indiana during the heyday of Ellis Island include our programs about Latvian and Lithuanian heritage in 2016 and Russian immigration in 2014.
Our guest Jennifer Capps will share details about crude eye examinations - with unsterilized equipment - that were imposed on immigrants during the early decades of Ellis Island as a receiving station. Federal laws called for the rejection of those who showed indications of suffering from a "loathsome or contagious disease," but the reality was that many immigrants were turned away if they displayed any hint of illness or physical impairment, according to Ellis Island Interviews: In Their Own Words (Checkmark Books, 1997).
A fire at Ellis Island burned the first receiving station to the ground in June 1897, more than four years after Harrison's presidency ended. By then, more than 1.64 million immigrants had been processed. The fire destroyed immigrant records from 1855 to 1897, including those from Castle Garden. About 200 immigrants were on the island at the time of the inferno, but all were safely evacuated. Construction began immediately of new buildings made of materials deemed fireproof.

Some history facts:
The first site proposed for the immigrant processing station was Bedloe Island (now called Liberty Island), where construction on the Statue of Liberty had been completed just a few years prior, in 1886. Because of public opposition to that proposal, nearby Ellis Island was chosen instead.
The first official to climb to the top of the Statue of Liberty was Harrison's vice president, Levi P. Morton.
As recently as 1997, more than 40 percent of the U.S. population could "trace their roots to an ancestor who came through Ellis Island," according to the Statue of Liberty-Ellis Island Foundation.

History Mystery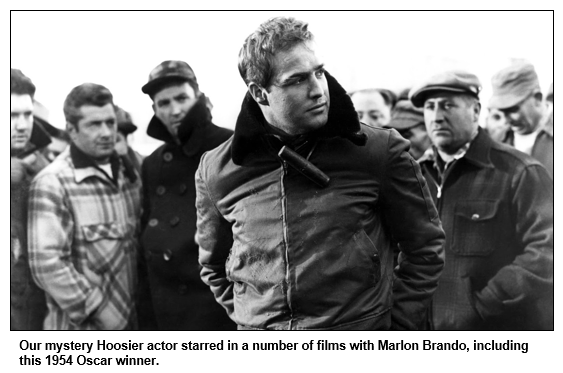 Ellis Island was the entry point to America for the parents of an Academy Award-winning actor who grew up in Gary, Ind. The parents of the actor - who starred in movies, TV and on Broadway - were Serbian immigrants who came through Ellis Island in the early 1900s.

The future Oscar winner was born in Chicago in 1912, but his family moved to Gary when he was 5 years old and he always considered the Indiana city to be his hometown. His father was involved in Serbian theatrical productions in Gary, contributing to the son's love for performing.

He went on to be cast - usually as a supporting actor - in some of the best-remembered movies of the 1950s. Several of the films starred Marlon Brando, including the movie for which the actor raised in Indiana won an Academy Award. During the 1970s, he starred as a police detective in a popular TV series.

Question: Who was the actor?

The call-in number is (317) 788-3314. Please do not call in to the show until you hear Nelson pose the question on the air, and please do not try to win if you have won any other prize on WICR during the last two months. You must be willing to give your first name to our engineer, you must answer the question correctly on the air and you must be willing to give your mailing address to our engineer so we can mail the prize pack to you. The prize is two tickets to Conner Prairie Interactive History Park, courtesy of Conner Prairie, and a gift certificate to Story Inn in Brown County, courtesy of Story Inn.
Roadtrip: Whitestown - Trails and Brewing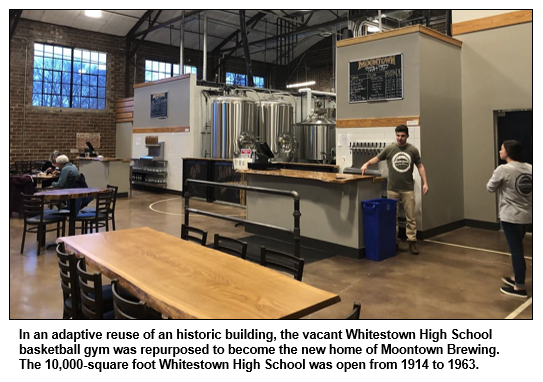 Guest Roadtripper Terry Kirts, IUPUI creative writing lecturer and Indianapolis Monthly contributing editor for food, invites us to visit Whitestown in Boone County, where the recently constructed Big Four Trail Linear Park runs along an abandoned rail line that once saw the passing of both the Lincoln inaugural train (1861) and the Lincoln funeral train (1865).
Established in 1851 about 22 miles northwest of downtown Indianapolis, the town took its name from Albert S. White, the president of the railroad that originally operated through Whitestown; White also served as U.S. Senator (1839-1845) and was a leading abolitionist in the mid-1800s.
In recent years, Whitestown has been one of Indiana's fastest growing municipalities. While much of the development that has nearly doubled the town's population in the last few years has been new construction, a movement to resurrect historic properties is gaining momentum. A prime example is Moontown Brewing Company; it opened this spring after a major renovation of the vacant 10,000-square foot Whitestown High School, which served the town's students from 1914 to 1963. Prominently featured is the former basketball court, which houses much of the brewing operation and the tasting room. The brewery lobby features a display of many trophies and other memorabilia from the high school's heyday.
To hear more about Whitestown's attractions, be sure to listen to Terry's Roadtrip report!
Girl Scouts evolution with Deborah Hearn Smith
To listen to this show, click here!
(June 30 2018) As a 7-year-old student at School 60 on the northside of Indianapolis, she joined a Girl Scout troop at the urging of her mother.
Who could have predicted that Deborah Hearn Smith would go on to a career of nearly half a century with what is now Girl Scouts of Central Indiana, including serving as the CEO until her retirement last year? Just as the Indiana Historical Society is about to name Deborah a Living Legend along with three other notable Hoosiers, she is Nelson's studio guest as we explore the evolution of the organization she has devoted her life to.
According to a state history compiled by the Girl Scouts, the first troop in Indiana may have been one organized in the Jackson County town of Crothersville in 1912. The historic photo above depicts the troop on an excursion and picnic to the town of Henryville in August 1912. In March of that year, the Girls Scouts in the United States was founded in Savannah, Georgia, by Juliette Low. Earlier in her life, Low had been part of the Girl Guide movement in England.
Our guest Deborah Hearn Smith, a 1966 graduate of Shortridge High School, began as a field executive with the Girl Scouts in 1970, upon graduation from college. She devoted the next 47 years to the Girl Scouts, working on initiatives that engaged girls in science, technology, engineering and math; Deborah was also known for leading the organization's outreach to cultural minorities.
"Her Girl Scouts journey has spanned most of her lifetime, and she is estimated to have impacted the lives of one million girls across the state," the Indianapolis Recorder newspaper noted when Deborah's retirement was announced in May 2017. Ten years earlier, she had overseen the reorganization and merger of five regional Girl Scouts councils. Deborah also is credited with reducing dependence on cookie sales as a revenue source by Girl Scouts here.
She recently wrote a column for the Indianapolis Business Journal reacting to the decision by the Boy Scouts of America to admit girls. That's among the aspects of scouting's social history we will explore during our show.
Noting that Low included as one of several Girl Scout "laws" the statement that "a Girl Scout is a friend to all, and a sister to every other Girl Scout no matter to what social class she may belong," a history prepared by the organization adds: "Girl Scouting was aimed at all girls, but existing social attitudes shaped the development of scouting among girls of color. It was not until the early 1950s that many campgrounds and troops were integrated."
Even so, diverse Girl Scout troops were organized in Indiana within a decade of the founding of the country's first troop. An African-American troop was active in Indianapolis as early as 1921, according to an account of the organization's evolution here.
That troop's activities during the early 1920s included hiking, camping, visiting local nursing homes and serving as volunteers at a health exposition at the Indiana State Fairgrounds.
In 1936, Girl Scouts from across Indianapolis greeted First Lady Eleanor Roosevelt during her visit to the city. In 1952, a chapter in Gary, Ind., earned national recognition for devoting the most hours of service to a local community.
Also during the 1950s, our guest Deborah Hearn Smith became a Brownie in Indianapolis, where she's been a lifelong resident. Deborah and her husband, Ebenezer Smith, are the parents of two adult sons and have four grandchildren. Her trove of civic honors include the Torchbearer Award from the Indiana Commission for Women and the Women of Influence Award from the Indianapolis Business Journal.
In addition to Deborah, the Indiana Historical Society plans to name as Living Legends civic leaders Leonard Hoops, CEO of Visit Indy; Sallie Rowland, founder of Rowland Design Inc. and the first woman to serve on several corporate boards; and Jeff Smulyan, founder of Emmis Communications Corp. The four Legends will be honored during a gala on July 27 at the Eugene and Marilyn Glick Indiana History Center.
History Mystery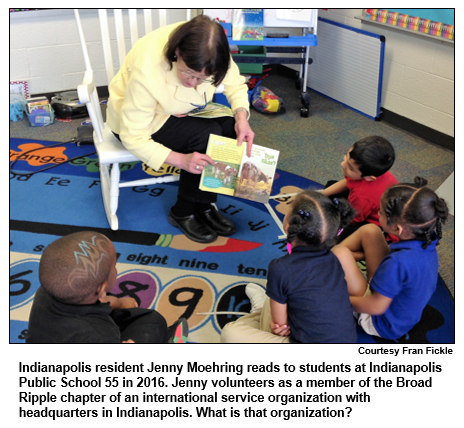 In 1915, three years after Girl Scouts was founded as a national organization and the first troop was formed in Indiana, a non-profit service organization for adults was founded.
The service organization in question began in Michigan, not Indiana, but in the early 1980s, its international headquarters moved to Indianapolis, where it remains to this day on the northwest side of the city. The service organization is international in scope, with chapters in more than 80 countries.
Question: What is the service organization?
Hint: Its name is derived from a word in the Native American Ojibwe language meaning "to fool around; to play wantonly."
The call-in number is (317) 788-3314. Please do not call in to the show until you hear Nelson pose the question on the air, and please do not try to win if you have won any other prize on WICR during the last two months. You must be willing to give your first name to our engineer, you must answer the question correctly on the air and you must be willing to give your mailing address to our engineer so we can mail the prize pack to you. The prize is two tickets to the Seiberling Mansion in Kokomo, courtesy of the Howard County Historical Society, two passes to GlowGolf, courtesy of Glowgolf, and two passes to the Indiana History Center, courtesy of the Indiana Historical Society.
Roadtrip: Terre Haute, "Town of Museums"
Guest Roadtripper David Buchanan, Curator of Furnishings and Decorative Objects at the Indiana State Museum and Historic Sites, will be calling in from Terre Haute with a whirlwind tour of the city's museums and top spots of visitor interest. David tells us that Terre Haute is a three-university town with several great museums, including the Candles Holocaust Museum, Swope Art Museum, the Children's Museum, the Clabber Girl Museum in the original Hulman and Company building, and the Eugene V. Debs home.
David also suggests a visit to some very nice city parks, including Hawthorn Park and its Smith Memorial Labyrinth, modeled after the labyrinth in the Chartres Cathedral in France.
If local cuisine is your interest, did you know that the Square Donut had its birth in Terre Haute? And speaking of sweet treats, you won't want to miss the Vigo County Historical Society Museum's marvelous display of Coca Cola-related memorabilia; the iconic Coke contoured glass bottle was designed by the Root Glass Company of Terre Haute.
And if you're in the mood for a spooky ghost story, you can visit the museum's stuffed bulldog, Stiffy Green, and learn how the canine's love for his master ostensibly transcended the grave. But a little delayed gratification will be required; the Vigo County Historical Society Museum is currently closed and scheduled to reopen in early 2019. You can keep an eye on their progress by visiting their website.
Meanwhile, Terre Haute's many other attractions will keep you busy on your visit to Indiana's "capital of the Wabash Valley."



Nelson took us for a walk in the park (Indy Parks, that is)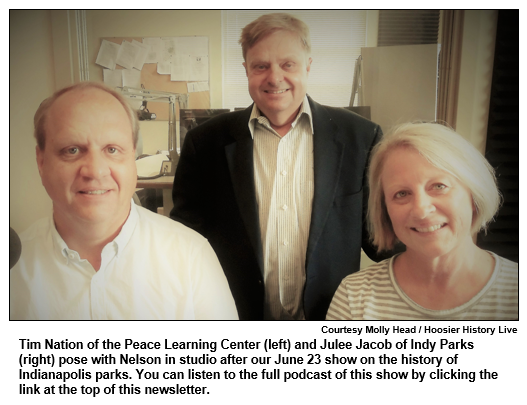 Eagle Creek Park, Broad Ripple Park and other Indy park histories
To listen to this show, click here!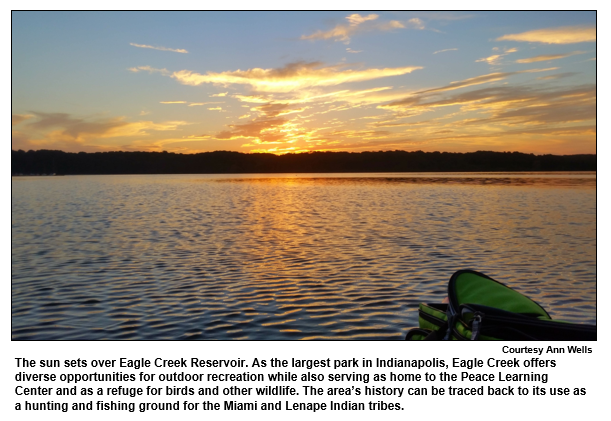 (June 23, 2018) Often touted as one of the country's largest urban parks, Eagle Creek Park in northwest Indianapolis is situated on densely wooded land that once was the secluded summer retreat and private nature preserve of a civic leader.
Broad Ripple Park has a rollicking history that dates to the early 1900s. Before he starred as Tarzan in Hollywood movies, Johnny Weissmuller won the Olympic Swimming Trials held in 1924 at an outdoor pool at the park that preceded the current pool. In July 1999, Broad Ripple Park became the site of the city's first public dog park, or "bark park," as it's called by many of its users.
Just as Indy Parks develops master plans for 62-acre Broad Ripple and Riverside Park, both bordering the White River, we do a deep dive into their histories, as well as those of Eagle Creek and two other public parks in Marion County, Garfield Park on the southside and Skiles Test Park on the northeastside. Nelson's studio guests are:
Tim Nation, executive director of the Peace Learning Center located at Eagle Creek. Tim has researched and does public presentations about the evolution of the sprawling park; it was created on expanses of property acquired beginning in the 1930s by J.K. Lilly Jr., a businessman and philanthropist. The park's Ornithology Center is housed in a building that once was Lilly's private library.
And Julee Jacob, a senior project manager for Indy Parks who is helping oversee the master plans for Broad Ripple and Riverside. Although both of the parks once were the settings for amusement parks - Riverside Amusement Park was a major attraction for generations of Hoosiers until its closing in 1970 - those eras won't be the focus of today's show. Julee emphasizes that both amusement parks were privately owned and not part of the city park system. And we showcased the Amusement Park History during a show in July 2011.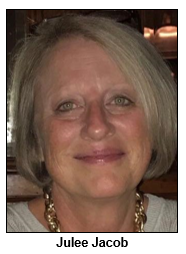 Instead, we dive deeply into aspects of the parks' histories that may be unfamiliar to many listeners, including some chapters that even pre-date European settlement. According to various accounts, Native Americans - particularly the Miami and Lenape (Delaware) Indians - hunted and fished in the early 1800s on the land that later became Eagle Creek Park.
At Eagle Creek - which today has everything from hiking trails and a swimming beach to a Go Ape "treetop adventure course" - the Lilly-owned property started with 12 acres in the 1930s and had expanded to 3,000 acres by the 1950s. His estate included a lodge and a swimming pool in addition to the library, which was built with a massive vault for Lilly's cherished collections.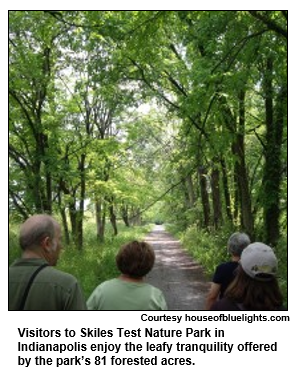 Garfield Park, which is considered to be the oldest park in the Indianapolis park system, traces its beginnings to 1873. The city purchased the land from civic leaders who had created a harness racetrack known as Southern Park on the site. After President James Garfield was assassinated in 1881, the park was renamed in tribute. The Garfield Park Conservatory and pagoda, which originally were built during the early 1900s, became a source of pride for southsiders and the sites of popular social events, including festive dances.
In addition to our stroll through park history, we explore the master plans being developed by our guest Julee Jacob and her Indy Parks colleagues for Broad Ripple and Riverside. The plans involve design concepts with, as the Indianapolis Star put it, a "long-term vision" for the parks.
Broad Ripple Park was created on riverside land that in 1822 had been a family farm founded by Jonas Huffman, a pioneer to the area. During the 1860s, his descendants and their neighbors established a picnic area for public use, according to a history prepared for Indy Parks.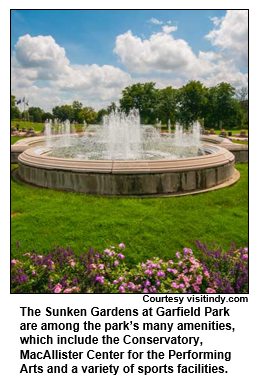 In the 1890s, electric streetcars brought Indianapolis residents to Broad Ripple, then a separate village, so they could savor the area as a summer retreat from the heat and dust of the city. During that era, James Whitcomb Riley wrote a poem extolling the "eloquent tranquility" of a fishing trip to Broad Ripple.
The lure of Eagle Creek as a tranquil area for summer cottages and even year-round residences appealed to several families years before J.K. Lilly (1893-1966) created his estate there. Some structures built at Eagle Creek by early property owners are still standing.
Since the 1980s, rowing opportunities at Eagle Creek - both competitive and recreational - have brought regional and even national attention. The Indianapolis Rowing Center is located at Eagle Creek and has been the setting for national championship regattas as well as the rowing and sailing competitions during the 1987 Pan American Games.
Riverside Park has long been known for its public golf courses. The first course there was established more than 100 years ago; it was created on land that Thomas Taggart, an enthusiast of recreation who was mayor from 1895 to 1901, pushed for the city to purchase. His detractors referred to Riverside as "Taggart's Folly" because it had been prone to flooding from the White River.
History Mystery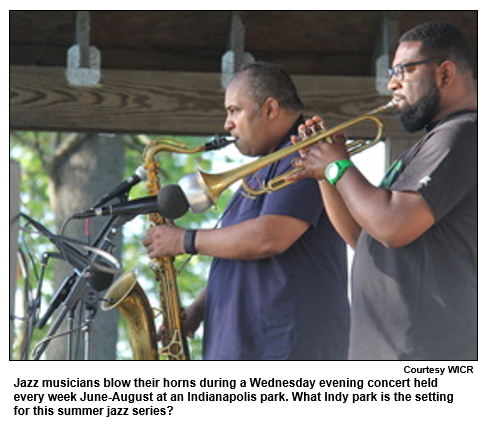 During the summer, a jazz concert is held every Wednesday evening at a park in Indianapolis. The concert series begins in June and concludes in August. WICR-FM (88.7) typically has on-air personalities and production staff at the concert series in the park. Local and regional jazz acts perform during the Wednesday evening park concerts.
Question: What Indy park is the setting for this summer jazz series?
The call-in number is (317) 788-3314. Please do not call in to the show until you hear Nelson pose the question on the air, and please do not try to win if you have won any other prize on WICR during the last two months. You must be willing to give your first name to our engineer, you must answer the question correctly on the air and you must be willing to give your mailing address to our engineer so we can mail the prize pack to you. The prize is a gift certificate to Story Inn in Brown County, courtesy of the Story Inn, and four passes to the Indiana History Center, courtesy of the Indiana Historical Society.
Roadtrip: Muscatutuck National Wildlife Refuge near Seymour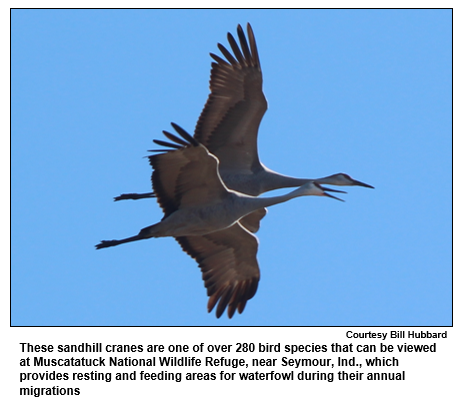 Guest Roadtripper Terri Gorney of Fort Wayne, a nature and birding devotee, suggests that we visit Muscatutuck National Wildlife Refuge, located just a few miles off I-65 in southern Indiana near Seymour. Its 7,724 acres includes forests, wetlands and grasslands; with its varied habitats, the refuge serves as home to creatures as diverse as bald eagles and river otters. Terri says it's also a great place to spot migrating waterfowl and sandhill cranes in the early spring and late fall.
Muscatutuck has paved roads throughout for driving and stopping to view wildlife. Foot trails wind among the various habitats, offering visitors the opportunity to see a wide range of animals. And the nature center has a bird viewing room and a gift shop that benefits Friends of Muscatutuck.
If you're hungry after your outdoor adventure, Terri recommends a stop at Batar, a quaint café and tea room next to the refuge on U.S. 50. While you're enjoying your lunch, you'll have excellent views of the countryside.
"Enjoy your Indiana summer!" says Terri.
Bam! Pow! Superhero show was a knock-out!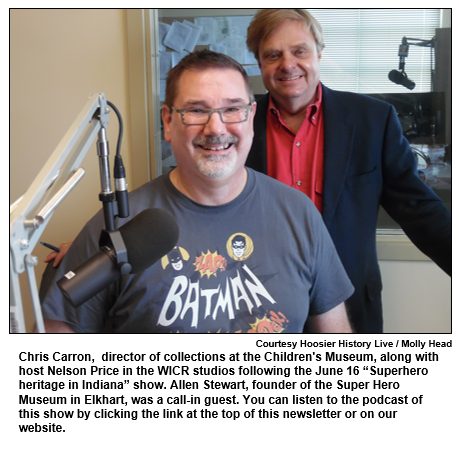 Superhero heritage in Indiana
To listen to this show, click here!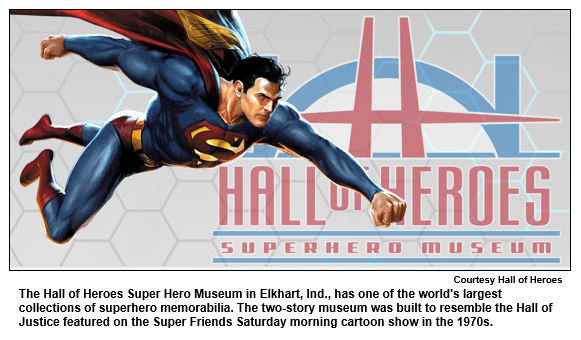 (June 16, 2018)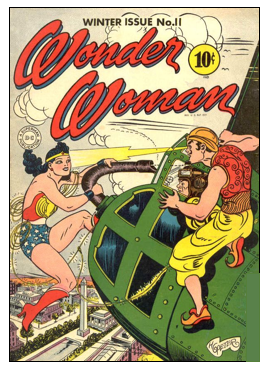 Superman, Batman, Wonder Woman, Spider-Man and other classic superheroes tend to inhabit fictional places like Krypton, Smallville and Gotham City, not Indiana.
Even so, as we note the 80th anniversary of the introduction of Superman - his debut in a 1938 comic book is regarded as the launch of the superhero phenomenon - a stack of reasons nearly a tall as a skyscraper justify showcasing the Hoosier state's association with these champions of Truth, Justice, and the American Way.
In Elkhart, the Hall of Heroes Super Hero Museum has one of the world's largest collections of superhero memorabilia. The two-story museum - built to resemble the Hall of Justice featured on the Super Friends Saturday morning cartoon show in the 1970s - has more than 60,000 comic books; they include comics from 1941 and '42 in which Captain America and Wonder Woman, respectively, made their first appearances. Other artifacts include a Batman costume worn by the late actor Adam West, who portrayed the Caped Crusader in a popular 1960s TV series; more recent memorabilia include a Shelby Cobra sports car from the movie Iron Man (2008).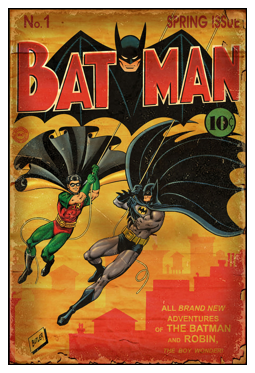 In Indianapolis, the Children's Museum has acquired one of the world's largest collections of Batman memorabilia, a portion of which is displayed in its pop culture gallery. (The collection's former owner, Indy resident Kevin Silva, was a studio guest on a Hoosier History Live show in January 2015 about Guinness World Records in Indiana.)
On June 16 - the day our show was recorded- the Children's Museum also opened the interactive exhibit DC Super Heroes: Discover Your Superpowers, in which visitors are invited to join forces with Superman, Green Lantern, the Flash, Wonder Woman and other characters to solve problems and catch arch-villains.
For those who would dismiss superheroes as a trivial subject unworthy of examination by historians, consider the social history reflected in comic books and cartoons of various eras. The Hall of Heroes Super Hero Museum's comic book collections include a rare, World War II edition of one that's been called the "racist Superman;" its cover features the crime fighter with the wholesome reputation urging readers to "slap the Japs." Comic books from the Cold War era of the 1960s depict the Hulk and Iron Man taking on evil-doers from the former Soviet Union.
For our exploration of Indiana's connections to superhero history, Nelson's guests are:
Allen Stewart, an Elkhart native who founded the Hall of Heroes Super Hero Museum in 2007, which has been featured on programs on the Discovery Channel and the Travel Channel as well as in nationally distributed magazines. The museum's memorabilia - which includes 10,000 toys, accessories and props and 100 pieces of artwork and animated cells in addition to the trove of comic books - has grown so rapidly that Allen is raising funds to move to a new site in Elkhart that will triple the museum's size.
And Chris Carron, director of collections at the Children's Museum. The Batman collection it acquired in 2016 includes a Gotham City license plate and phonebook from the 1966-68 ABC-TV series that starred West. The collection also has an array of gadgets marketed to promote the character such as "bat-a-rangs" (boomerangs), utility belts and a bat bike.
In the temporary DC Superheroes exhibit, which runs through Nov. 25 2018, visitors to the Children's Museum are urged to develop teamwork; for example, families can join Wonder Woman as she attempts to rescue artifacts that the villainous Cheetah has stolen from a museum of ancient history.
Home & Away magazine has described the Elkhart museum as "part roadside curiosity, part super-fan tribute and part blast from the past." In 2012, Stan Lee - the man who created some of Marvel's most popular characters and a major celebrity among superhero enthusiasts - visited the Hall of Heroes and, as our guest Allen Stewart puts it, "got us on the national radar. We just kind of exploded after that."
While exploring heroes, our show also will highlight a $38.5 million outdoor/indoor experience at the Children's Museum that salutes real-life sports notables. The Riley Children's Health Sports Legends Experience opened earlier this year on 7.5 acres with an Avenue of Greatness exhibit that highlights the stories of Indiana sports stars including Larry Bird, Oscar Robertson and Tamika Catchings. There also are immersive experiences for a range of ages in hockey, soccer, tennis, car racing (in pedal cars), golf and other sports.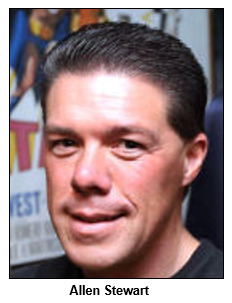 The Children's Museum also is the home of the National Art Museum of Sport. The museum has more than 900 pieces of artwork - running the gamut from paintings to sculptures - of renowned athletes, including some of the Indiana legends featured on the "Avenue of Greatness." Founded in New York, the Art Museum of Sport was displayed during the 1987 Pan American Games in Indianapolis; since then, its collection has been housed at various sites in the Hoosier capital prior to its recent, permanent move to the Children's Museum.
The temporary DC Super Heroes exhibit opening at the Children's Museum has a distinctive vehicle that fans are certain to recognize: the Batmobile featured in Batman and Robin (1997), a movie version that starred George Clooney and Chris O'Donnell in the title roles.
There's also a connection between that movie and our guest Allen Stewart. Although Allen, 47, didn't have a lot of acting experience, he did screen tests for the role of Robin and says he was considered a finalist until losing the part to O'Donnell.
That blow didn't dent Allen's enthusiasm for superheroes, which he traces to his boyhood in Elkhart. At his Hall of Heroes museum, he even has created a replica of the Batcave to showcase part of his collection. From the dawn of Superman in the late 1930s, the museum also has some of the first superhero toys marketed to the Man of Steel's fans.
"I'm like Peter Pan," Allen says about his mountains of memorabilia. "I refuse to grow up."

History Mystery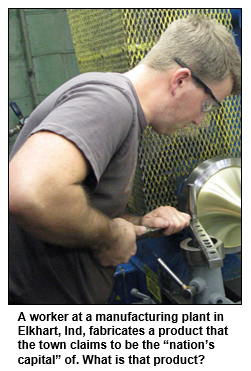 Elkhart, the Indiana city that's the home of the Hall of Heroes Super Hero Museum, has long been known as a manufacturing center for recreational vehicles. But the city in northern Indiana also has been known for more than 130 years for another kind of manufacturing as well.

The mystery manufacturing is of a product may not be particularly glamorous, but it's certainly widely known - and associated with the performing arts.

Several makers of this product have had manufacturing facilities in Elkhart since the late 19th Century. In fact, Elkhart often touted itself as the "nation's capital" for this product, which is used in high schools across the country.

Question: What is the product that Elkhart claims to be the "nation's capital" of?

The prize is four tickets to the Children's Museum of Indianapolis, courtesy of the Children's Museum, and two passes to GlowGolf, courtesy of GlowGolf.
Roadtrip: Peeler Art Center and DePauw Nature Park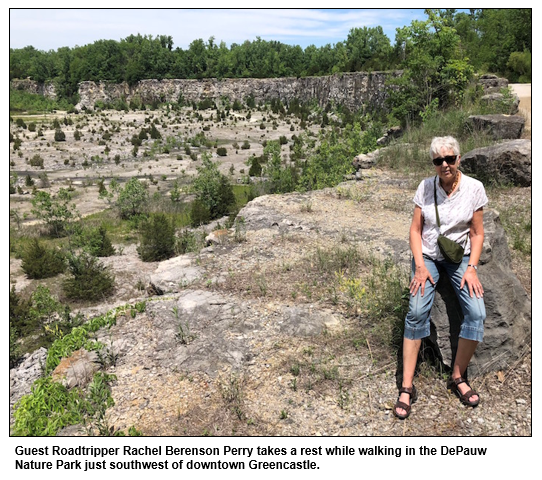 Guest Roadtripper Rachel Berenson Perry, Indiana State Museum Fine Arts Curator Emerita and freelance historian, tells us that Greencastle makes an ideal small-town destination for its combination of culture and nature.

Rachel suggests we begin our visit to Greencastle with a trip to the Richard E. Peeler Art Center, located in the heart of the DePauw University campus. The Art Center is currently showing Controlled Identity, a display of more than fifty diverse portraits from different time periods, as well as The Art of Data, artistic visualizations, including a compelling video, of current research in the fields of biology, chemistry, physics, geoscience, psychology, computer science and public health.

Following that brain workout, Rachel encourages us to keep physically fit with a hike in the DePauw Nature Park, where several well maintained gravel trails, from flat and easy to rugged and steep, wind around an abandoned limestone quarry and along Big Walnut Creek. What a great use for an old quarry! It's not quite the same as stumbling across the Grand Canyon, but if you've not seen it, it's certainly an unusual landscape destination for Indiana.
How to furnish an historic home: Encore presentation
To listen to this show, click here!
(This show was originally broadcast on January 10, 2015)
(June 9, 2018) Maybe your home's interior has a Victorian-era theme. Or is your preference for an even earlier period, like the Colonial era? Perhaps a much later era, such as the 1950s or '70s, is your decorative dream.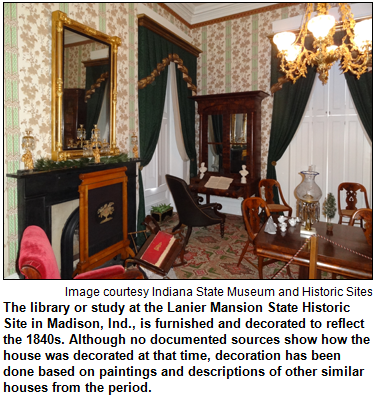 To offer advice about furnishing homes with period themes, Hoosier History Live is calling in three experts with track records of making period-appropriate decorating decisions about distinctive homes, including some of Indiana's historic sites. Our topics include plenty of do's and don'ts. We also explore the care, treatment and placement of period furniture.
Nelson is joined in studio by:
Along with advice for homeowners, our guests share anecdotes related to their restoration, furnishing and conservation experiences.
Regarding antique furniture, they talk about reproductions - along with, as our guest Link Ludington puts it, "reproductions that are now legitimate antiques." In addition, he plans to discuss whether investing in antiques is a good idea; tips about starting collections; fakes and forgeries; and "matching furnishings to the period and style of a house versus eclectic collections."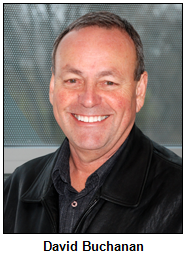 Link, who says his career has been shaped by "a lifelong interest in the architecture, decorative arts and furniture of the 19th century," is the vice president of the Cornerstone Society Inc. It is the historic preservation advocacy organization in Madison.
Some other tidbits:
David Buchanan lives in an Italianate home built in 1870 that is considered the closest private residence to Monument Circle.
Among the conservation experiences Greg Ziesemer regards as his most cherished: helping conserve a corner cupboard made in Indiana by Thomas Lincoln, father of future president Abraham Lincoln. (During a Hoosier History Live show in February 2014, we explored Abe Lincoln's relationships with his parents and Thomas' outstanding skills as a furniture maker.)
Greg Ziesemer also has been involved with historic furnishings at the Lanier Mansion in Madison (where our guest Link Ludington once was the curator); the Benton House in the Irvington neighborhood of Indianapolis and the IU Memorial Union in Bloomington.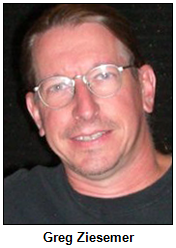 Often described as the "crown jewel" of the historic district in Madison, the Lanier Mansion was built in the 1840s by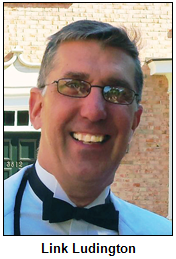 early Indiana architect Francis Costigan, who designed other buildings in Madison and Indianapolis. In the 1850s, Costigan designed a hotel in Indianapolis at a site on South Illinois Street that, ever since, has been the setting for a hotel.
In Madison, the historic district includes more than 130 blocks. Homes are said to reflect every era of the Ohio River town's development between 1817 and 1939.
With its Corinthian columns on the south portico, Doric pilasters (ornamental columns) and other features, the Lanier Mansion in Madison is considered one of the best examples of Greek Revival architecture in the country.
Few of our listeners live in a house with that kind of rich history and spectacular features. But our guests offer advice for a range of owners of houses with period-focused themes. Link, for example, shares his take on "buying what you like and can afford instead of what someone tells you to like."
History Mystery
A type of desk created during the 1870s in Indiana became famous across the country and is considered one of the most significant successes of the state's woodworking industry. The desks, which featured built-in pigeonholes with specialized storage for letters, were made by an Indianapolis furniture shop.
Often made of walnut, the desks were known for consolidating work and storage space by providing nooks and crannies.
The name of the desks was derived from the Hoosier businessman who established the furniture shop in Indianapolis. John D. Rockefeller, Ulysses S. Grant and other famous Americans used the desks, which often had folding doors that could be locked, protecting the contents.
Question: What was the name of the Indiana-made desk?
Because this is an encore presentation, we will not be accepting calls for the History Mystery.
Roadtrip: Carter House in Corydon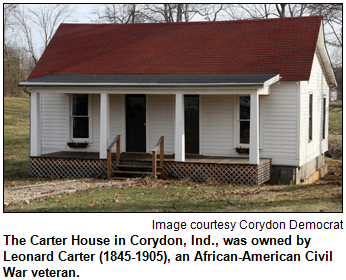 Guest Roadtripper and historic preservationist Maxine Brown of Corydon will tell us about the challenges in correctly decorating and furnishing what she calls "the modest home of an everyday African American living in the 1890s."
The Carter House in Corydon was owned by Leonard Carter (1845-1905), an African-American Civil War veteran born in Floyd's Knobs, Ind., who fought with the Civil War 28th U.S. Colored Troops, Company C, and was wounded at the Battle of Petersburg (also known as the Battle of the Crater, which serves as the opening scene in the movie Cold Mountain).
After the Civil War, Leonard Carter settled in Corydon and married Easter Perry in 1866. They had nine children, and he built a small bungalow for his family at 545 S. Floyd St. around 1891. The Carter House was saved from demolition and is being restored. It has been moved to Hill Street, close to the Leora Brown Colored School, another African American landmark in Corydon. The Carters and some of their children are buried in Cedar Hill Cemetery in Corydon near where the house stands now.
Great American Songbook Foundation's evolution
To listen to this show, click here!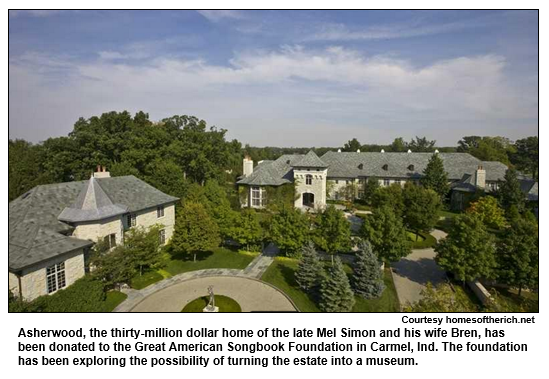 (June 2, 2018) At the end of January, the widow of the shopping mall magnate who co-owned the Indiana Pacers announced she was donating a 107-acre estate to the Great American Songbook Foundation based in Carmel. Since then the foundation, which was founded by acclaimed entertainer and music historian Michael Feinstein, has been exploring whether a museum could be developed on the Asherwood estate.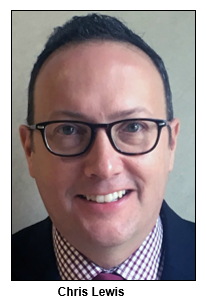 That's the most recent chapter in the rapid evolution of the songbook foundation, which is affiliated with the Center for the Performing Arts in Carmel.
With a mission to "preserve and elevate" the legacy of pop, jazz, Broadway and Hollywood music from the 1920s through the 1960s, the Great American Songbook Foundation now has more than 100,000 donated items. They include the papers of composer Meredith Wilson (best known for The Music Man) and entertainer Ray Charles, as well as the piano of composer Johnny Mercer.
As we spotlight the foundation - including its programs for aspiring performers and, at the other end of the age spectrum, for early-onset Alzheimer's patients - Nelson is joined in studio by Chris Lewis, the foundation's executive director, and Lisa Lobdell, its archivist.
Our show precedes a summer foundation program that's been drawing attention far beyond Indiana's borders: the Songbook Academy, an internship program for high school singers interested in performing Great American Songbook music.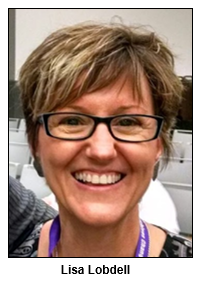 The foundation's archive began with the personal collection of Michael Feinstein, a five-time Grammy Award nominee. For decades, he had been given artifacts (often by fellow celebrities) ranging from original sheet music and orchestrations to theatrical memorabilia. An example (with a Hoosier connection) was mentioned in a 2011 article in The New York Times about the foundation: A limited-edition score of Red, Hot and Blue, a 1937 Broadway musical - signed by its composer, Indiana native Cole Porter - was given to Feinstein by the show's star, Bob Hope.
Could such treasures end up in a museum at Asherwood, the estate formerly owned by Mel Simon, who died in 2009, and his wife Bren?
Nelson asks his guests about that possibility for the estate, which includes a mansion of 50,000 square feet. An article in The Indianapolis Star about an April fund-raiser at Asherwood quoted our guest Chris Lewis as describing Bren Simon's gift of the estate as "transformative" for the songbook foundation.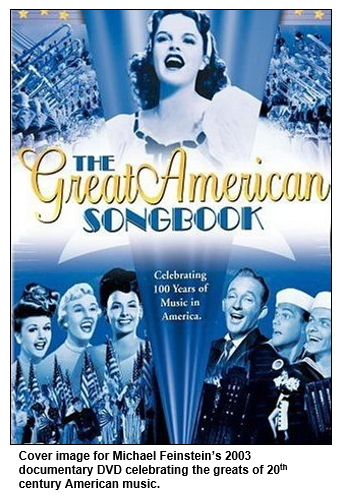 Our guest Lisa Lobdell is credited with initiating Perfect Harmony, one of the foundation's on-going programs. Based on aspects of music therapy, Perfect Harmony uses Great American Songbook tunes in interactive ways with Indiana residents who are in the early stages of Alzheimer's.
There's also a Great American Songbook Foundation Hall of Fame. Honorees have included, in the posthumous "legends" category, composers Hoagy Carmichael, who grew up in Bloomington and Indianapolis, and Cole Porter, who was born in Peru, Ind. At the Palladium, the foundation has had exhibits about the composers and other Hall of Fame inductees, including entertainers Frank Sinatra and Ella Fitzgerald. (Our guest Chris Lewis participated in a Hoosier History Live show last September about Sinatra's connections to Indiana.)
Our guest Lisa Lobdell says a myth about the songbook foundation is that its archives primarily consist of Michael Feinstein's collections.
"We have grown so quickly that we don't have room for (most of) Michael's collection here," she reports. "We have some materials donated by him, but few are archival. The majority belong to our growing library collection of books, CDs, LPs, DVDs and sheet music."
The Songbook Academy also has evolved. It's a seven-day summer intensive that has been attended by high school singers from as far away as Boston and Rochester, N.Y., as well as Indiana cities like Lebanon and Winona Lake. The teenagers receive instruction in presenting themselves on stage; phrasing when they perform Great American Songbook-era music and other topics related to their performance. Their instructors have included acclaimed singer and educator Sylvia McNair, who is based in Bloomington, as well as performers based on the East and West Coasts.
"The Great American Songbook is about the diversity of our country," Feinstein emphasized to the New York Times for the 2011 article. "Many writers came from New York or even Hollywood, but they came from everywhere, including Hoagy Carmichael and Cole Porter from Indiana."
Roadtrip: "Good Enough" and Westleigh farmsteads near Peru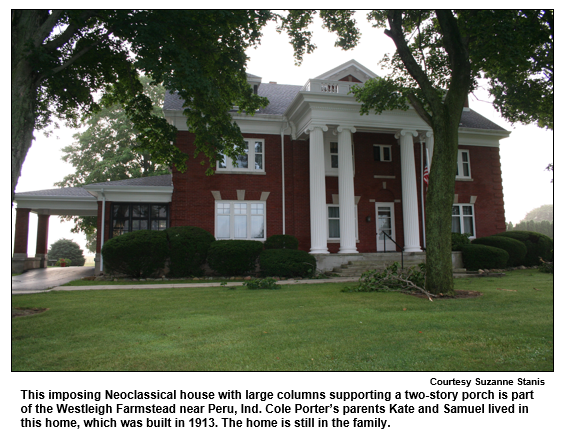 Guest Roadtripper Suzanne Stanis, Director of Heritage Education at Indiana Landmarks, invites us to learn about two distinctive farmsteads that sit between the Mississinewa River and the meandering Frances Slocum Trail, just outside of Peru, Ind. Both farms have family connections to Great American Songbook composer Cole Porter and reveal the story behind his name.
The bright red English barn of the Cole-Kubesch Farm proudly hails the words "Good Enough" on its gable end. As Suzanne tells the story, upon purchase of the farm in 1904, the owner's wife, Mrs. J.O. Cole, reckoned it was "good enough" for her and the name stuck.
Just down the road is an imposing Neoclassical house with large columns supporting a two-story porch. Next to the house a large barn displays the name Westleigh Farms. Although Cole Porter (whose first name pays tribute to his mother's family name) never lived in the house, he visited his parents Kate and Samuel Porter there over the years. Kate's father J.O. Cole owned the Good Enough farm and constructed the house at Westleigh for his daughter and son-in-law in 1913. Kate noted that Cole would occasionally compose music at the Westleigh piano during visits because it was so quiet. No doubt compared to his homes in Paris and New York City, the sounds of the rural farm had to be a welcome respite for Cole.
Both farms remain in the Cole-Porter families, with the current owner of Westleigh representing the sixth generation of the family.

History Mystery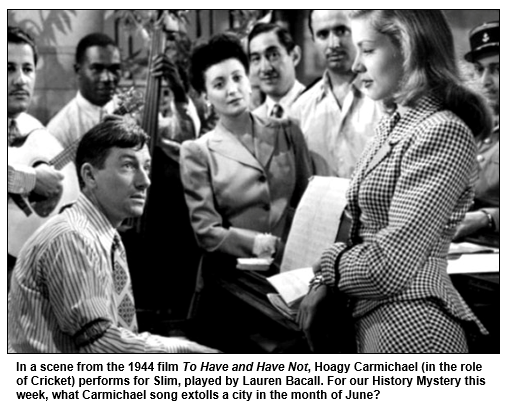 Bloomington native Hoagy Carmichael is credited as the composer of the music for more than 45 songs that became hits, including such classics as "Stardust," "Georgia on My Mind" and "How Little We Know."
Since Carmichael's death in 1981, his biographers and music historians have contended that the Academy Award-winning composer also deserves credit for helping create the lyrics and titles of many of his songs.
Many of his songs were influenced by Indiana places and people, but Carmichael also composed songs about other states and cities. They include a song popular in the 1940s that extols a city during the month of June. The song, which periodically can be heard on WICR-FM (88.7), has a title featuring the city's name and a reference to June.
Question: What is the song?
Hint: The city is in a Southern state.
The prize is two passes to the Indiana History Center, courtesy of the Indiana Historical Society, a gift certificate to Story Inn in Brown County, courtesy of the Story Inn, and two passes to GlowGolf, courtesy of GlowGolf.
Prizes solicited for History Mystery contest
If your business or organization would like to contribute prizes for our History Mystery contest, we would love to have them! Ideally they fit in a standard mailing envelope, such as coupons or vouchers.
Your organization gets a mention on the air by Nelson, as well as a link to your website on our enewsletter and website! If interested, contact producer Molly Head at molly@hoosierhistorylive.org.
International aspects of early Indy 500s
To listen to this show, click here!
(May 26 2018) In 2017, the Indianapolis 500 was won by a driver born in Japan. Over the last 15 years, victorious drivers in the "Greatest Spectacle in Racing" have included natives of Colombia, Brazil, Scotland, England and New Zealand.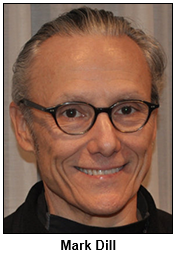 So while race fans are probably well aware of the prominence of foreign drivers in recent years, they may not know that the impact of international racers was nearly as significant during the early era of the Indianapolis Motor Speedway, beginning just a few years after the inaugural Indy 500 in 1911.
The early streak of victories by drivers born overseas - and racecar entries by automakers based in foreign countries - preceded a "drought" of foreign winners that lasted about 45 years during the middle of the 20th century.
In 1913, the Indy 500 was won by a Frenchman driving a car made in his homeland. Other European entries that year included competitors from England and Italy.
Another driver from France won the Indy 500 in 1914. The next year, an Italian sped to Victory Lane. Then came the fabled Chevrolet Brothers, who had lived in France and Switzerland. Two of the three Chevrolet brothers, who died nearly penniless, are buried in the Holy Cross and St. Joseph Cemetery on the southside of Indy.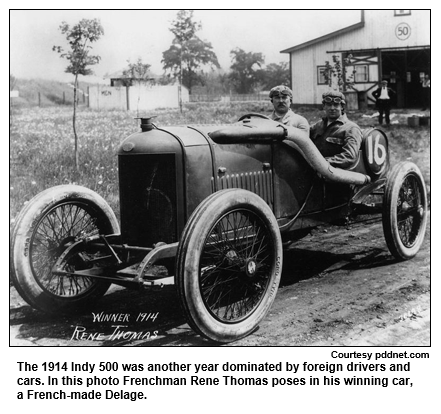 Indianapolis native Mark Dill, an auto racing historian and marketer now based in Cary, N.C., is Nelson's studio guest to describe the international drivers and overseas automakers who competed in early Indy 500s. Mark has written an article about the history of early drivers for the racetrack program that will be distributed at this year's Indy 500; he oversees an extensively researched and illustrated website about auto racing history.
Mark notes that "1913 was a pivotal year, distinguished as being the first to attract international factory entries." The race was won that year by Jules Goux of France; his car was a French-made Peugeot.
"Legend has it that Goux consumed six pints of Champagne during pit stops," Mark says, "but the reality is probably a different story. Goux competed in five Indianapolis 500s, finishing first, fourth and third in his first three efforts."
Three of his competitors in the 1913 race drove Isottas manufactured in Italy. "The Isottas traveled across the Atlantic Ocean aboard the Lusitania and arrived just three days before the race," Mark explains. (Two years later the Lusitania, a British ocean liner, was torpedoed by Germans during World War I.)
Of the Indy 500 in 1914, Mark says: "The French dominated, finishing in the top four places." The triumphant drivers included winner Rene Thomas, who drove a Delage made in France.
The next year, the winner at the Speedway was Ralph DePalma, who had been born in Italy.
"DePalma was as American as Mario Andretti," Mark explains, noting that "Race promoters liked to bill him as the 'Italian champion,' even though he did not grow up racing there. IMS was keenly interested in attracting European car companies in the earliest years. The idea was that it would create more interest for fans and a better measuring stick for U.S. car companies in product improvement."
This was the era of the three Chevrolet brothers: Louis, Arthur and Gaston, founders of the Chevrolet Motor Company. Although Louis is considered to have been the most successful driver among the three, youngest brother Gaston was the sibling who captured the checkered flag at the Speedway, winning the Indy 500 in 1920.
During our show, Mark discusses the dramatic lives of the Chevrolet brothers. He also explores some of the reasons for the long drought - following Gaston's win in 1920 - of foreign-born winners of the Indy 500. The drought lasted almost without interruption until the victory in 1965 by popular Jimmy Clark of Scotland.
Mark Dill was a guest on Hoosier History Live two years ago for a show that also focused on Indy 500 drivers, but looked at the opposite end of the spectrum of drivers' origins. That show highlighted Indiana natives who won - or became fan favorites - in early Indy 500s.
In 1917, the Indy 500 was canceled due to World War I. Mark Dill is among the historians who contend that Louis Chevrolet might have won that 500, noting that the eldest brother was on an impressive streak in 1917, roaring to victory in several other races.
Known for his fiery temperament, Louis Chevrolet clashed with his business partners and abruptly quit the company that bore the Chevrolet name, "forsaking any rights to the car brand or stock ownership," Mark notes.
Louis Chevrolet also clashed with his brother Arthur, who moved to Louisiana. That's where Arthur committed suicide in 1946 and is buried in an unmarked grave. For several years, racing enthusiasts had incorrectly assumed Arthur was buried at Holy Cross Cemetery with Louis and Gaston, who had settled in Indianapolis.
Gaston was killed during a race in Beverly Hills in 1920, several months after winning that year's Indy 500. All three Chevrolet brothers - particularly Louis and Arthur - were regarded as brilliant mechanics.
Roadtrip: Route 32 Auctions in Crawfordsville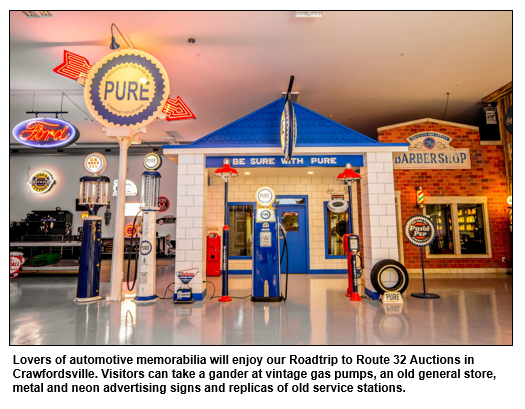 If old gas station memorabilia is your passion, guest Roadtripper and travel and food writer Jane Ammeson recommends a stop at Route 32 Auctions in Crawfordsville. You'll see vintages gas pumps, an old general store, metal and neon advertising signs and replicas of old service stations. Here's a place that truly evokes Indiana's auto heritage!
The collection also includes rows of the differently colored Standard Oil crowns that once topped gas pumps, a rare two-pump oil cart and an even rarer Satam 4-Door Cabinet Petrol Pump.
Route 32 Auctions is open to the public Monday through Friday from 9 a.m. to 5 p.m., and "lookers" are welcome: there's no pressure to buy anything. The business is run by avid collectors Kevin and Jill Parker of Crawfordsville.
Jane reminds us that back in the 1920s and 1930s, Crawfordville had a Nash dealership and you could fill your tank at one of the 40 or so Parker Red Hat gas stations in the area.
"There's beauty in these wonderful artifacts!" says Jane.
History Mystery
A landmark at the Indianapolis Motor Speedway is a Japanese-style structure that locals and fans worldwide refer to as "the Pagoda," as our guest, auto racing historian Mark Dill, has noted.
The original Pagoda at the racetrack opened in 1913 as a building for Speedway officials, the press and telegraph operators. Painted green and white and made of wood, the first Pagoda burned to the ground in 1925. A new Pagoda was constructed in time for the Indianapolis 500 in 1926.
By the mid-1950s, however, a taller, modernistic structure made of steel had replaced the Pagoda; that building stood for more than 40 years. It was demolished to make way for the current Pagoda, which was completed in 2000. Designed as a tribute to the racetrack's heritage and painted green and white like the original, the current Pagoda is 153 feet tall.
Question: Name the steel structure replaced by the current Pagoda.
The prize is a gift certificate to the Story Inn in Brown County, courtesy of the Story Inn, and tickets to the Seiberling Mansion in Kokomo, courtesy of the Howard County Historical Society.

In studio last week...
Famous but forgotten: Indiana writer George Ade
To listen to this show, click here!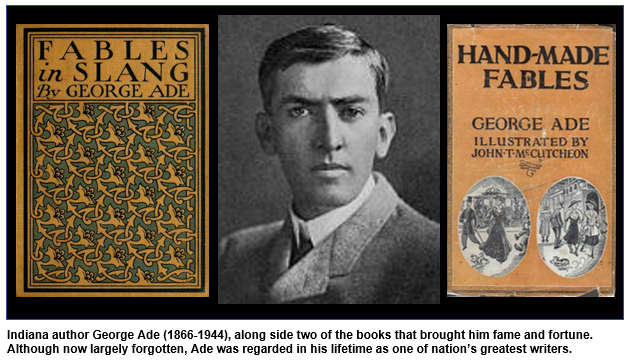 (May 19, 2018) He may be the most famous Hoosier author you've never heard of.
In 1915 an Oxford literary scholar deemed him "the greatest living American writer." His work was regarded as part of a Golden Age of Indiana Literature, on par with the writing of such luminaries as Booth Tarkington and Theodore Dreiser. His earnings as a writer financed the construction of a lavish English Tudor estate near the banks of the Iroquois River in Newton County, where he hosted parties for Presidents and celebrities. By the 1920s he had accumulated enough wealth that he could help fund the construction of a football stadium at his alma mater.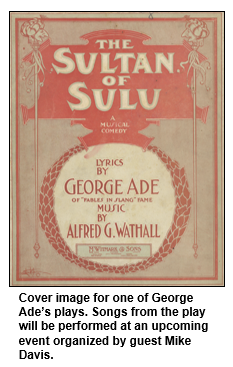 In spite of the fame and fortune he achieved in his lifetime, however, Indiana author George Ade (1866 - 1944) has drifted into obscurity. His works are not even currently stocked by the bookstore at the Eugene and Marilyn Glick Indiana History Center in downtown Indianapolis.
But an enterprising resident of Newton County in northwest Indiana hopes to change all that.
Hoosier History Live associate producer and guest host Mick Armbruster is joined in studio by Mike Davis to explore the life, humor and literary legacy of George Ade. Mike has portrayed Ade in historical reenactments and is organizing an upcoming musical show dedicated to Ade's creative work as a song lyricist. Mick also welcomes Jeannie Logan of Indianapolis, who will star as vocalist in that show featuring Ade's songs. Pianist David Meek, also of Indianapolis, will provide accompaniment and additional vocals for the musical performance and also joins Mick and his guests in discussing Ade's place in Hoosier cultural history.
In many ways, Ade's life reflects essential elements of the American experience at the turn of the 19th and 20th centuries. Born to an immigrant father and second-generation mother and raised on a farm near the small town of Kentland, Ind, Ade showed early academic promise and attended Purdue University on scholarship.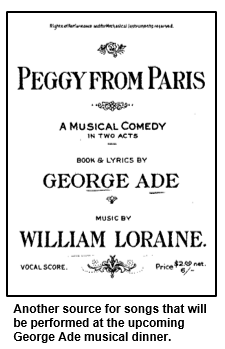 At Purdue, Ade distinguished himself as a writer for the school newspaper and made lasting friendships that would serve him in his writing career. Purdue's enduring importance to Ade is evident from his philanthropic efforts there later in life: a substantial gift from him helped fund the construction of the Ross-Ade Stadium in 1924.
Like many young people of the era who had grown up in rural America, Ade chose to relocate the big city to begin his career. Within a few years of graduating from Purdue, Ade took up residence in Chicago and found work reporting the weather for a daily paper. His colorful sketches of how the weather impacted the lives of everyday citizens made such an impression that he quickly was granted a humor column, "Stories of the Streets and of the Town." The newspaper sketches and "fables" of ordinary city folk - which Mike notes reveal Ade's remarkable powers of observation - later served as the basis for several best-selling books.
Later in his career, Ade applied his satirical take on life to writing works for musical theater; at one point he had three theatrical works playing on Broadway simultaneously. Guest Jeannie Logan describes Ade's lyrics as "sophisticated and witty" and compares them to the sly humor of Noel Coward.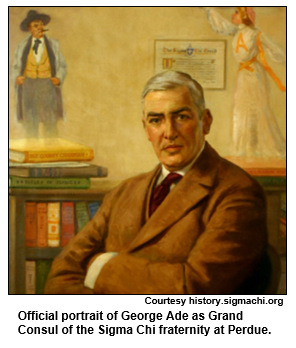 As Mike Davis points out, "[Ade's] contributions to the theater changed Broadway by introducing the story style of musical that is popular today."
Ade's talents as a lyricist will be heard in their original musical context in an upcoming dinner theater project Mike is organizing with Jeannie and David. The meal will recreate the chicken dinner George Ade was famous for serving guests, as well as feature renditions of music from two of his plays, The Sultan of Sulu and Peggy from Paris. There will be two performances, June 3, and June 10, 2018 at the Old Colonial Inn in Kentland.
What unique insights about life do Ade's writings offer us today? Does his humor hold up for a contemporary audience?
Join us in exploring the range of George Ade's creative work as we talk with guests Mike, Jeannie and David about their efforts to breath new life into this Hoosier writer's literary legacy.

Roadtrip: Hazelden, the home of George Ade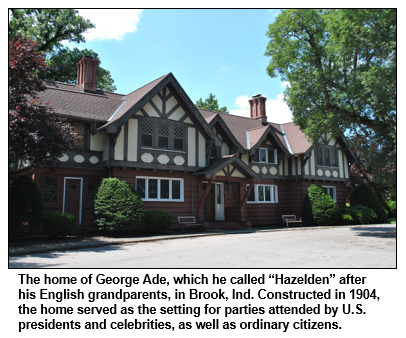 Guest Roadtripper Tim Myer invites us to Brook, Ind. in the northeast corner of the state to visit the elegant home of George Ade.

Ade built the English Tudor-style estate in 1904 as a retreat from his hectic schedule in Chicago, where he lived at the time. Ade originally intended to build a simple cabin, but once he hired Chicago architect Billy Manns, the project grew enormously in scope.

By the time construction was complete, the project had become a two-story, grand Elizabethan manor home surrounded by landscaped gardens, pool, pool house, garage, greenhouse, barns, outbuildings and a caretaker's home. A passionate golfer, Ade added a golf course and country club in 1910. He named the estate Hazelden in honor of his English maternal grandparents.

Ade's home quickly became the social center of the area and hosted visits from four U.S. presidents, as well as some of the nation's most celebrated personalities of the time.

Of the many notable parties and events held at Hazelden, Tim our draws our attention to one of the most famous: a political rally in 1908, in which William Howard Taft kicked off his run for the presidency. Historical accounts estimate the crowd in attendance to be over 25,000.

Hazelden may be toured by appointment only; please call the Newton County Historical Society at 219-474-6944 to schedule a visit.
History Mystery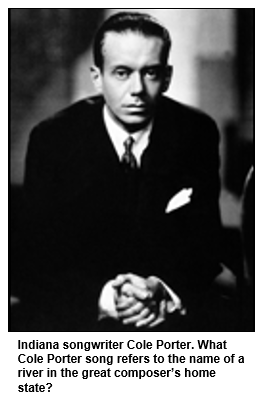 While we are exploring the life of George Ade, whose body of literary work includes book and lyrics for a string of successful Broadway musicals, Mick will pose a question about another Hoosier of musical inclination, Cole Porter. The Peru, Ind. native wrote the words and music for hundreds of songs, but only rarely alluded to Indiana. Listening to his music, one might never guess he was a Hoosier.
One notable exception: a song in which Porter refers to a river in Indiana - in fact, the river's name is in the title of the song. We won't reveal the 1943 show that the song comes from, but we will note that the song was performed by Ethel Merman, starring in her fifth Porter musical.
Question: What is the name of the Cole Porter song which refers to a river in Indiana?
Hint: It's not "On the Banks of the Wabash, Far Away" which was written by Paul Dresser and adopted as the Indiana state song in 1913.
The call-in number is (317) 788-3314. Please do not call in to the show until you hear Nelson pose the question on the air, and please do not try to win if you have won any other prize on WICR during the last two months. You must be willing to give your first name to our engineer, you must answer the question correctly on the air and you must be willing to give your mailing address to our engineer so we can mail the prize pack to you. The prize is two passes to the Story Inn in Brown County, courtesy of the Story Inn, and two passes to the Indiana History Center, courtesy of the Indiana Historical Society.
Joining Nelson in studio last week...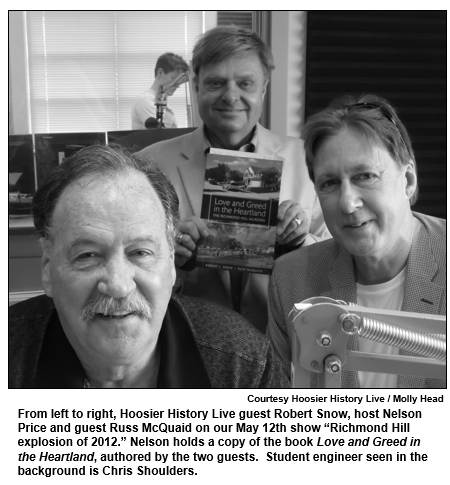 Richmond Hill explosion of 2012
To listen to this show, click here!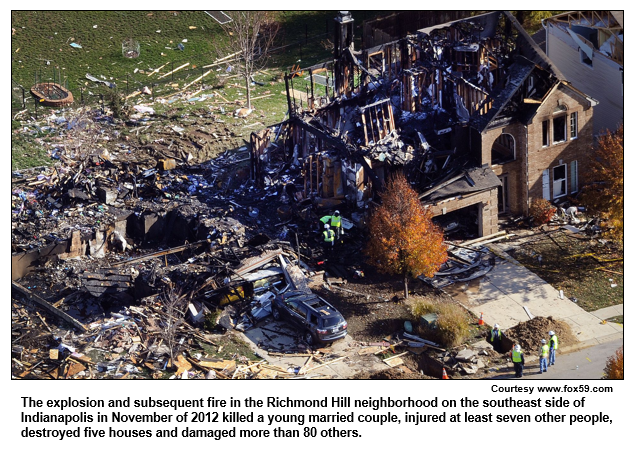 (May 12, 2018) At about 11:10 pm on the night of November 10, 2012, an explosion rocked the Richmond Hill subdivision, an explosion so powerful a wildlife video camera 15 miles away captured its sound. Earthquake detection equipment in Martinsville, Indiana, 30 miles away, also registered the shock of the blast . . . Closer to Richmond Hill, people living in a five-mile radius of the neighborhood heard a huge boom and then felt their houses shake.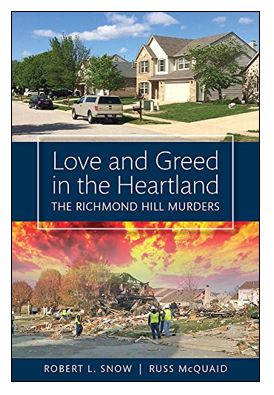 That description of a tragic incident in a neighborhood on the southeast side of Indianapolis - an explosion and its aftermath that killed a young married couple, injured at least seven other people, destroyed five houses and damaged more than 80 others - sets the scene in the first chapter of Love and Greed in the Heartland: The Richmond Hill Murders (Camino Books, 2017). Nelson's studio guests are the book's co-authors, Robert Snow, a former captain in the Indianapolis Metropolitan Police Department (and former commander of its homicide branch) and Russ McQuaid, an investigative reporter for Fox News 59/WXIN-TV in Indianapolis.
Russ covered the explosion, its aftermath and the trial of Mark Leonard, the mastermind behind the devastating blast. In late January of this year, Leonard died while serving two life sentences at the Wabash Correctional Facility in Sullivan County. In addition to being convicted of two counts of murder, he was convicted on several other charges, including multiple counts of arson. Four other people - including Leonard's girlfriend, Monserrate Shirley, who owned the house that exploded, and his half-brother, Robert Leonard - also were convicted on various charges for their roles in the crime that was the focus of national news for days.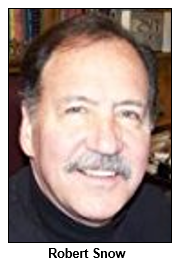 As our guests write, the Richmond Hill explosion was the result of "an insurance fraud scheme gone fatally wrong." The perpetrators hoped to collect about $300,000 in insurance money. When the explosion occurred - killing neighbors Dion and Jennifer Longworth - Mark Leonard and Monserrate Shirley were 90 miles away at the Hollywood Casino in Lawrenceburg, Ind.
During our show, Bob Snow and Russ McQuaid share insights about the events that led up to the explosion, the subsequent trials and the impact on the lives of the Hoosiers involved. Bob Snow is the author of 17 books, including several dealing with true crime. He and Russ McQuaid, a veteran investigative journalist, dedicate Love and Greed in the Heartland to the Longworths.
As the investigation of the explosion unfolded, authorities learned that Mark Leonard and Monserrate Shirley had traveled to casinos for three consecutive weekends. Each time, they boarded her cat - a detail that heightened suspicions among investigators, as well as the general public. Eventually, evidence surfaced that the couple had unsuccessfully attempted to blow up the house two times prior to the massive blast that devastated the Richmond Hill neighborhood.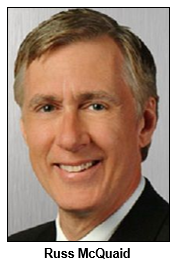 Because of extensive publicity across central Indiana about the explosion and subsequent investigation, the trial of Mark Leonard was moved to South Bend. By then, Monserrate Shirley had reached a plea agreement in which she shared details with prosecutors and pled guilty to two counts of conspiracy to commit arson. In Love and Greed in the Heartland, our guests note that her initial insurance claim even included an unsubstantiated statement that she had lost an original Picasso painting in the explosion.
According to several accounts, Mark Leonard had suffered large gambling losses and other financial setbacks in the months before the explosion.
As if the details of the perpetrators' attempt at insurance fraud weren't appalling enough, while he was in jail awaiting trial, Mark Leonard apparently attempted to arrange for a hitman to kill a witness in the case.
As our guests sum up this shocking, tragic episode in the history of Hoosier crime:
Occasionally ... a crime occurs that stuns even those hardened by years of witnessing the darker side of human behavior. A crime occurs that makes even seasoned police officers and reporters shake their heads in disbelief. The deadly Richmond Hill explosion was just such a case.

Roadtrip: Wilstem Ranch near French Lick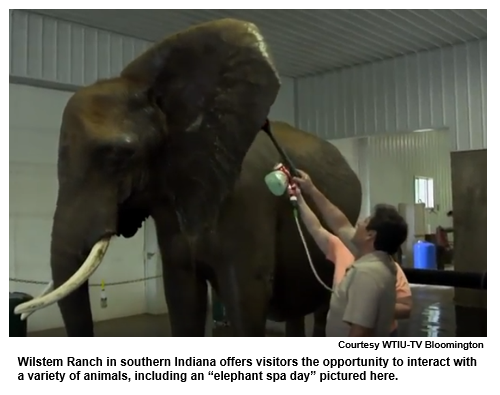 Ever give an elephant a bath? Feed a giraffe his favorite snack? Meet a kangaroo up close and personal?

Guest Roadtripper Ken Marshall suggests a visit to Wilstem Ranch in the beautiful rolling hills of southern Indiana, near French Lick and its fabulous West Baden Springs Hotel and French Lick Resort. The Wilstem Ranch is a 1,100 acre property that served as a hunting retreat for wealthy tourists in the early days of the twentieth century.

In its current incarnation, Wilstem Ranch offers visitors the opportunity to interact directly with animals rather than hunt them. Along with the exotic elephants, giraffes and 'roos, visitors can meet and socialize with the ranch's more everyday animal residents, including pigs, goats and horses.

And if schmoozing with four-legged friends isn't your cup of tea, the ranch also offers ATV tours, horseback trail riding tours and zipline rides. On-site lodging is available as well.

Learn more from Ken on Saturday. And to sneak a peek of elephant bath time at Wilstem Ranch, check out this video.
History Mystery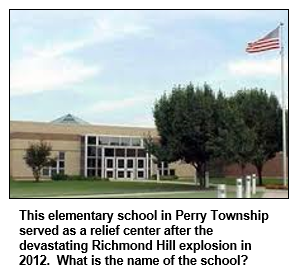 In the aftermath of the tragic explosion in 2012 that devastated the Richmond Hill subdivision, an elementary school on the Southside of Indianapolis served as a relief center. The elementary school is in the Metropolitan School of Perry Township.
According to Love and Greed in the Heartland: The Richmond Hill Murders, co-written by our guests Bob Snow and Russ McQuaid, many residents of Richmond Hill were evacuated to the elementary school. Upon hearing about the explosion, local nurses showed up at the school to volunteer their services and treat wounded residents.
Question: What is the name of the elementary school?
The call-in number is (317) 788-3314. Please do not call in to the show until you hear Nelson pose the question on the air, and please do not try to win if you have won any other prize on WICR during the last two months. You must be willing to give your first name to our engineer, you must answer the question correctly on the air and you must be willing to give your mailing address to our engineer so we can mail the prize pack to you. The prize is two tickets to Glow Golf, courtesy of Glow Golf, two passes to the Indiana History Center, courtesy of the Indiana Historical Society, and two passes to the Sieberling Mansion in Kokomo, courtesy of the Howard County Historical
Movie versions of Hoosier novels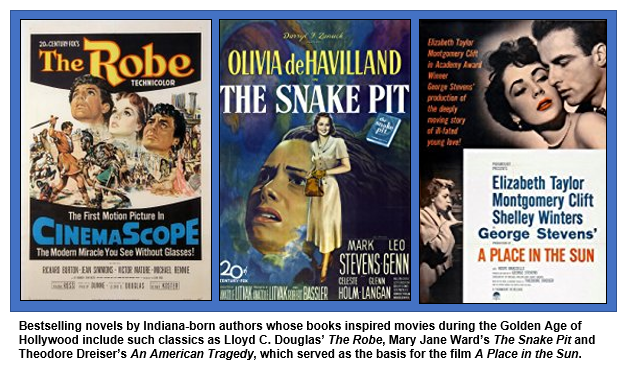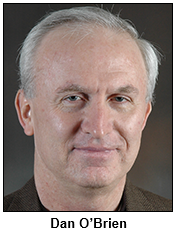 (May 5, 2018) Two Pulitzer Prize-winners, a classic about the American dream, a page turner about a home invasion by criminals and an account of harrowing conditions in a mental health facility.
Those are descriptions of bestselling novels by Indiana-born authors whose books inspired movies during the Golden Age of Hollywood. This show spotlights the movie versions of these novels, which include the Magnificent Ambersons (1942), A Place in the Sun (1951), The Desperate Hours (1955), The Snake Pit (1948), The Robe (1953) and Raintree County (1957).
Dan O'Brien, a former TV sportscaster and screenwriter based in Greenwood, is Nelson's studio guest to share insights about the transformation of the Hoosier novels into films. The Indiana-born authors associated with the movies to be discussed include:
Booth Tarkington of Indianapolis, who won his first Pulitzer Prize in 1918 for The Magnificent Ambersons, a novel about social upheavals in a Midwestern city brought on by the coming of the automobile. The 1942 movie version, directed by Orson Welles, had a cast that included Anne Baxter, a native of Michigan City, Ind. The A&E cable network also broadcast a version of The Magnificent Ambersons in 2002. Tarkington won his second Pulitzer for Alice Adams, which was made into a movie in 1935 starring Katharine Hepburn.
Theodore Dreiser of Terre Haute, the author of An American Tragedy (1925). The most successful movie version of the novel was titled A Place in the Sun (1951) and starred Montgomery Clift and Elizabeth Taylor. An earlier film version, titled An American Tragedy, was made in 1931.
Joseph Hayes of Indianapolis, whose bestselling novel The Desperate Hours was inspired by true crimes, particularly a home invasion in Philadelphia. Hayes wrote both the Broadway play version and the screen adaptation of his novel, in which he shifted the setting to Indianapolis. The movie starred Humphrey Bogart.
Mary Jane Ward of Fairmount, Ind. Her semi-autobiographical novel about shocking conditions in a psychiatric facility, The Snake Pit, became a critically acclaimed movie in 1948 starring Olivia de Havilland, who was nominated for an Academy Award.
Ross Lockridge Jr of Bloomington, the author of the 1948 bestseller Raintree County. The lavish 1957 movie version reunited Clift and Taylor. History fact: Lockridge and Mary Jane Ward were cousins.
Lloyd C. Douglas of Columbia City. His novel The Robe inspired a Biblical spectacle starring Richard Burton in 1953. One of Douglas' other novels, Magnificent Obsession, was filmed at least twice, including a 1954 version that starred Rock Hudson.
Alan Le May, an Indianapolis native who became best known for writing Westerns. They included The Searchers in 1954, which was turned into a movie two years later. The film starred John Wayne under the direction of John Ford; critics consider it one of Hollywood's most influential Westerns.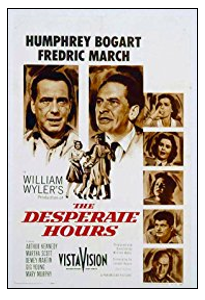 This list isn't all-inclusive of Hoosier novels turned into movies, of course. We have explored other bestsellers - including Ben-Hur, Friendly Persuasion and Going All the Way - during previous shows. And for this show we sticking to the Golden Age of Hollywood, generally regarded as the years between the early 1920s and the early 1960s. That means the film versions of The Fault in Our Stars by Indianapolis-based novelist John Green and The Princess Diaries by Meg Cabot, a Bloomington native, are not up for discussion.
There's plenty of Hoosier turf with the Golden Age movies, however. Although the Midwestern city in The Magnificent Ambersons is called Midland, it instantly was recognized as Indianapolis when Tarkington's novel was published. Orson Welles was said to have been fascinated both by Tarkington (1869-1946) himself and by the award-winning novel. According to some accounts, Welles wanted to make his debut as a director with the film version of The Magnificent Ambersons rather than with what is considered his masterpiece, Citizen Kane (1941). Our guest Dan O'Brien says Welles was convinced the character of Eugene (an inventor played in the movie by Joseph Cotten) was inspired by Welles' own father, who may have known Tarkington.
Of all of the movie versions of novels on our agenda, the 1953 opening of The Robe "was probably the most anticipated Hollywood premiere, not only due to the popularity of the novel, but because it was the debut of Cinemascope," Dan says. The plot of The Robe is about the aftermath of the crucifixion of Jesus. Hoosier-born author Lloyd C. Douglas (1877-1951) was an ordained Lutheran minister who did not write his first novel until age 50.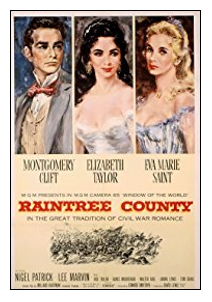 Two years after The Robe's spectacular premiere, a Broadway version of The Desperate Hours opened in 1955; it starred Paul Newman (in the role of the criminal later played by Bogart in the movie) and Karl Malden, who grew up in Gary, Ind. Dan notes the film version opens with a tracking shot through a neighborhood intended to represent suburban Indianapolis. The house invaded by criminals was actually a set built on a studio backlot; according to Dan, it subsequently was used in many movies and TV series, including Leave it to Beaver and Marcus Welby MD.
Filming of The Desperate Hours unfolded smoothly, but that was not the case for Raintree County, which was plagued with problems. Ross Lockridge Jr had committed suicide the year his novel was published (it sold 400,000 copies in 1948, becoming the most popular book of the year); during the filming, Montgomery Clift was involved in an auto accident that left the star disfigured. Raintree County, a historic saga set during the Civil War era, is centered on the life of John Shawnessy (played by Clift), a teacher and poet who must choose between his sweetheart, a local girl, and a visiting southern belle, played by Elizabeth Taylor. Lockridge used Henry County, Ind., as the inspiration for fictional Raintree County.
Lockridge's cousin Mary Jane Ward (1905-1981) is credited with focusing national attention on the need to improve mental health care following the publication of The Snake Pit. Although Olivia de Havilland won two Oscars for other films, she has been quoted as saying her performance in The Snake Pit was her best work.
Roadtrip: Hoosiers sites in and near Lebanon, Ind.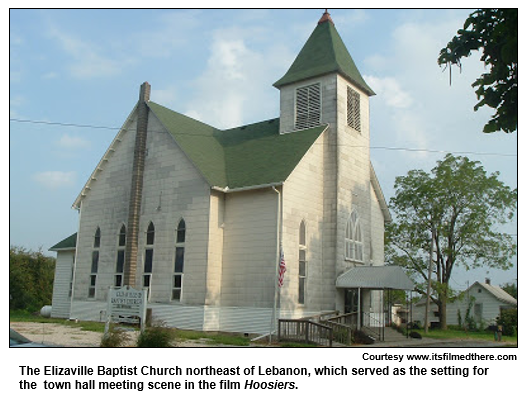 While we're focused on Hollywood films with a Hoosier connection, let's lot not forget the most iconic Hoosier film of them all: Hoosiers, of course. The 1986 basketball Cinderella story starring Gene Hackman and Barbara Hershey was filmed at various locations around Indiana, and this week's guest Roadtripper Jeff Kamm takes us to a few of those sites in and around the town of Lebanon.
Jeff's first stop is Lebanon's Memory Hall gymnasium, which played the role of Jasper Regional in the movie. Memory Hall was built in 1931 and served as the Lebanon varsity gymnasium until 1968, when a new school and gym were constructed in another part of town.
Then it's on to the site of the Avon Theater on the northwest corner of the town square in Lebanon. The colorful marquee of the Avon appears briefly in Hoosiers on the night of the state finals. Sadly, the theater was consumed by fire in 1999; the site is now occupied by a flower shop.
Next stop on the Roadtrip: the Elizaville Baptist Church just northeast of Lebanon, which served as the setting for the film's town hall meeting scene, where a vote is cast to determine whether Coach Dale will remain or lose his job.
Finally, Jeff takes us to the rural crossroads of Terhune in the northeastern corner of Boone County, which appears in the film's opening scene when Coach Dale is making his way to Hickory. The grain elevator visible in the scene is long gone, but the general store where the men are loafing out front is still standing.
Fans of Hoosiers won't want to miss this exciting Roadtrip to filming locations of this sports classic!
History Mystery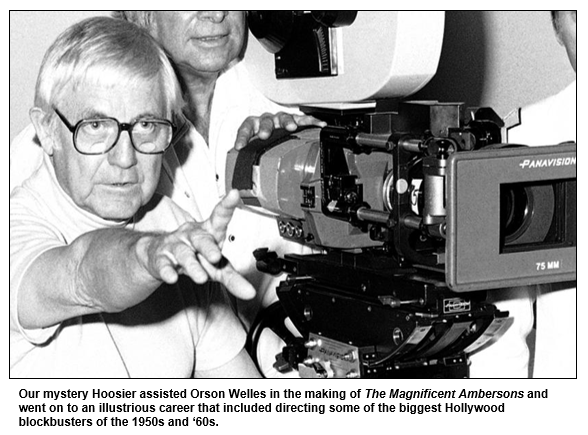 Hoosier connections to the 1942 movie version of The Magnificent Ambersons include an editor on the film who later became one of the top directors in Hollywood.

He was born in Winchester, Ind., grew up in Connersville and graduated from Connersville High School.

During the 1930s, he obtained an entry-level job at RKO Studios. His work on The Magnificent Ambersons was an unpleasant experience, however, because he was ordered to make drastic cuts to the movie in the absence of its famous director, Orson Welles, who was infuriated.

The Hoosier went on to tremendous success during the 1950s and '60s. He directed a wide range of movies, including some of the era's biggest box office hits. Two of the movie musicals he directed during the 1960s won the Academy Award as Best Picture of the Year.

Question: Who was the Indiana-born Hollywood director?

The prize is two tickets to the Indiana Wine Fair on May 12 in Brown County, courtesy of the Story Inn, and two passes to the Indiana History Center, courtesy of the Indiana Historical Society.
Madam Walker: news about her legacy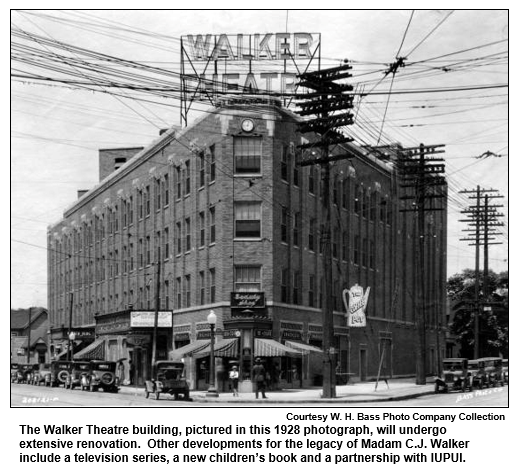 (April 28, 2018) Even though Madam C.J. Walker died 99 years ago, developments continue to unfold with the legacy of the African-American entrepreneur, who was the first woman in the country to become a self-made millionaire. Some highlights:
To share details about these developments and others, A'Lelia, a journalist and historian, is Nelson's studio guest. She grew up in Indianapolis, attended North Central High School and Harvard College and lives in the Washington D.C. area. For 30 years, A'Lelia was a network TV news executive and producer; she worked for NBC News and ABC News.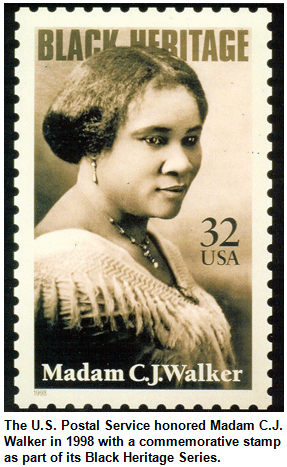 As she continues to research Madam Walker, A'Lelia says she turns up new insights about her ancestor, who was named Sarah Breedlove at her birth in Louisiana to parents who were former slaves. Breedlove was orphaned at age 7, married as a teenager and widowed at 20, with a young daughter to support. Before she achieved success as an entrepreneur, she worked at a series of grueling jobs, including washerwoman.
A'Lelia has been a previous guest on Hoosier History Live, including a show in March 2014 about the history of the four-story Madame Walker Theatre Center, housed in a landmark triangular building at the corner of Indiana Avenue and West Street in downtown Indianapolis.
The $15.3 million renovation is expected to include improvements to both the exterior and interior, which features distinctive Egyptian and West African motifs.
The rebranding will include the renaming of the theater center as the Madam Walker Legacy Center. That involves aligning the spelling of "Madam" with the way that the entrepreneur signed her name: without the letter e on the end. Although Madam Walker envisioned the theater, the building did not open until several years after her death in 1919, and the "Madame" reference in the name of the structure was not coordinated with her preferred spelling of her name.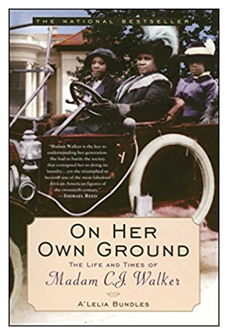 The landmark building was designed by the Indianapolis firm of Rubush & Hunter, the architects for such other historic structures as the Columbia Club, Circle Theatre (now the Hilbert Circle Theatre) and the Indiana Theater building, which houses the Indiana Repertory Theatre. According to an article in the Indianapolis Business Journal last month, the Madame Walker Theatre Center "suffered severe damage when water pipes burst" during the winter. Not only will the $15.3 million renovation repair the damage, it will upgrade the theater's sound system, air conditioning and other aspects of the building, which has 48,000 square feet.
Madam Walker moved to Indianapolis in 1910 in part because the city's central location - and the presence of Union Station as a railway hub - enabled convenient shipping of her hair care products to a broad market. In addition to being sold across the country, the products were purchased by women in Central America and the Caribbean. Within a year of Madam Walker's move to the Hoosier capital, she had 950 sales agents nationwide, according to our guest A'Lelia Bundles.
A'Lelia's books emphasize Madam Walker's advocacy for women entrepreneurs as well as her philanthropy. A convention of her sales agents in 1917 probably was one of the first national meetings of businesswomen, A'Lelia says.


Roadtrip: Award-winning historic preservation projects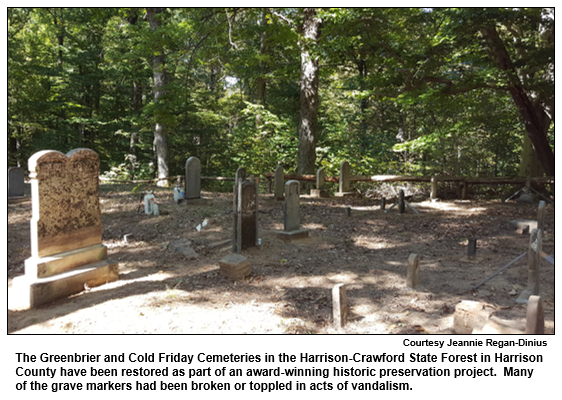 Rather than focusing on a single location of historic interest, guest Roadtripper Jeannie Regan-Dinius of the state Department of Natural Resources is taking us around Indiana to look at recent award-winning historic preservation projects. Our far-ranging Roadtrip will take us to Tippecanoe, Harrison, and Putnam Counties, where Jeannie says she will share some "great stories about how Hoosiers are working to preserve their cultural heritage."
First stop, the Ouiatenon Preserve in Tippecanoe County, where local preservationists have won the Indiana Archeology Award for their efforts to protect the original 1700s-era location of Fort Ouiatenon, the first European settlement and the first of three forts built by the French in the 18th Century in what would later become Indiana.
Next up, the Greenbrier and Cold Friday Cemeteries in the Harrison-Crawford State Forest in Harrison County, where a country restoration team has been recognized for their efforts to preserve historic burial grounds. Their work includes restoring tombstones that were broken or toppled in recent acts of vandalism.
And for our last stop, Jeannie will lead us to the Putnam County Civil War Memorial Monument, built in 1870 to honor the 321 soldiers from Putnam County who died in the war. Local preservationists have received a matching grant in support of their efforts to restore stonework and other elements of the memorial that have deteriorated in the century and a half since its construction.
It's a long Roadtrip in terms of miles, but we know Jeannie will go out of her way to make it fun!
History Mystery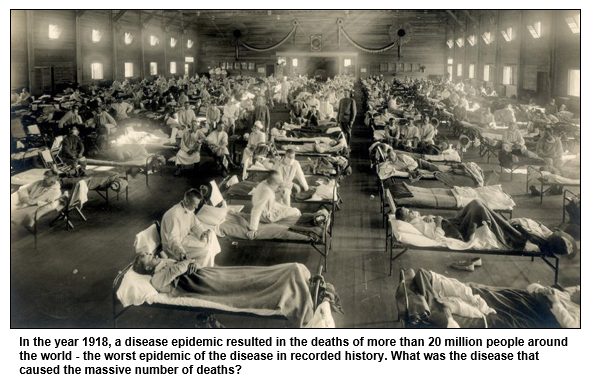 Madam Walker was only in her early 50s when she died in 1919. According to All About Madam C.J. Walker by our guest A'Lelia Bundles, the famous entrepreneur's high blood pressure caused various health issues, including failing kidneys.
During the previous year, 1918, a disease epidemic resulted in the deaths of more than 20 million people around the world - the worst epidemic of the disease in recorded history. Hundreds of Hoosiers died during the outbreak, including dozens of soldiers living in barracks at Fort Harrison in Indianapolis.
Question: What was the disease that caused the horrific epidemic in 1918?
The call-in number is (317) 788-3314. Please do not call in to the show until you hear Nelson pose the question on the air, and please do not try to win if you have won any other prize on WICR during the last two months. You must be willing to give your first name to our engineer, you must answer the question correctly on the air and you must be willing to give your mailing address to our engineer so we can mail the prize pack to you. The prize is two tickets to the Indiana Wine Fair on May 12 in Brown County, courtesy of the Story Inn, and two passes to the Indiana History Center, courtesy of the Indiana Historical Society.

Please feel free to post our Hoosier History Live podcasts anywhere!
As you have probably noticed, we've been placing a link to our podcast at the top of each week's Hoosier History Live newsletter and website, making each show available a week after the original broadcast.
We do experience an occasional technical glitch, but with the help of our Hoosier History Live tech team and the capable studio engineers at WICR, we're committed to making the nation's only live talk radio history show available in the podcast format. This does involve additional expenses, and so we appreciate the sponsors who have supported these efforts in exchange for underwriting credits on the podcast.
Please feel free to copy and paste our podcast links on your personal website, FaceBook page or other social media. Our goal is to get our show's content out there to the universe, and you can help by posting and providing links to your friends and followers. We do maintain copyright, of course, and ask that you not edit the podcasts we post.
If you love Hoosier History Live, help us get the word out online!
10-year anniversary gala caps a decade of on-air history
Hoosier History Live partygoers rang in our show's second decade on March 1, 2018, with a fun-packed anniversary soiree at the Indiana Landmarks Center in Indianapolis. Speakers included Indianapolis Mayor Joe Hogsett, Danny Lopez, who serves as chief of staff at Indiana Governor Eric Holcomb's office, as well as producer Molly Head and our show's host, Nelson Price, who reigned as usual over the live Hoosier History Mystery contest.
Check out these photos from our swank affair!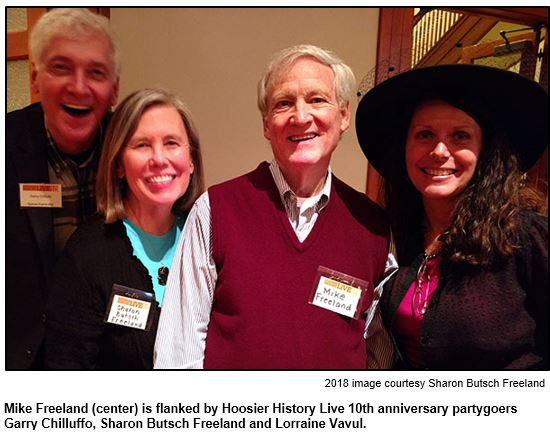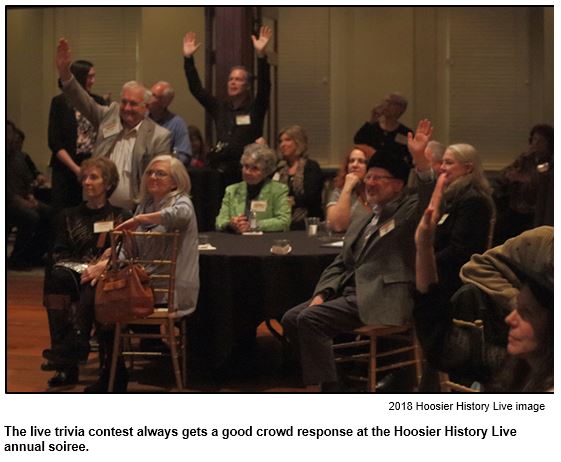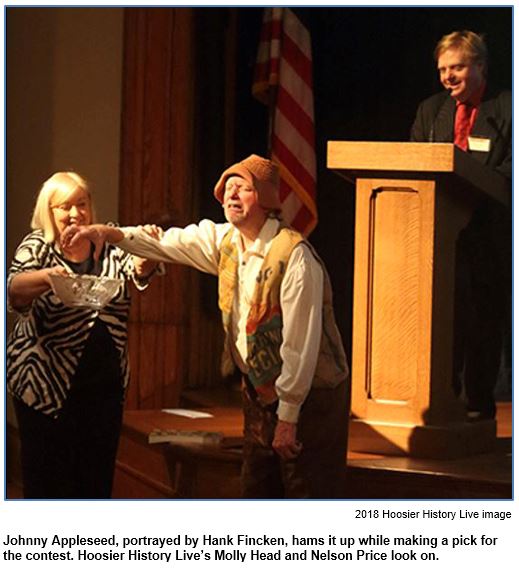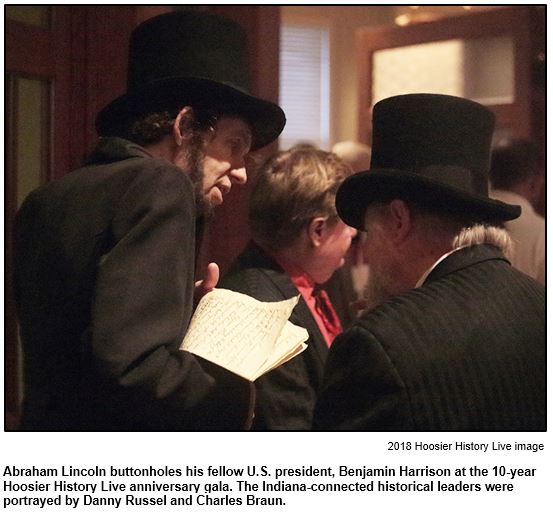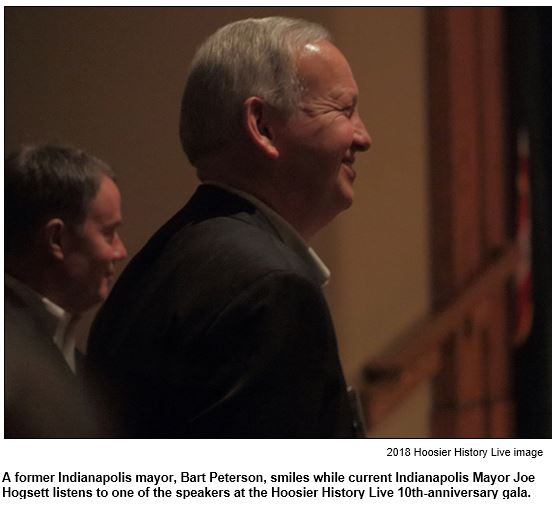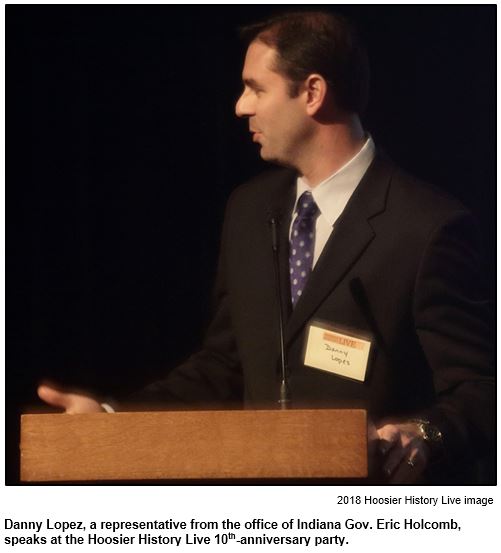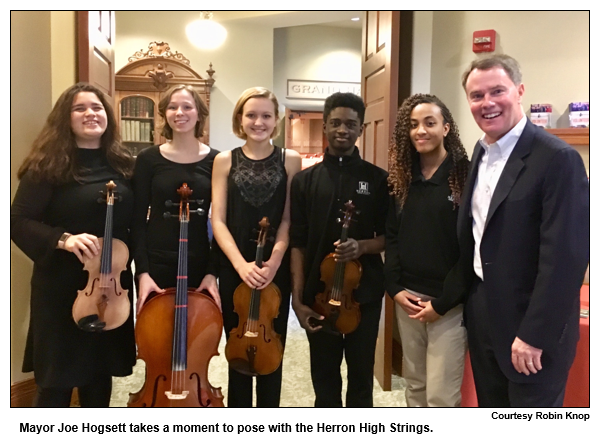 A big Hoosier thank you to all who helped!
You can't put on a bash like the Hoosier History Live 10th anniversary party without a little help from your friends. Or a lot of help, as the case may be. In no particular order, here are the folks we're writing about in our gratitude journal:
The party sponsors: Jim and Marjorie Kienle, Scott Keller Fine Art and Antiques Appraisals, Indiana Landmarks and MBP Catering.
The fabulous musical entertainment: the Herron High School String Quartet, Janet Gilray's PrairieTown, and Shirley Judkins on the grand piano.
The historic re-enactors: Abe Lincoln (Danny Russel), Johnny Appleseed (Hank Fincken), President Benjamin Harrison (Charles Braun), and May Wright Sewall (Jan Wahls)
The Indiana Album, which took time to scan interesting photos from Indiana's past!
And finally, the many folks who work behind the scenes every week to make Hoosier History Live a success and who put in the extra effort to make this party a night to remember: Eric Manterfield, Sarah Witwer, Barbara Goddard, Sherril Adkins, Chris Fry, Garry Chilluffo, Cheryl Lamb, Richard Sullivan, Mick Armbruster, Gary BraVard, Marsh Davis, Mark Szobody, Sari Swinehart, Robin Knop, Lauren Del Rosario , Mario Laing, Alex Riddle, Sidney Bunch, Janet Gilray, Dan Wethington, Bob Foster, WICR 88.7 FM, Henri Pensis, Chris Shoulders and Joan Hostetler.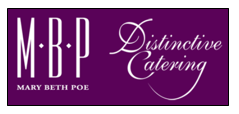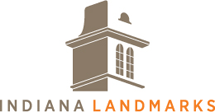 Zionsville town history: encore presentation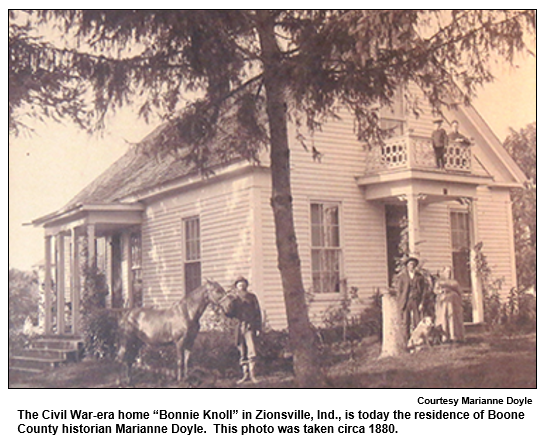 (April 21, 2018 ) Zionsville probably is best known for its Main Street, which has been described for decades as "quaint" and "charming."
So during this encore of a show originally broadcast Nov. 12, 2016, we explore the evolution of Main Street in Zionsville, where the 1950s was a pivotal era for creating a "colonial village" theme among the street's merchants. Also on the show, we dig deeper into the history of the Boone County town, which was founded during the early 1850s.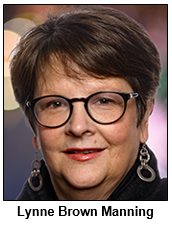 For this program in our rotating series about town and county histories across Indiana, Nelson's studio guests are Marianne Doyle, who lives in a Civil War-era home in Zionsville, and Lynne Brown Manning, a fourth-generation Zionsville resident who is president of the Zionsville Historical Society. Marianne had been the Boone County historian for 19 years when our show originally was broadcast; since then, she has retired from that position.
Lynne's grandmother founded the historical society. Her mother was executive director of the Greater Zionsville Chamber of Commerce for part of the era when the business revival - known as the "miracle on Main Street" movement - unfolded.
According to Marianne, the town's current population is around 28,000. The area primarily was farmland and wilderness prior to the mid-1800s, when promoters of a railroad between Indianapolis and Lafayette encouraged settlement.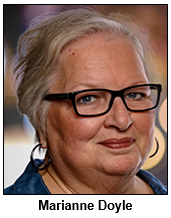 Railroad promoters included William Zion, an early settler and business leader in Lebanon (he became the new town's namesake, even though he never lived in the village) and landowners Mary Hoover Cross and her husband, Elijah Cross. Zionsville became a stop for trains, with tracks initially located right on Main Street.

Prior to the railroad, the building of Michigan Road was a key factor in the evolution of Boone County and Zionsville. An early village along the Michigan Road in Boone County - known as Eagle Village - was the forerunner of Zionsville, Marianne says.

During our show, we explore the impact of the interurban rail system on Zionsville, as well as the bricking of Main Street in 1911.

Our guests Lynne Manning and Marianne Doyle are the co-founders of the Zionsville Little Theatre Company. Lynne also is the drama club director for Zionsville West Middle School. Both of our guests have served as board members of the Maplelawn Farmstead in Zionsville.


Roadtrip: Canal Park and more in Delphi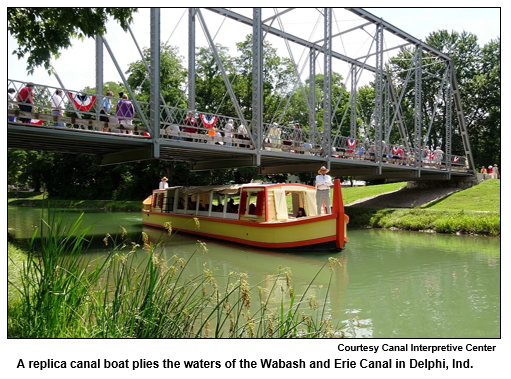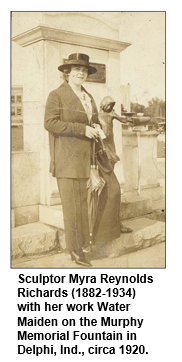 Guest Roadtripper and public historian Glory-June Greiff tells us: "I know I've taken you to Delphi before, around five years ago, but so much is happening there, we're going back!"

Along the preserved stretch of the Wabash and Erie Canal, it seems there is something new every week, Glory says. "The Canal Interpretive Center is an amazing small museum; all along the canal are rehabbed historic buildings and replicas to help interpret the full story of the canal, not to mention several bridges that have been rescued from miles around. If you love hiking and nature, there are numerous trails that nearly all intersect at Canal Park."

Who would have dreamed that the long-neglected 1860s Delphi Opera House could be so beautifully restored? Well, it has been, and its success no doubt has been the stimulus for a number of other rehab projects taking place.

As Glory notes, "Downtown Delphi is looking better than it has in years!"

Before leaving Delphi, don't miss the lovely Water Maiden sculpture on the Murphy Memorial Fountain on the southwest corner of the courthouse. "This charming little bronze girl is one of my personal favorites," Glory says. "It's the work of Myra Reynolds Richards (1882-1934), who headed the sculpture department at Herron School of Art in Indianapolis."
Reno Brothers, notorious train robbers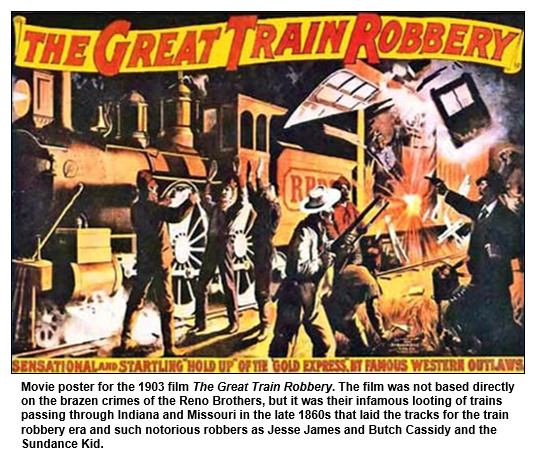 (April 14, 2018) Shortly after the Civil War, a notorious crime spree unfolded across the Midwest that included the country's first robbery of a moving train. The perpetrators were bandits in a gang organized by brothers who grew up on a farm near Seymour, Ind., in Jackson County. The outlaws also pulled off what may have been the first peacetime train robbery in U.S. history.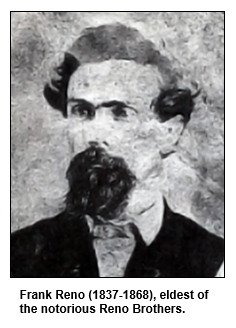 The notorious Reno Brothers - whose history-making train robbery occurred on Oct. 6, 1866 - is the focus of our show. The gang included brothers Frank, John, Simeon ("Sim") and William Reno, who had begun looting businesses before the Civil War.
Their most infamous crime occurred May 22, 1868 as the Jefferson, Madison & Indianapolis Railroad train was proceeding through Marshfield, Ind., about 17 miles south of Seymour. The Renos and their gang boarded the train, overpowered the engineer, threw one of his co-workers out a door, broke into an express car and eventually made off with about $96,000.
As train robberies and other crimes by the Reno gang persisted, Jackson County residents formed vigilante committees. Pinkerton detectives were hired to capture the gang.
To describe the Reno Brothers' crime spree, William "Bill" Bell, a retired law enforcement officer based in Indianapolis, is Nelson's studio guest. Bill, who writes for several magazines about the Old West, has researched and written about the Reno Brothers for Wild West magazine. In a 38-year career, Bill worked as a police officer, deputy sheriff, U.S. border patrolman and as a U.S. Customs worker. He is a member of the Scarlet Mask Vigilance Society, which is named after one of the vigilante organizations that, as Bill puts it, "finally put a stop to the depredations of the notorious Reno Brothers."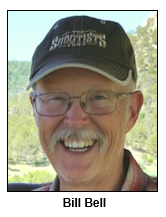 According to Bill's research, the Reno family came to Indiana in 1813, when the grandfather of the brothers arrived from Kentucky. Frank, John, Sim and William Reno grew up on a 1,200-acre farm. Another brother, Clinton, and a sister, Laura, "apparently never entered into the illicit activities of their siblings," Bill writes.
As an early headquarters, the Reno Brothers and their gang used a dilapidated building in the small Jackson County town of Rockford; later, their base was a hotel in Seymour. Before the historic train robberies, the Renos committed a series of post office robberies and murders.
According to Bill Bell's article, the Reno gang's robbery of an Ohio & Mississippi Railroad train as it left the Seymour depot in 1866 means that the brothers can be blamed for "opening the door to the train robbery era, which featured Jesse and Frank James, and, later, Butch Cassidy and the Sundance Kid."
The Reno Brothers were suspects in arson fires that swept through Seymour and in the slayings of residents who could have testified against them in court.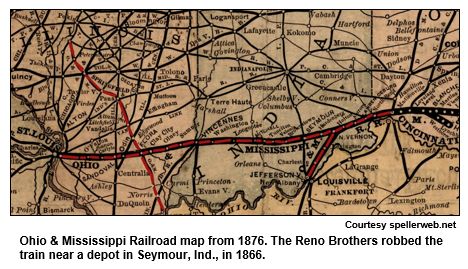 In 1868, several members of the Reno gang, including Frank, William and Sim Reno, were captured in separate apprehensions. They were taken to New Albany, the Ohio River town in Floyd County with a "big stone jail, considered the strongest in southern Indiana," according to Bill's article. (John Reno had been arrested previously and was imprisoned in Missouri, where members of the Reno Gang had robbed banks and a county treasurer's office.)

Determined to make the Reno Brothers pay for their crimes, nearly 100 members of a vigilante society in Jackson County took trains to New Albany one night in December. The vigilantes showed up at the Floyd County jail at about 3 a.m., masked and armed with revolvers and clubs. They overpowered the jailers, the Floyd County sheriff and Floyd County commissioners, and dragged Frank, William and Sim Reno one-by-one out of their cells and executed them by hanging. After the lynchings, the vigilantes returned by train by Seymour.

The bodies of the three Reno Brothers who had been lynched were turned over to their sister Laura and were buried side by side in Seymour City Cemetery. The fenced graves of the infamous bandits can be visited by going up a stone walkway from 9th St in Seymour.

To learn more about the Reno Brothers' lasting impact on American culture, listen to "The First Train Robbery," a bluegrass song written by Chris Stout and performed here by Larry Cordle.

History Mystery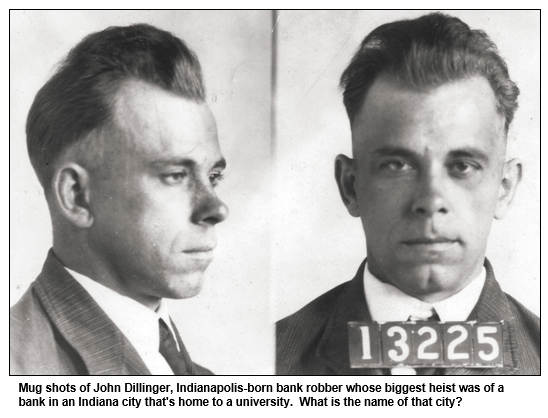 During the 1930s, John Dillinger drew national attention - and designation as "Public Enemy No. 1" - for bank robberies across his home state of Indiana and beyond.
Dillinger's biggest heist was from the robbery of a bank in an Indiana city that's home to a university. The robbery occurred in October of 1933, and Dillinger and his gang absconded with a haul of about $75,000 in cash and bonds.
When authorities were alerted that Dillinger had robbed the bank, roadblocks were set up near the university town. Even so, Dillinger and his gang managed to escape from the area in their getaway car.
The bank robbery in the university town was recreated in the movie Public Enemies (2009) starring Johnny Depp as the Indianapolis-born outlaw.
Question: What was the university town?
Hint: It was not Bloomington or West Lafayette.
The call-in number is (317) 788-3314. Please do not call in to the show until you hear Nelson pose the question on the air, and please do not try to win if you have won any other prize on WICR during the last two months. You must be willing to give your first name to our engineer, you must answer the question correctly on the air and you must be willing to give your mailing address to our engineer so we can mail the prize pack to you. The prize is two passes to the Indiana History Center, courtesy of the Indiana Historical Society, and a gift certificate to the Story Inn in Brown County, courtesy of Story Inn, and two tickets to the Seiberling Mansion in Kokomo, courtesy of the Howard County Historical Society.
Roadtrip: Bethel AME Church in Richmond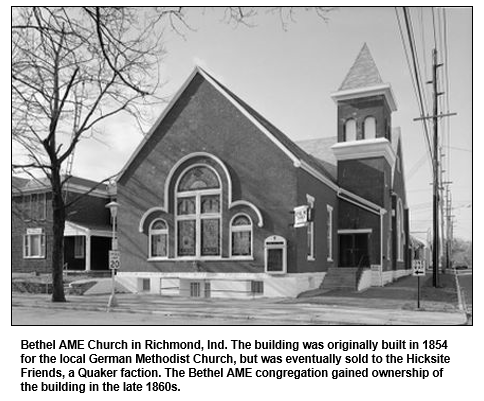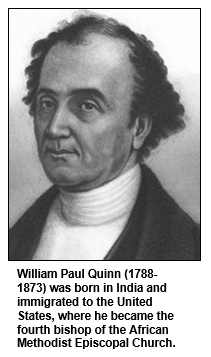 Guest Roadtripper Casey Pfeiffer, historical marker program director at the Indiana Historical Bureau, invites listeners to learn about the Bethel AME Church at 200 S. 6th St. in Richmond, Ind.
Bishop William Paul Quinn, a traveling missionary and preacher, organized the AME congregation in Richmond in 1836. Quinn was instrumental in establishing the African Methodist Episcopal Church in free and slave states prior to the Civil War. In 1844, the AME General Conference elected him its Fourth Bishop.
The building was originally built in 1854 for the local German Methodist Church, but was eventually sold to the Hicksite Friends, a Quaker faction. The Bethel AME congregation gained ownership of the building in the late 1860s.
The Indiana Historical Bureau is working with Bethel AME and the City of Richmond on the installation of a new state historical marker commemorating Bishop Quinn. The marker will be dedicated in June at Bethel AME Church.
Faculty war of 1832: Early IU history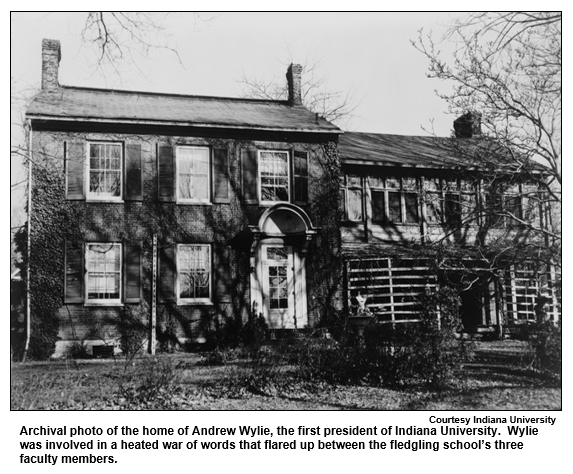 (April 7, 2018) In 1832, there were only three faculty members at what is today Indiana University, and those three became embroiled in a bitter feud with aspects that remained a mystery until recent years.
In this show we explore the early faculty war at the school known as State Seminary when it was founded in 1820 in Bloomington. By 1832 it had become Indiana College with two dozen students and colorful Andrew Wylie serving as the first president. Wylie was preceded on campus by Rev. Baynard Rush Hall, a Presbyterian minister who had been hired as the school's first professor.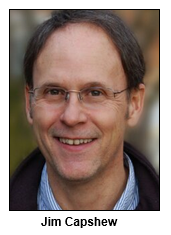 Wylie and Hall were the central figures in the faculty war, which one of our guests, IU historian Jim Capshew, says became fodder for a "durable legend." The war was sparked by what Jim describes as a "mysterious, unsigned letter" addressed to Hall with blistering descriptions of him as "indolent, careless, superficial and shamefully neglectful of his duties."
The identity of the letter writer was not publicly revealed for 177 years. In 2009, our other guest, author and historian Dixie Kline Richardson, disclosed the information in her book Baynard Rush Hall: His Story, the only biography of IU 's historic professor, who taught ancient languages.
In addition to exploring the faculty war and the lives of Wylie (1792-1851), who died following a wood-chopping accident, and Hall (1793-1863), this show explores the Wylie House, the restored home of the first IU president. Built in a blend of Federal and Georgian styles during the 1830s, it is now a house museum open for tours and the setting for concerts and other cultural events. The Wylie House (where the first president and his wife, Mary Ann, lived with 10 of their 12 children) is listed on the National Register of Historic Places.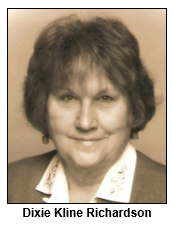 During our show, Jim Capshew also describes some of the events planned for the IU Bicentennial in 2020. Jim was our guest for a show in May 2012 about the life of Herman B Wells, the longtime chancellor and president often called "Mr. IU." Jim is the author of a widely acclaimed biography of Wells, for whom he worked as a personal assistant during his junior and senior years of college at IU.
Our guest Dixie Kline Richardson became intrigued by the life of Hall (who left Bloomington in 1832 after the faculty war) when she was a staff writer for the Spencer Evening World newspaper in Owen County during the 1970s. She spent years researching her book about Hall, who suspected Wylie had written the scathing letter. Wylie, though, denied it.
The third faculty member in the earliest years of IU was John Hopkins Harney, a professor of mathematics and science. He sided with Hall in the faculty war that was an inauspicious beginning for the university that would become the alma mater of hundreds of thousands of students.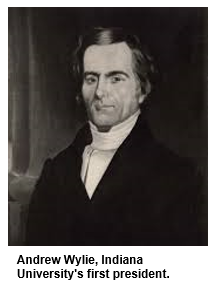 According to folklore, during the dispute Wylie and Harney met on a narrow bridge over the Jordan River that flows through the Bloomington campus. The encounter ended with Harney in the water.
Wylie - who, like Hall, was a Presbyterian minister - had come to IU following stints as president of two colleges in Pennsylvania. Several of the early IU students had been attending the Pennsylvania colleges and followed Wylie to Bloomington to complete their degrees. When Wylie and his large family arrived in 1829, Bloomington was a small town of barely 1,000 residents who lived in log cabins and, in a few cases, brick homes.
As part of the IU Bicentennial, oral interviews about the university's history are being conducted with alumni, staff and faculty. Historical markers, along with other endeavors commemorating the milestone anniversary, are planned as well. Those who would like to learn more can visit the project website.
"The IU Bicentennial is not just a big birthday party," our guest Jim Capshew says. "[It's] a serious effort to explore the good, the bad and the ugly . . . in our history and learn from it going forward."
History Mystery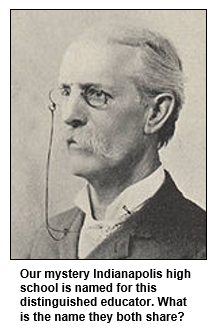 The name of one of Purdue University's early presidents lives on in Indianapolis as the name of a public high school. The high school is named in honor of the educator, who served briefly as Purdue's president during the 1870s.
The honor was granted not because our mystery man had occupied the top administrative role at the West Lafayette campus, however. Rather, his name was adopted as the name of the high school several years before his death in 1919 because of his early leadership role in Indianapolis schools.
Question: What is the name of the high school?
The call-in number is (317) 788-3314. Please do not call in to the show until you hear Nelson pose the question on the air, and please do not try to win if you have won any other prize on WICR during the last two months. You must be willing to give your first name to our engineer, you must answer the question correctly on the air and you must be willing to give your mailing address to our engineer so we can mail the prize pack to you. The prize is four passes to the Indiana History Center, courtesy of the Indiana Historical Society, and a gift certificate to the Story Inn in Brown County, courtesy of Story Inn.
Roadtrip: Two adventures in one trip - Milan and Batesville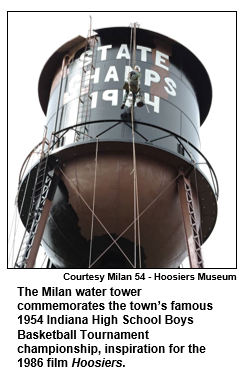 Milan Ind. (pronounced in the Hoosier vernacular as MY-lan, in contrast to the Italian city of mee-LAHN it was named after) has a rich and storied history. But the small town might not offer enough attractions to justify a day-long road trip. Guest Roadtripper and film historian Eric Grayson suggests that we combine a trip to Milan with a stop in Batesville, another historically significant small town in the southeast corner of the state.
Milan, of course, earned its place in history because of the Milan Miracle, the town high school's triumph in the 1954 high school state basketball championship, which served as inspiration for the 1986 movie Hoosiers. To learn more about the legendary David-and-Goliath victory, you'll want to visit the Milan 54 - Hoosiers Museum, which offers extensive photographic and motion-picture documentation of the historic championship game.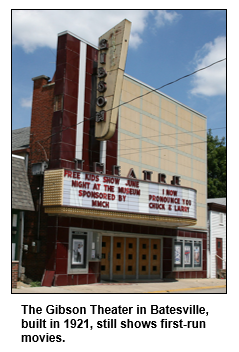 Incidentally, Roadtripper Eric Grayson spent two years restoring the 16mm films of the 1954 Milan basketball game; the restored compilation is now available on DVD.
Other Milan attractions include the newly restored water tower and the Masonic Lodge. For lunch, Eric recommends the Reservation, a favorite among locals.
After visiting Milan you can head north a bit to Batesville, known for its German heritage and food. If your taste tends toward the Teutonic, check out The Sherman restaurant, which offers an open-air Biergarten and live entertainment to go with the Brats and Schnitzel. The landmark Sherman House hotel opened in 1852, and the architecture is distinctly German Tudor in style.
And if you still have the energy after your day of small-town Hoosier tourism, catch a movie at Batesville's restored Gibson Theatre, originally built in 1921.
Women who influenced Indiana Avenue jazz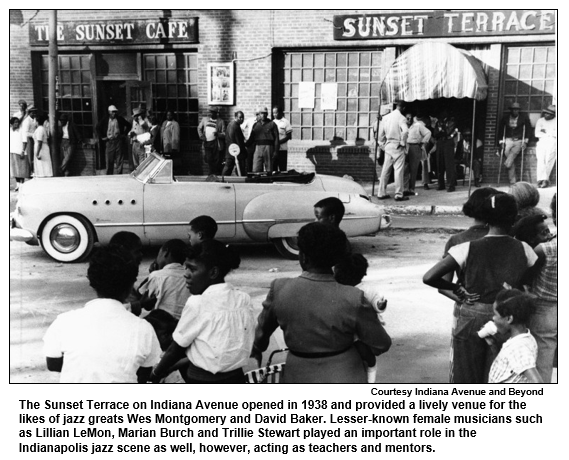 (March 31, 2018) In our previous shows about jazz history during the heyday of clubs on Indiana Avenue in Indianapolis, the spotlight mostly has been on male musicians like the late Wes Montgomery and David Baker.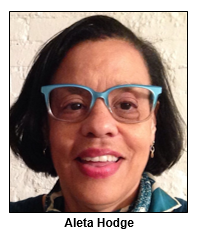 As we salute Women's History Month, our focus in this show is on women who influenced the great jazz musicians, but who primarily were behind the scenes as teachers and mentors during the early and mid-1900s. Nelson is joined in studio by Aleta Hodge, author of the new book Indiana Avenue: Life and Musical Journey From 1915 to 2015 (ASH Consulting), which features profiles of the significant people and places involved in the legendary jazz created there.
Among the "hidden figures," as Aleta calls the Indianapolis female jazz musicians whom history has largely forgotten:
Lillian LeMon, a music teacher who owned the Cosmopolitan School of Music in what is now known as the Ransom Place neighborhood. According to Aleta, LeMon and her staff trained both professional and amateur musicians at her school, which had baby grand pianos.
Marian Burch, a longtime music teacher at Crispus Attucks High School. She also became the first African-American woman to sing with various symphonic choirs in central Indiana.
And Trillie Stewart, an Attucks graduate who trained several famous professional musicians, including Wes Montgomery and his brothers, Monk and Buddy, as well as David Baker.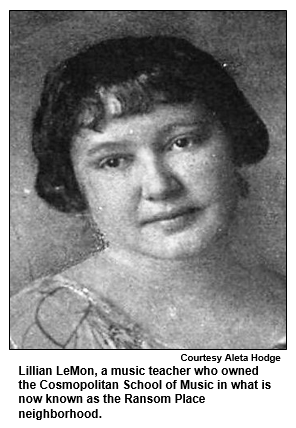 In addition to those historic women, we also highlight some contemporary women who continue to make an impact on the Indiana music scene. They include Rosemarie Gore Bigbee, a veteran teacher at Broad Ripple High School whose vocal performing career ranges from opera to children's television. During the 1990s, she portrayed the character Rainbow Rosie in a series broadcast on WFYI-TV/Channel 20 in Indianapolis.
Even though the musicians who were celebrated during the Indiana Avenue jazz heyday of the 1940s and '50s tended to be male, a few female performers achieved fame. They included the popular Hampton Sisters and pianist-vocalist Flo Garvin. We have explored their careers during previous shows, including two programs in November and December 2016 with music historian David Leander Williams.
This time around, the focus primarily is on women whose names are not as well-remembered, but whose impact was significant. Our guest Aleta Hodge grew up near Attucks and has interviewed dozens of people connected to Indiana's jazz heritage, including descendants of the musicians influenced by the historic women mentors.
In her book, Aleta describes Attucks, which opened in 1927, as a "musical breeding ground for many future jazz entertainers and educators." (We explored Crispus Attucks High School history during a show in February 2014.)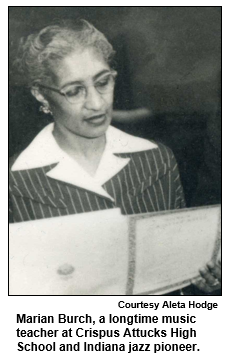 Marian Burch, who was one of the few women teachers in the high school's music department from the 1930s through the '60s,was multi-talented. In addition to having a widely acclaimed singing voice, she played various stringed instruments and the piano. Her great-granddaughter, Amanda King, is a contemporary jazz singer who regularly performs in San Francisco and Las Vegas.

Several of the other women educators primarily taught private lessons. At age nine, Rosemarie Gore Bigbee began taking piano lessons from Trillie Stewart., who already had trained the Montgomery brothers and David Baker. Trillie Stewart's son, Frank Smith, is a renowned jazz bassist. According to Aleta, Frank Smith benefited from tips by Wes Montgomery (who was often considered the most innovative jazz guitarist of the 20th century) in his family's home thanks to the role of Trillie Stewart as a mutual mentor.

In addition to Indiana Avenue: Life and Musical Journey from 1915 to 2015, our guest Aleta Hodge has written two other books, both offering financial advice, including one focused on tips for women entrepreneurs.
History Mystery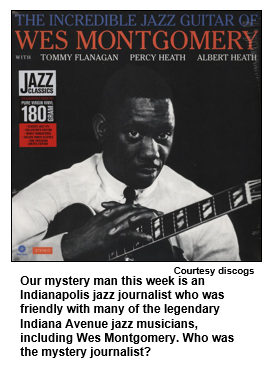 One of the most popular figures in the Indianapolis jazz scene was not a musician. He was the host of jazz radio programs Saturday evening and Sunday morning on WICR-FM for many years before his death in 2012. For nearly 20 years, he also served as a jazz columnist for Nuvo Newsweekly and helped organize jazz concerts in central Indiana.

He grew up during the heyday of jazz on Indiana Avenue and befriended many of its legendary figures, including Wes Montgomery. A few years before his death at age 79, he was inducted into the Indianapolis Jazz Hall of Fame.

Question: Who was he?

The prize is four passes to the Indiana History Center, courtesy of the Indiana Historical Society, and two passes to the Story Inn in Brown County, courtesy of Story Inn.




Roadtrip: Take me out to the ball game!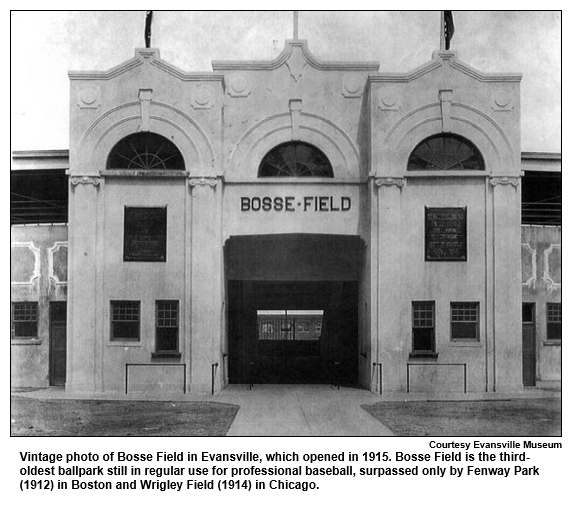 Guest Roadtripper Jake Oakman, backroads Indiana traveler and history enthusiast, points out that baseball season is here and that Indiana is ripe with destinations for a baseball Roadtrip.
Jake tells us that Parkview Field in Fort Wayne was built as the new home of the Midwest League's Fort Wayne TinCaps in 2009, replacing the old Memorial Stadium. The stadium is also one of the central components of the Harrison Square revitalization project in downtown Fort Wayne. Why "TinCaps"? The team name was adopted when they moved into the new stadium and alludes to the character of Johnny Appleseed, based on the real-life John Chapman. Chapman, who spent his later years in Fort Wayne and is buried there, is often depicted in fictionalized versions of his life as wearing a tin cooking pot on his head.
While Parkview Field is one of the newest Midwest baseball venues, Bosse Field in Evansville is among the oldest. It opened in 1915 and is still going strong as the home field for the professional minor league Evansville Otters of the independent Frontier League; it hosts high school and American Legion games as well. The historic stadium was also used by Columbia Pictures for filming numerous game scenes in the 1992 comedy-drama, A League of Their Own.
Enjoy your spring Roadtrip!
Hoosier History Live guests look and sound great in their 90s!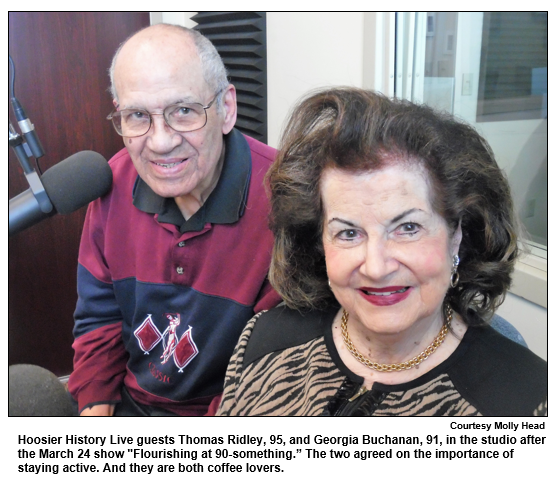 Flourishing at 90-something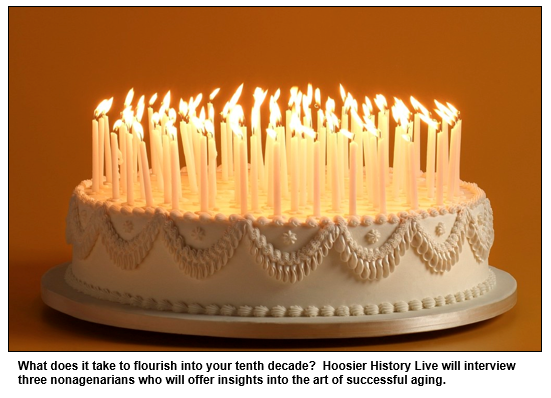 (March 24, 2018) Hoosiers who have celebrated more than 90 birthdays have lived through a lot of state history. Not only have they been eyewitnesses to the great milestones of the twentieth century, many have remained hale and hearty far beyond the average American lifespan. Those who continue to enjoy an active life into their tenth decade undoubtedly have insights and advice to share with the rest of us.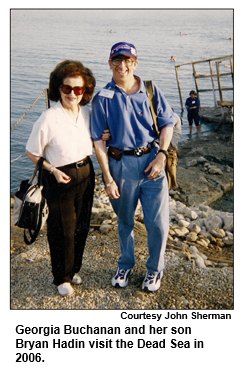 To tap these insights - including what expectations to let go of and how to keep thriving mentally and physically - the format of our show is a round-table discussion with guests in their 90s. Two of our guests have made previous appearances on Hoosier History Live to talk about the local history they have seen unfold:
Indianapolis civic leader Georgia Buchanan, 91, the author of the new book How to Live Beyond 90 without Falling Down (IBJ Book Publishing). The daughter of Greek immigrants who came to Indy during the 1920s, Georgia has long been active in Special Olympics and other non-profit organizations. She was a guest on shows in July 2012 about the history of Special Olympics in Indiana and in August 2009 about Greek heritage in the state.
Tom Ridley, 95, who grew up near Indiana Avenue in Indianapolis. When he was five years old in 1927, his parents brought him to opening events at what is now the Madame Walker Theatre Centre. Mr. Ridley continues to be the historian and a guide at the Walker Theatre; he was our guest on Feb. 6, 2016 to describe his memories about the early years of the theater and the heyday of the local jazz scene. He also talked about his World War II experiences, which included serving in an all-black military unit that landed on Utah Beach on D-Day in 1944.
And A'Lelia Kirk Osili, 93, a retired psychologist who, in the 1940s, became one of the first African-American women admitted to the I.U. School of Medicine. Before that, Mrs. Osili attended Crispus Attucks High School with our guest Tom Ridley. During the late 1950s, Mrs. Osili and her husband, an engineer, moved to Nigeria; she became the private secretary and later an administrative officer for Nigeria's first president. After the outbreak of a civil war in Nigeria during the 1960s, Mrs. Osili returned to Indianapolis with her family. She worked as a school psychologist and a teacher for Indianapolis Public Schools.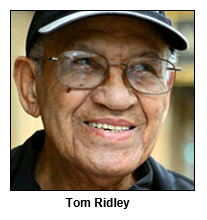 On this show, our guests share life lessons and a range of tips about how to flourish after age 90, a demographic that is growing rapidly. According to Georgia's book, the number of Americans age 90 and older has tripled in the past 30 years.
Mrs. Osili, who turns 94 next month, competes in local and national championships in the card game of bridge and has attained the title of "national life master." Her three children include Indianapolis architect and civic leader Vop Osili, who was named president of the Indianapolis City Council last month.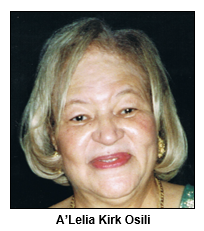 Georgia Buchanan's son, Bryan Hadin, was born in 1963 with special needs. For many years, he participated in various competitions with Special Olympics. Georgia is a long-time arts advocate; her career as a print and broadcast journalist included media work in Indianapolis and in Washington D.C.
Our guest Tom Ridley, who was born in 1922, lives in the Ransom Place neighborhood, not far from where he grew up. He met his late wife when they were in kindergarten; she went on to become an IPS teacher. His father-in-law was a musician in clubs on Indiana Avenue.
Contrary to prevailing stereotypes about the elderly, some of our guests are active on the Internet, continue to drive and live independently. All three are widely known for their energy and enthusiasm.
History Mystery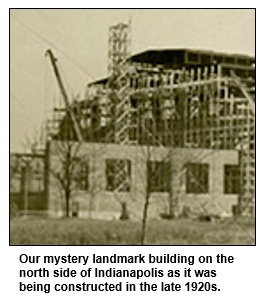 Ninety years ago, in the decade when this week's guests were born, a major landmark was being planned and built on the north side of Indianapolis. When the building opened in 1928, it was the largest structure of its kind in the entire country.
For many decades, the building was the venue for a major sports event that, beginning in 1930, was sold out for 60 consecutive years.
Question: What is the name of this landmark building?
The call-in number is (317) 788-3314. Please do not call in to the show until you hear Nelson pose the question on the air, and please do not try to win if you have won any other prize on WICR during the last two months. You must be willing to give your first name to our engineer, you must answer the question correctly on the air and you must be willing to give your mailing address to our engineer so we can mail the prize pack to you. The prize is four passes to the Indiana History Center, courtesy of the Indiana Historical Society, and two admissions to GlowGolf, courtesy of GlowGolf.
Roadtrip: Underground Railroad activity near Madison and Eagle Hollow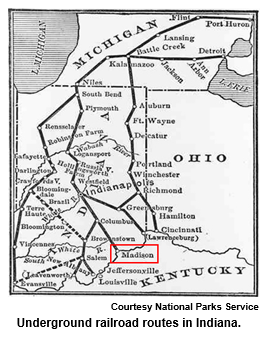 Guest Roadtripper, journalist, and public historian Eunice Trotter invites us to learn about Chapman Harris and underground railroad activity in Madison and Eagle Hollow, a community just east of Madison, both located along the mighty Ohio River.
Chapman Harris was a free African American who was born in Virginia and in his youth heard of Indiana as a "free land." He came to Madison by steamboat in 1839 at age 37 and worked as a Baptist minister, teamster, and farmer. Chapman Harris and his family owned land in both Madison and Eagle Hollow and lead efforts to help enslaved persons crossing the Ohio River into the free state of Indiana.
Harris was known for his imposing size and bearing; a newspaper profile written about him after the Civil War noted that "He walks among men with a natural grace and dignity inseparable from fearlessness and strength of will."
The Indiana Historical Bureau, Jefferson County Commissioners, and Visit Madison, Inc. erected a marker for Chapman Harris in 2016. The marker is located, along the Ohio River at intersection of Eagle Hollow Rd. and SR 56 (Ohio River Scenic Byway) just east of Madison.
Prizes solicited for History Mystery contest
If your business or organization would like to contribute prizes for our History Mystery contest, we would love to have them! Ideally they fit in a standard mailing envelope, such as coupons or vouchers.
Your organization gets a mention on the air by Nelson, as well as a link to your website on our enewsletter and website! If interested, contact producer Molly Head at molly@hoosierhistorylive.org.
Irish heritage in Indiana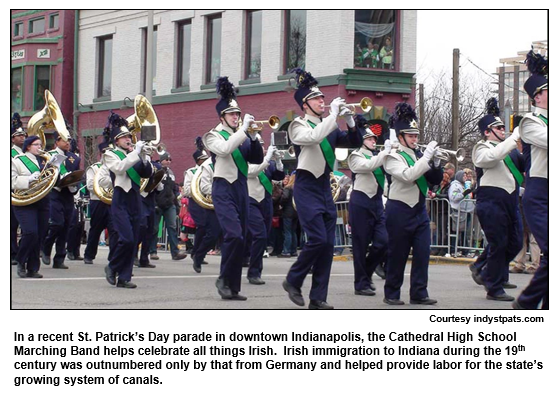 (March 17, 2018) It's not blarney: Of all the European ethnic heritage groups that found a new home in Indiana during the 19th century, the Irish are the second largest, outnumbered only by the Germans.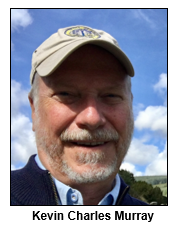 For our show about Irish immigration to the Hoosier state, what more ideal day than St. Patrick's Day to spotlight the significant links between the Emerald Isle and Indiana?
According to the book The Irish in America (Hyperion, 1997), Irish immigrants quickly became the "muscle power" of the American labor force, particularly after the infamous potato famine began in 1845. Even before that devastating blight spurred an emigrant exodus, Irish-born brawn in Indiana was helping build the Old National Road, the Wabash and Erie Canal and other canals. As early as 1832, canal companies based on the East Coast were specifically recruiting Irish immigrants to come to the Hoosier state, according to Peopling Indiana: The Ethnic Experience (Indiana Historical Society Press, 1996).
Three guests with deep Irish ancestral roots join Nelson in studio:
Indianapolis attorney Kevin Charles Murray, who co-founded the Indianapolis St. Patrick's Day Parade in 1981. (An earlier, more modest, parade had faded away in the 1920s.) Kevin's great-great grandfather, fleeing "persistent hunger" in Ireland, emigrated to Indianapolis and served during the Civil War in the 35th Indiana Volunteer Infantry, the Irish Regiment of Indiana; Kevin has written a book on the topic. He has visited his ancestral homeland more than 30 times and owns houses both there and in Indy.
Mary Margaret Coffey, president and chair of the Indy Irish Fest, which takes place in September. A native of Indy who works as an administrator at a law firm, Mary was named Irish Citizen of the Year in her hometown last year. She has dual citizenship in the U.S. and Ireland. "The Irish make everyone part of the family even if they aren't a wee bit Irish," Mary told The Indianapolis Star in 2017.
And John Hegarty, vice president of Scecina Memorial High School. He was born in the United States but grew up in Ireland. John came to Indianapolis in 1988 and worked his way through college at the Golden Ace Inn, a pub on the eastside of Indy known for celebrating all things Irish. Both Kevin and John are active in the local chapter of the Ancient Order of the Hibernians.
By 1860, 15 years after the potato famine began, one-fourth of the Irish population had come to the U.S., according to The Irish in America.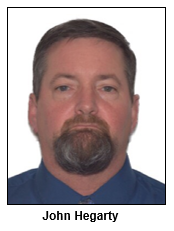 Peopling Indiana reports this history stat: In 1900, six of the ten Hoosier counties with the highest numbers of Irish immigrants were either on the old Wabash and Erie Canal line or on the Old National Road, alluding to Marion, Allen, Cass, Tippecanoe, Vigo and Wayne counties.
Of course, the Irish connections to Indiana go far beyond the hard work of digging the state's canals. At the University of Notre Dame, sports teams have been known for generations as the Fighting Irish. (Never mind that Notre Dame was founded by a French priest.)
In Indianapolis, Irish immigrants started the city's first Catholic church, St. John's. Its majestic steeples are often seen on national TV broadcasts of Indianapolis Colts games because St. John's neighbor is Lucas Oil Stadium.
In the recent Indianapolis Star article about our guest Mary Coffey, she shared her favorite Irish music and cuisine, mentioning shepherd's pie and Guinness stew. Mary referred to the Irish as "perhaps the inventors of comfort food."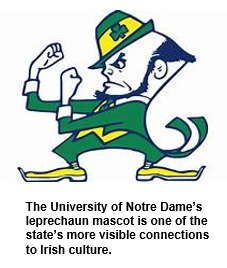 Our guest Kevin Charles Murray helped form a committee that constructed a monument in Holy Cross Cemetery on the southside of Indy to memorialize the Irish regiment in which his ancestor served during the Civil War. Kevin has a collection of Irish American sheet music from the early 1900s. Last month, he traveled to Washington D.C. to meet with the Irish ambassador to the United States. Kevin's house in Ireland is in County Donegal.
County Donegal also is where our guest John Hegarty attended elementary school and high school. "Being schooled in Ireland, I learned Gaelic and Irish history," John says. "I was very active in Gaelic football." At Scecina, John was the soccer coach for many years and escorted several of his teams on trips to Ireland.
Some other facts regarding Indiana's connections with Ireland:
The Irish immigrant populations of both Indianapolis and Terre Haute tripled during the 1850s, according to Peopling Indiana.
During the late 1800s, a neighborhood southeast of downtown Indianapolis became known as Irish Hill because so many first- and second-generation immigrant families lived there.
On St. Patrick's Day, John Hegarty has tended bar for 30 consecutive years at the Golden Ace Inn; the pub's founders in 1934 were from Kilcar, the village in County Donegal where John grew up. He will be tending bar at the Golden Ace once again after our show Saturday. His college-age sons, Joseph and Eamon, will be there as well, playing the snare drums and bagpipes.
History Mystery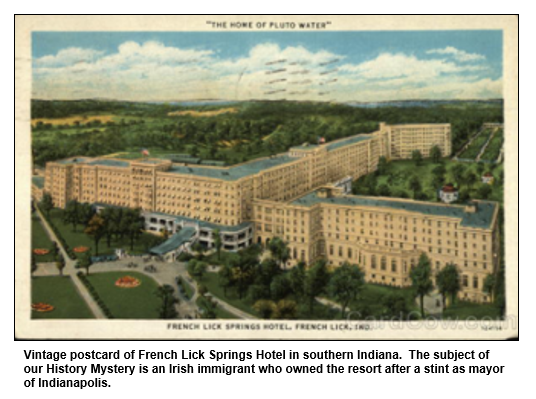 In Indianapolis, an Irish immigrant is honored with the city's largest monument dedicated to an individual person. The immigrant, who served as mayor of Indianapolis from 1895 to 1901, was enormously influential in national and state Democratic politics. After his term as Indy's mayor, he became a major owner of the French Lick Springs Hotel in southern Indiana, making it one of the country's most popular upscale resorts.

He was born in Ireland in 1856, but came to America as a child with his family.

Question: Who was the Irish immigrant who served as Indianapolis mayor?

Hint: The monument dedicated to him is located in Riverside Park, which was the focus of a History Mystery last month.

The call-in number is (317) 788-3314. Please do not call in to the show until you hear Nelson pose the question on the air, and please do not try to win if you have won any other prize on WICR during the last two months. You must be willing to give your first name to our engineer, you must answer the question correctly on the air and you must be willing to give your mailing address to our engineer so we can mail the prize pack to you. The prize is four passes to the Indiana History Center, courtesy of the Indiana Historical Society, and a gift certificate to Story Inn in Brown County, courtesy of Story Inn.



Roadtrip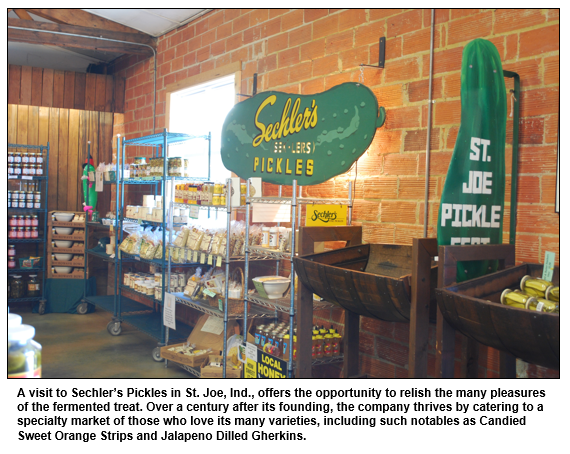 With a growing interest in fermented foods and unique regional flavors, lovers of fine food have turned their culinary attention to pickles. Not only do pickles deliver a powerful tang that complements many foods, they may have significant health benefits, thanks to the Lactobacillus cultures that are an essential part of the pickle-making process.

To learn more about the delights of pickles and a prominent Hoosier company that makes them, guest Roadtripper and writer Jane Ammeson invites us to tag along on a visit to Sechler's Pickles in St. Joe, Ind, located in DeKalb County in the northeast corner of the state, not far from Fort Wayne.

Founded in 1914 by Ralph Sechler, the company got its start with the advantage of being able to ship its product via the many railroad stations that operated in the St. Joe area at the time. Over a century later the company is still thriving. Instead of aiming for the mass market, however, it caters to a niche of pickle aficionados who appreciate the company's 54 different varieties of pickles, ranging from Candied Sweet Orange Strips to Jalapeno Dilled Gherkins. Sechler Genuine Dills - still using the original recipe - are a best-seller.

As part of your visit to Sechler's Pickles, you'll want to take a tour of the plant, available April through October. Call 800-332-5461 to check on specific tour times.

Or to fully immerse yourself in the wonder of pickles, plan to attend the annual St. Joe Pickle Festival (July 19-21); in addition to a factory tour of Sechler's, you can relish parades, competitions, fireworks, food vendors, kids activities, live music and performances - all celebrating the distinctive pleasure of pickles. We hear its a barrel of fun!
Ask Nelson: High school mascots, first ladies of Indiana and more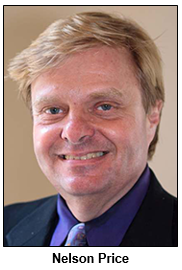 (March 10, 2018) A few times each year, Hoosier History Live opens the phone lines for the entire show so listeners can inquire about any aspect of our state's heritage that interests them.
Between phone calls, our host, Nelson Price, discusses mascots of Indiana high schools (as a salute to March Madness and Hoosier Hysteria) and first ladies of Indiana (in honor of Women's History Month). He is joined in studio by our show's associate producer, Mick Armbruster, who interviews Nelson about these topics and an array of others related to our heritage. In addition to his unofficial title of "connoisseur of all things Hoosier," Nelson calls himself a "garbage can" of Hoosier trivia.
Listeners are invited to call in with questions; the WICR-FM studio number is (317) 788-3314.
Regarding high school mascots: Amid many bulldogs, panthers, warriors and wildcats, there are some truly distinctive mascots. At Delphi High School in the Carroll County town of Delphi, athletes are known as the Oracles. That's a nod to the Oracle of Delphi in ancient Greece, where the city of Delphi was considered to be the center of the world.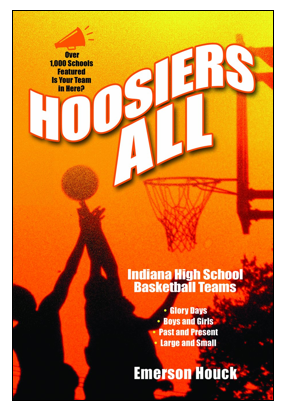 In the scenic Ohio River town of Rising Sun, Ind. - known for its spectacular views of the sunrise - the sports teams are proudly called the Shiners. Perhaps surprisingly, only one high school in Indiana has the word Hoosiers in its mascot name. That's the Indiana School for the Deaf, where the basketball team is called the Deaf Hoosiers and plays a range of high school opponents.
The definitive resource about mascots is Hoosiers All: Indiana High School Basketball Teams (Hawthorne Publishing), a book by Emerson Houck, a retired Lilly executive. Emerson spent years traveling the byways of Indiana to track down the mascots for every high school that ever existed in the state, including long-closed and consolidated ones. Emerson was a studio guest on Hoosier History Live in 2009 for a show about the most colorful and obscure mascots; sadly, he passed away in January.
According to his book, Indiana has about 400 public and private high schools now, compared to more than 1,200 in the mid-1900s. More than 800 schools, Emerson wrote, have been "lost to consolidation, the ravages of time or shifting demographics."
Although many anthology books have been written about Indiana's governors, only one has been published about their spouses. It's First Ladies of Indiana and the Governors, 1816-1984, which has long been out of print. During our show, Nelson, who knew the book's author, the late Margaret Moore Post, will share anecdotes from her book as well as insights from his own interviews with several modern-era first ladies. Some history facts about our first ladies:
Ann Jennings, the first of Indiana's first ladies, is the only one for whom we have no portrait painting or photo. Mrs. Jennings, wife of our first governor, Jonathan Jennings, was only 34 when she died in 1825. A Hoosier History Live show in January 2017 explored the lives of Jonathan and Ann Jennings. Nelson's guests on that show included Lori Roberts, a history teacher at a middle school in southern Indiana who portrays Mrs. Jennings in historic re-enactments.
Lois Marshall, the wife of Thomas R. Marshall (Indiana's governor from 1909 to 1913), was never once separated overnight from her husband after their marriage, both spouses maintained. That's rather remarkable considering Thomas R. Marshall's decades of campaigning for prestigious public offices; after his stint as governor, he served as U.S. vice president under Woodrow Wilson, the 28th president of the United States.
First ladies interviewed by Nelson for various media include Susan Bayh, Judy O'Bannon, Maggie Kernan and Karen Pence, who was a Hoosier History Live guest in January 2016.
History Mystery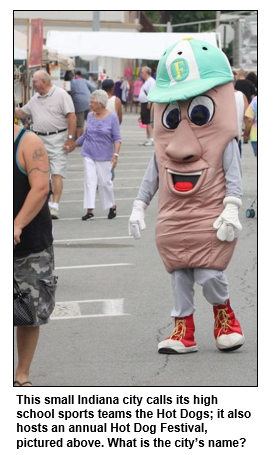 Our mystery this week involves a small city in Indiana with a population of about 16,000, where the high school's sports teams are officially called the Hot Dogs, aka the Fighting Hot Dogs.
Why did this city's only public high school adopt the lowly wiener sausage as their mascot? They have their reasons - which will be revealed on Saturday's show, along with several of the town's other claims to fame.
Question: What is the Indiana city in which the high school mascot is the Hot Dog?
Hint: During the summer, the city's biggest event is the Hot Dog Festival.
The call-in number is (317) 788-3314. Please do not call in to the show until you hear Nelson pose the question on the air, and please do not try to win if you have won any other prize on WICR during the last two months. You must be willing to give your first name to our engineer, you must answer the question correctly on the air and you must be willing to give your mailing address to our engineer so we can mail the prize pack to you. The prize is four passes to the Indiana History Center, courtesy of the Indiana Historical Society, and a gift certificate to Story Inn in Brown County, courtesy of Story Inn.
Women military veterans and memoirs: Encore show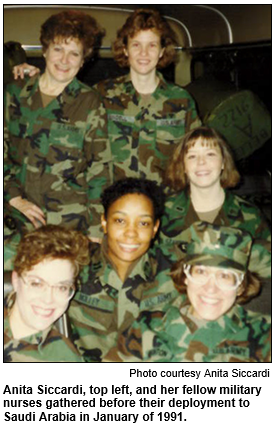 (Mar. 3, 2018) As Hoosier History Live salutes Women's History Month, our spotlight is on women military veterans from Indiana. Two of these veterans are Nelson's studio guests on this encore show that originally was broadcast on March 5, 2016. Along with other women veterans - some who served in war, others in peacetime - our guests on the show include members of a group writing memoirs about life in the armed services.
Nelson and the veterans are joined on the show by their writing instructor, Shari Wagner, who was Indiana's poet laureate at the time. A few months after our show was broadcast, a collection of their memoirs was published by the Indiana Writers Center as a book, Finding Our Words: Stories and Poems of Women Veterans, which is available for order online.
Women in the group range from 30-somethings to a 93-year-old veteran of World War II. During our show, the guests discuss everything from their enlistment experiences in the military (including survival training) to their transition to civilian life. Nelson and Shari Wagner are joined by:
Anita Siccardi, dean of the Marian University School of Nursing. An active-duty Army nurse from 1989 to 1992, Anita was deployed twice to the 98th General Hospital in Nuremberg, Germany during the Persian Gulf War. While in Nuremberg, Anita volunteered to be one of seven nurses to augment the 128th Combat Support Hospital in Saudi Arabia during Desert Storm.
And Leslie Bales, director of customer services at the Defense Finance and Accounting Service housed at the former Fort Harrison. She began her military career at 17 years of age in 1978, when Leslie and her late brother both joined the U.S. Air Force. During her service with the Air Force (1978-84), Leslie became the first woman to qualify as a loadmaster on a C-5 transport aircraft in her unit. The 301st Military Airlift Command was based at Travis Air Force Base in California.
Leslie also has been a "Navy wife" because her husband, Ronald, a Noblesville native, is a veteran. He served 12 years aboard nuclear submarines.
Weather history with Paul Poteet
(Feb. 24, 2018) Because the ever-changing Indiana weather always is top of mind, Hoosier History Live revisits a topic we explored back in 2014. Rather than sticking to Wicked winter history, as we called that show, this show broadens the focus and explores all aspects of our weather heritage in the Hoosier state.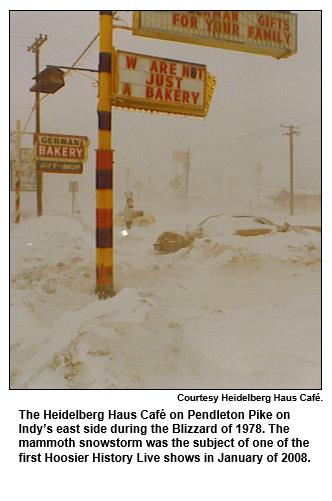 To provide insight into the history of Hoosier weather, Nelson welcomes back the jaunty, multimedia meteorologist who bills himself as Indiana's Weatherman: Paul Poteet, the Indianapolis-based forecaster, weather historian and veteran broadcast personality.
Paul, who launched his own weather site in 1998, grew up in the small town of Andrews near Huntington in northeastern Indiana; he got his start as a teenage disc jockey in Huntington.
Since then, he has popped up as a weatherman on various TV and radio stations in Indiana, including nearly 15 years on the morning show of WRTV-Channel 6 in Indianapolis. He's currently a freelance contributor to several broadcast shows, including Daybreak on WISH-TV-Channel 8.
During our 2014 show, Paul and Nelson shared their memories of extreme weather in Indianapolis, including the coldest day in the city's recorded history. It was Jan. 19, 1994, when the air temperature dipped to -27° F, not counting wind chill.
In contrast, the highest temp ever recorded in Indy was 106° F. That was on July 14, 1936.
According to Paul's research, the biggest snow season in Indy history was the winter of 2013-14. A total of 52.2 inches had fallen that winter by the time warm weather arrived. In second place is the winter of 1981-82, with 51 inches.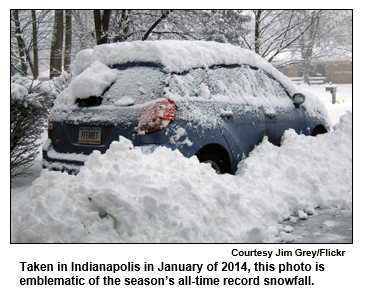 Third place goes to 1977-78, which included the Blizzard of '78. That winter isn't the snowiest; as Hoosiers who survived the blizzard can attest, it wasn't just the amount of snow that made it so treacherous, but instead a "perfect storm" of several factors - including the extreme wind chill - that paralyzed the Hoosier capital.
During our previous show with Paul, he reported that the Indy metro area generally averages 26 inches of snow per winter season. In stark contrast, the South Bend area is impacted by the infamous lake effect, in which cold winter winds pick up moist air from the Great Lakes and dump it inland as snow, resulting in an average total winter season snowfall of 66 inches.
Paul also identified the date on which the Indy metro area received the most single-day snowfall in recorded history. It was March 19, 1906, when 12.1 inches of snow came down. A weather-savvy listener called in to note that on Dec. 20, 1981, Indy had the unfortunate distinction of being the coldest city in the entire country. It was -11° F in Indy that day.
Accurate weather statistics go back to the late 1800s, Paul says. That's when weather bureaus were established across the country, followed by the widespread use of the telegraph to transmit weather data. Although professional meteorological record-keeping dates only to the 1870s, detailed and descriptive accounts of the daily weather go back much earlier thanks to diaries and other personal written records.
Some history facts:
Paul Poteet owns Weather History Research, a business that provides info to insurance companies and law firms around the country.
In the mid and late 1980s, when Paul was doing weather reports for WTTV-Channel 4 in Indy, he shared studio space with Cowboy Bob. The local TV icon (real name: Bob Glaze) was a guest on a Hoosier History Live show on Aug. 6, 2011; he passed away in 2016.
According to Paul, the latest day of measurable snowfall in central Indiana happened in 1923. The late-season snow came on May 9 that year.
Check out these audio excerpts from our Jan. 16, 2008 show on the Blizzard of '78:
History Mystery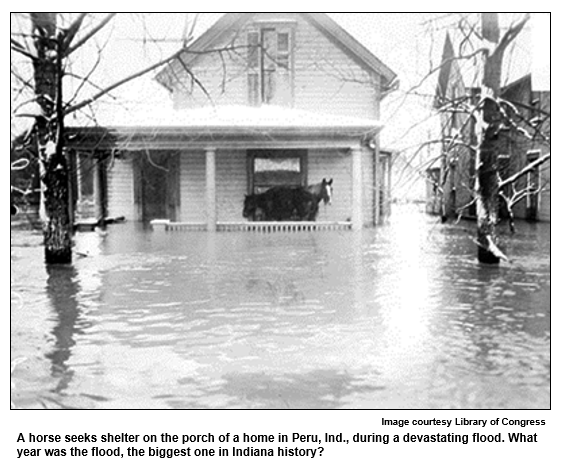 Although cities and towns near the Ohio River were significantly impacted by the Flood of 1937, it isn't considered the worst statewide flood in Indiana history. The greatest flood across the state occurred earlier in the 1900s and was blamed for the deaths of 200 Hoosiers.
More than 200,000 people in the state were left homeless; levees burst and rivers overflowed throughout Indiana.
The catastrophic flood occurred in March. It followed days of hurricane-like winds and relentless, pelting rainfalls. Indianapolis became known as "the city underwater." In Peru, Ind., where several circuses spent their off-season, hundreds of lions, tigers and other animals drowned in their cages. Terre Haute was still recovering from a tornado, which hit the city the weekend prior to the greatest flood in Indiana history. The most devastating flooding occurred on Easter weekend.
Question: What year was the greatest flood in Indiana history?
The call-in number is (317) 788-3314. Please do not call in to the show until you hear Nelson pose the question on the air, and please do not try to win if you have won any other prize on WICR during the last two months. You must be willing to give your first name to our engineer, you must answer the question correctly on the air and you must be willing to give your mailing address to our engineer so we can mail the prize pack to you. The prize is four passes to the Indiana History Center, courtesy of the Indiana Historical Society, and a gift certificate to Story Inn in Brown County, courtesy of Story Inn.
Roadtrip: New "Das Deutsche Haus" sign for the Athenaeum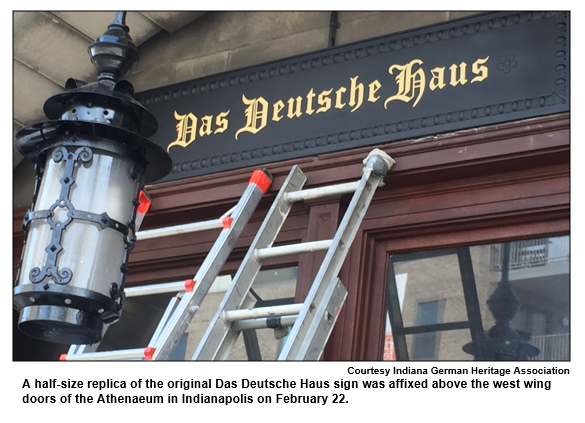 Guest Roadtripper, historian and IUPUI adjunct faculty member William Selm shares some German Hoosier heritage in this week's Roadtrip. William invites listeners to join him as he explores the naming of the monumental brick and stone building at Michigan Street and Massachusetts Avenue in Indianapolis, known for the past hundred years as The Athenaeum.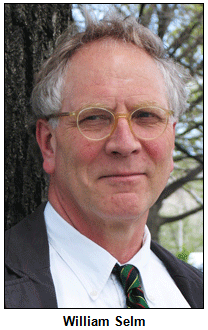 William tells us that for the first 23 years of its existence, the building was known as Das Deutsche Haus, reflecting its role as a meeting place for social clubs composed of the city's German immigrants.

On February 22, 1918, however, the building was renamed The Athenaeum. The name change was not the idea of its owners, the Sozialer Turnverein. Rather, it was the result of an anti-German campaign during World War I orchestrated by the Marion County Council of Defense and the Indianapolis Star. According to writer Kurt Vonnegut Jr., the government and the press had fomented a campaign of "hatred of all things German."

At the time of the renaming, a tablet bearing the new name ATHENAEVM was bolted above the west wing door, covering the original tablet, which had the old name Das Deutsche Haus in raised gold fraktur letters.

On 22 February at 5:30 PM, to mark the centenary of the name change, The Indiana German Heritage Society and the Athenaeum Foundation unveiled a half-size replica of the original sign, affixed above the west wing doors.

Listeners can check out the new sign for themselves by visiting the Athenaeum. Be sure to consult their events calendar to take advantage of the building's busy schedule of arts and cultural happenings, and plan your trip to include dinner at the Rathskeller restaurant in the building's basement, with its beer-hall atmosphere and lively local music scene.
Frederick Douglass and his Indiana connections
(Feb. 17, 2018) This year marks the 200th anniversary of the birth of one of the greatest African-American orators and social reformers in history, Frederick Douglass (1818-1895). Although Douglass was born into slavery in Maryland and lived in New England after escaping bondage, his work as an abolitionist sent him on extensive travels, including trips to the Midwest. As a result, Douglass has more links to Indiana than many realize.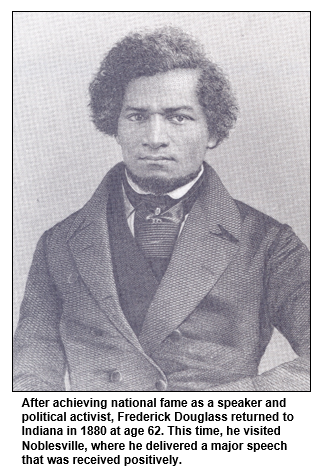 In 1843, only a few years after escaping slavery, Douglass came to Pendleton, Ind., with a small group of other abolitionists. They were assaulted by a white mob in an attack that left Douglass seriously wounded.
After achieving national fame, Douglass returned to Indiana in 1880 at age 62. This time, he visited Noblesville, where he delivered a major speech that was received positively, with extensive press coverage. During the speech, he reflected on the assault in Pendleton 37 years earlier.
As Hoosier History Live salutes Black History Month, we explore those episodes and other connections between Douglass and Indiana. Nelson is joined by two studio guests:
Frederick Douglass was born into slavery on a plantation in Maryland; as a youth, he was regularly whipped and beaten. After escaping at age 20, he was based in Rochester, N.Y., and Washington D.C. for most of his career.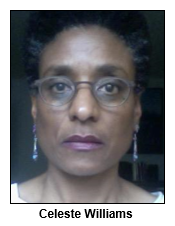 Our guest Celeste Williams said she was encouraged to research Douglass' visits to Indiana and write her play by Noblesville resident Bryan Glover, a descendant of some of the founders of the Roberts Settlement, an historic community of African Americans in Hamilton County.
Roberts Settlement residents were instrumental in arranging for Douglass to speak in Noblesville in 1880 at a political rally for the Republican Party. Celeste says she took the title of her play from the words of Douglass' speech:
"I believed then as I do now that all the American people need is more light. I believed then if I could impress them with the idea of wrongs and cruelties suffered by the black man, if I could unfold the evils of the hideous monster - slavery - that the American people would crush and destroy it."
With the words "I believed then," Douglass alludes to his trip to Pendleton in 1843 when he and his companions were assaulted and thus unable to deliver speeches they had prepared.
In his autobiography, Narrative of the Life of Frederick Douglass, an American Slave, the great orator describes the Pendleton assailants as "a mob of about 60 of the roughest characters I ever looked upon."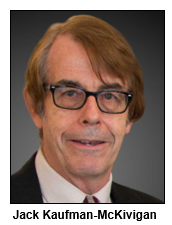 When Douglass traveled to Pendleton in September 1843, he was 25 years old. According to his autobiography, the abolitionists found it "impossible to obtain a building" in which to speak, so they erected a platform in the woods. That' s where the mob descended, hurling stones and swinging clubs at the abolitionists, who sustained various injuries. Some of the abolitionists, including Douglass, were knocked unconscious; his right hand was severely broken.
A "kind-hearted" Madison County resident, a Quaker, took Douglass by wagon to his home where his wounds were treated by the man' s wife. "But as the broken bones were not properly set," Douglass later wrote, "my hand has never recovered its natural strength and dexterity."
According to the Madison County Historical Society, one of the mob organizers initially was jailed for participating in the attack. That enraged other county residents, about 40 of whom showed up to protest "the imprisonment of a white man for assaulting a Negro." After Madison County officials negotiated a compromise with this mob, the group disbanded, and the imprisoned assailant was released without standing trial.
When Douglass returned to Indiana 37 years later to speak in Noblesville, he visited Pendleton to look at the site of his assault. He also met with the Quaker woman who had treated his wounds "like the Good Samaritan of old," he wrote.
History Mystery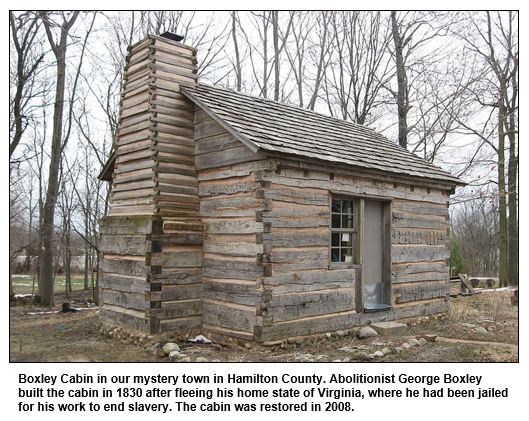 In addition to Noblesville, where Frederick Douglass delivered a major speech in 1880, another town in Hamilton County has a significant connection to an abolitionist. The town, which has a population of about 2,700, is the location of an historic cabin where George Boxley, a white abolitionist, lived.

Listed on the National Register of Historic Places, Boxley Cabin was built in 1830 and is located in a park in the town. A native of Virginia, George Boxley was a successful mill owner and merchant in his home state, but was jailed there for his anti-slavery activities. Boxley was a fugitive when he fled to Hamilton County and helped start a new town. He was a strong believer in education and is credited with starting the first school in the township.

Years later, the Monon Railroad passed through the town. Like Carmel, a much larger city in Hamilton County, the mystery town also is known for the success of its high school' s football team in state tournaments.

Question: What is the town in Hamilton County where abolitionist George Boxley lived?

The prize is four passes to the Indiana History Center, courtesy of the Indiana Historical Society, and a gift certificate to Story Inn in Brown County, courtesy of Story Inn.



Roadtrip: Pioneer Village at Spring Mill State Park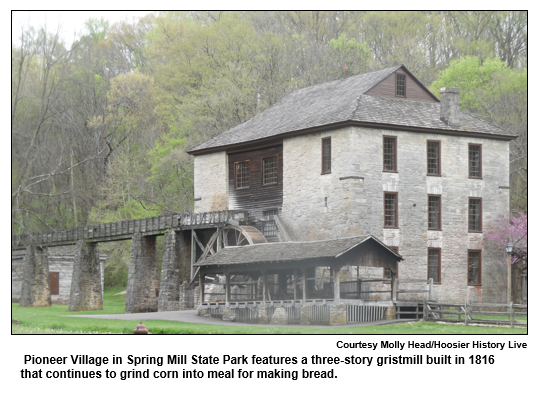 Guest Roadtripper and travel writer Jane Ammeson suggests a visit to Spring Mill State Park near Mitchell in south central Indiana to see its picturesque Pioneer Village. The village features a three-story gristmill built in 1816 that continues to grind corn into meal for making bread. Founded in 1814 by the Hamer family, the village once served as a stagecoach stop and had a distillery, tavern, apothecary and mercantile store.
Visitors can learn about how the corn, pork and whiskey produced in the area were shipped down river on flatboats built from trees felled from the forest and cut at the village's sawmill. Plant lovers will want to check out the village's historic gardens, which have been immaculately restored.
One of the log cabins in the Pioneer Village - a rather fancy affair with a middle area open for wagons to pull in - belonged to pioneer Sally Cummins White, known in later years as Granny White. She was a remarkable woman, with a long and adventurous life; Jane will share some of her fascinating story during the show.
Another Village cabin of note bears a family connection to Mary Todd Lincoln, wife of Abraham Lincoln, who grew up in Indiana.
Jane suggests that overnight visitors to the Village might want to stay at the Spring Mill Inn. "Be sure to try their scrumptious desserts," says Jane. "Many of them come with their own special story, including the Granny White Orchard Cake.
African-American health care during the early and mid-1900s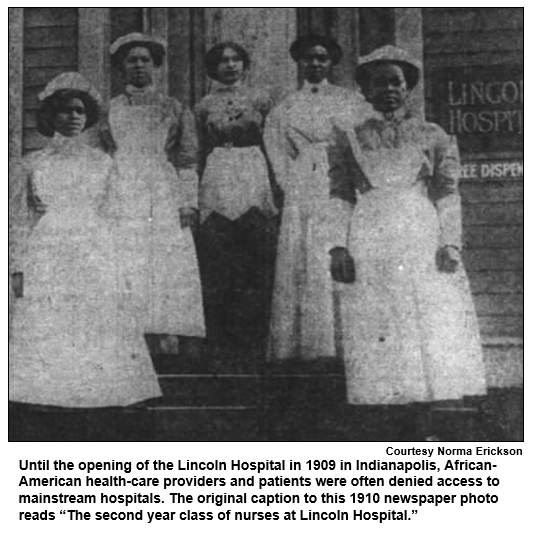 (Feb. 10, 2018) In the first half of the 20th century, an era of widespread racial discrimination in the United States, many hospitals in Indiana declined to allow African-American physicians to practice medicine or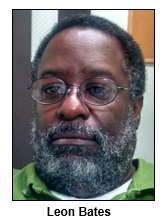 perform surgeries. In several cases, Hoosier hospitals even refused to accept black patients. Hospitals that served African Americans during the early and mid-1900s often did so in small, insufficient "colored wards" in their basements. Young black Hoosiers often were discouraged from pursuing careers as surgeons, nurses and other medical professionals.
Hoosiers seeking to serve the health-care needs of the black community persevered, however, even in the face of the daunting challenges of discrimination. Patients who could not be accommodated in overflowing "colored wards" would often be taken in by black churches.
And during the early 1900s, a hospital, a surgery center and a clinic for African-American patients were built in Indianapolis.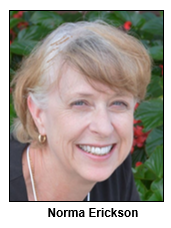 All this is explored during our show as Hoosier History Live salutes Black History Month. Later this year, the dedication of an historic marker is planned for the former site of Lincoln Hospital, which was established by black physicians in Indianapolis. Located at 11th Street and Senate Avenue, Lincoln Hospital was open from 1909 to 1915.
A longer-lasting facility, Ward's Sanitarium, was a surgery center and clinic in Indianapolis opened by Dr. Joseph Ward (1872-1956), a trail-blazing African-American physician. Other African-American medical pioneers included Dr. Harvey Middleton Sr. (1895-1978), a cardiologist who advocated for opportunities for black physicians to serve on the staffs of Indiana hospitals.
To discuss the health care scenario for African Americans in Indiana during the first half of the 20th Century, two guests join Nelson in studio:
Leon Bates, an Indianapolis-based historian who has researched the life of Dr. Joseph Ward; Ward left Indianapolis in the 1920s to become the head of Tuskegee Veterans Hospital in Alabama. (After this departure, Ward's Sanitarium, which lasted until 1938, was overseen by Ward's brother-in-law, according to Leon.)
And Norma Erickson, a board member of the Indiana Medical History Museum. She has extensively researched the training of African-American nurses during the early 1900s as well as the history of Lincoln Hospital, which had 19 rooms and, as Norma puts it, gave black physicians "the ability to fully practice their profession." Lincoln Hospital also had a nursing school for young black women.
Norma also has written about a major, unlikely benefactor of Lincoln Hospital: none other than Carl Fisher, the flamboyant founder of the Indianapolis Motor Speedway. During our show, Norma explains why Fisher, who launched the Indianapolis 500 in 1911, took a keen interest in the hospital for African Americans.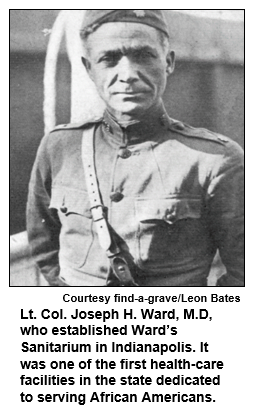 Also during our show, Harvey Middleton Jr., a resident of Tampa, Fla., calls in to share insights about his father. In 2015, an interior road on the campus of Eskenazi Hospital was named Dr. Harvey Middleton Sr. Way in honor of the pioneering physician. Eskenazi is the successor to Wishard Memorial Hospital, which, in turn, evolved out of the old City Hospital.
According to our guests, City Hospital had a "colored ward" in its basement for a few black patients during the early 1900s. When the segregated ward overflowed, local churches - including Bethel African Methodist Episcopal Church - often set up beds for patients.
Neither Dr. Ward nor Dr. Middleton Sr. were native Hoosiers. Dr. Ward was born in North Carolina, where his mother had been a slave. He received his medical training in Indianapolis and opened an office on Indiana Avenue in 1901. Ward's Sanitarium, which opened in 1910, also initially was located on Indiana Avenue.
"By 1922, African Americans needing surgery were coming to him from as far away as Bedford to Kokomo to Terre Haute to Richmond - a radius of approximately 100 miles," our guest Leon Bates has written. According to Leon's research, Ward also served as a medical doctor in the Army during World War I. In the war, he was one of 104 African-American physicians in the Army.
Dr. Middleton was born in South Carolina. In 1928, he moved to Anderson, Ind., to join the staff of a local hospital. He relocated to Indianapolis during the mid-1930s and established a private medical practice. As a cardiologist, Dr. Middleton began treating - as a volunteer - patients at City Hospital's outpatient heart clinic. In 1942, City Hospital invited him to serve as a full-time staff member.
"Later, he became one of the first physicians in Indiana to use EKG technology to detect heart problems," according to Eskenazi Health.
History Mystery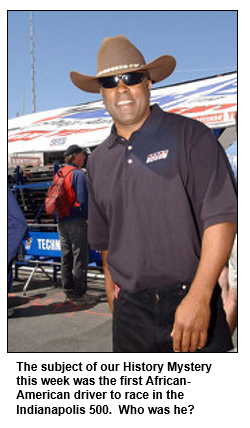 Although Indianapolis Motor Speedway founder Carl Fisher was a donor to Lincoln Hospital, which was founded in 1909 by black physicians who were not allowed to practice in other hospitals, the color barrier at the Indianapolis 500 was not broken until more than 80 years after that.
In 1991, a racecar driver who grew up in California became the first African American to compete in the Indy 500. He also competed in the Indy 500 in 1993.
Question: Who was the first African-American driver to race in the Indianapolis 500?
Hint: Our mystery driver competed in many forms of auto racing, including the Trans-Am Series, IndyCar, Champ Car, IMSA, the NASCAR Sprint Cup Series and Craftsman Truck Series
The call-in number is (317) 788-3314. Please do not call in to the show until you hear Nelson pose the question on the air, and please do not try to win if you have won any other prize on WICR during the last two months. You must be willing to give your first name to our engineer, you must answer the question correctly on the air and you must be willing to give your mailing address to our engineer, so we can mail the prize pack to you. The prize is two passes to the Indiana History Center, courtesy of the Indiana Historical Society, and two passes to GlowGolf, courtesy of GlowGolf.
Roadtrip: Swope Art Museum in Terre Haute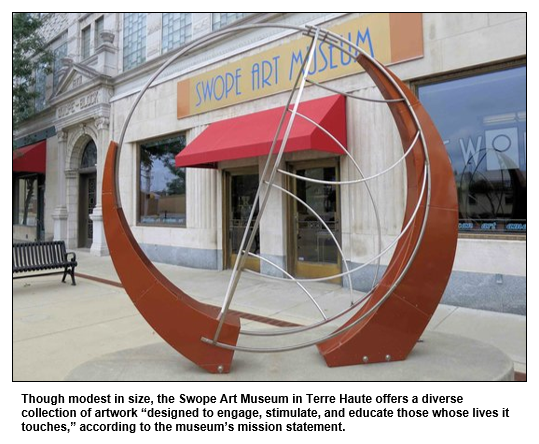 Guest Roadtripper Rachel Berenson Perry, Indiana State Museum Fine Arts Curator Emerita and freelance historian, tells us that the Swope Art Museum in downtown Terre Haute is a gem. Although modest in proportions, the Swope has an extraordinary collection of nearly 2,500 works of American art and is well worth a visit.
The founding collection of the Swope focuses on American regionalism and includes works by Thomas Hart Benton, Edward Hoppe and Zoltan Sepeshy. The museum also features works by artists from the mid 20th to early 21st centuries, including pieces by Robert Rauschenberg, Alexander Calder, Andy Warhol, Robert Indiana and Eva Hesse.
If Indiana artists are your thing, the Swope is the place for you: one gallery is devoted to artists from the Hoosier Group, including J. Ottis Adams, William Forsyth, Otto Stark and Theodore C. Steele. Brown County Impressionists are represented by such artists as C. Curry Bohm, Carl C. Graf and Genevieve Goth Grath.
Admission to the Swope is free; hours of operation are Tuesday through Sunday noon to 5:00 pm and Friday noon to 8:00 pm.
Health fads, diets and healing techniques during the Gilded Age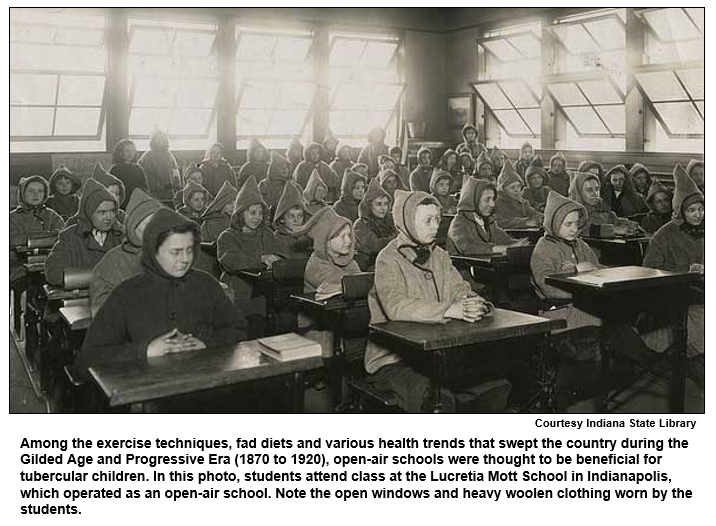 (Feb. 3, 2018) Patent medicine tonics to treat "nervous disorders" - including mail-order products marketed by Miles Laboratories in Elkhart - were popular during the late 1800s and early 1900s. So were herbal remedies like Lydia Pinkham's Vegetable Compound, which purported to cure a variety of "female complaints." Hoosier History Live explored them during an intriguing show last March about Health care during the Gilded Age.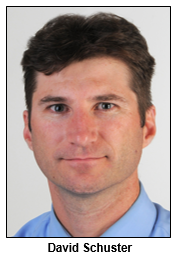 Tonics, lotions and potions weren't the only "cures" sold during that era, though.
Exercise fads, diets and various healing techniques also swept the country. For insights about them, we welcome a return visit by studio guest David Schuster, associate professor of history at Indiana University-Purdue University Fort Wayne. David has done presentations about the healthcare market during the Gilded Age and subsequent Progressive Era (periods stretching generally from 1870 to 1920) at the Indiana Medical History Museum.
Beginning in 1876, health activist and physician John Harvey Kellogg presided at the Battle Creek Sanitarium in Michigan. Under Kellogg's direction, the Wabash Sanitarium - also called the Wabash Valley Hospital - opened in 1906 in Lafayette. During our show, David Schuster discusses the dietary and fitness advice advocated by Kellogg (1852-1943), a vegetarian who, with his brother Will, primarily is remembered for the development and marketing of breakfast cereals, including corn flakes.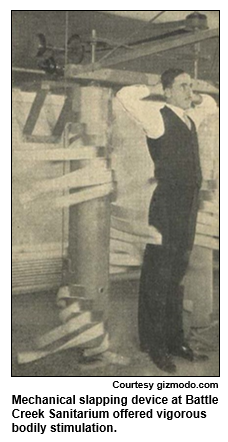 During the early 1900s, President Teddy Roosevelt called for Americans to live a "strenuous life" that, as David puts it, "manifested itself in healthy lifestyles of camping, exercise and shopping - yes, shopping was seen as a way for women to stay active and healthy."
As part of the "fresh air movement" that swept the country, sick women and children - along with nursing mothers - frequently were brought to Fairview Park on the northside of Indianapolis. The 246-acre park had been developed in 1890 by the Citizens Street Railway Company; its streetcars took women and children to the park for the tranquility of flowers, trees and ponds. In the 1920s, Fairview Park became the new site of Butler University, which had been located in the eastside neighborhood of Irvington during the Gilded Age.
During our show, David also discusses the rise during the late 19th century of spiritual healing led by movements such as "New Thought" and Christian Science.
The Wabash and Battle Creek sanitariums were affiliated with the Seventh-day Adventist Church, as was John Harvey Kellogg. His treatments often involved hydrotherapy and extensive exposure to sunlight.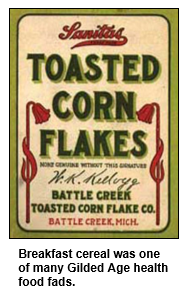 Kellogg advocated exposure to fresh air, particularly the "invigorating" cold air in winter. An equipment company Kellogg founded in 1890 manufactured "therapeutic machines" that he invented, including an "electrotherapy coils" device, a foot vibrator and a contraption that repeatedly slapped the body as a form of stimulating massage.
Across the country, an open-air school movement began during the early 1900s. Children who were tubercular, anemic or suffering from other disorders were sent to such schools, which emphasized good nutrition, outdoor physical activity and training in the manual arts. In Indianapolis, the Lucretia Mott School on the near-eastside became the city's first open-air school in 1913.
This program is the first of two shows focusing on aspects of healthcare in earlier eras.
History Mystery
A few years before parks advocate and fitness enthusiast Teddy Roosevelt was elected to the U.S. presidency, an Indianapolis mayor pushed the city to acquire about 1,000 acres for park land. Mayor Thomas Taggart initially was ridiculed for the purchase of the flood-prone acreage. But the land became one of the largest and most popular parks in the city, with three golf courses, tennis courts, playgrounds and other amenities.
The park in Indy also has a large, historic memorial to Taggart, who served three terms as mayor from 1895 to 1901. Like Teddy Roosevelt, Taggart was a lover of the outdoors and an advocate of a vigorous, healthy lifestyle.
Question: Name the park with the memorial to Taggart that was developed on flood-prone land.
The call-in number is (317) 788-3314. Please do not call in to the show until you hear Mick pose the question on the air, and please do not try to win if you have won any other prize on WICR during the last two months. You must be willing to give your first name to our engineer, you must answer the question correctly on the air and you must be willing to give your mailing address to our engineer, so we can mail the prize pack to you. The prize is two passes to the Indiana History Center, courtesy of the Indiana Historical Society, and two passes to Story Inn in Brown County, courtesy of Story Inn.
Roadtrip: Landmark for Peace Memorial in Indianapolis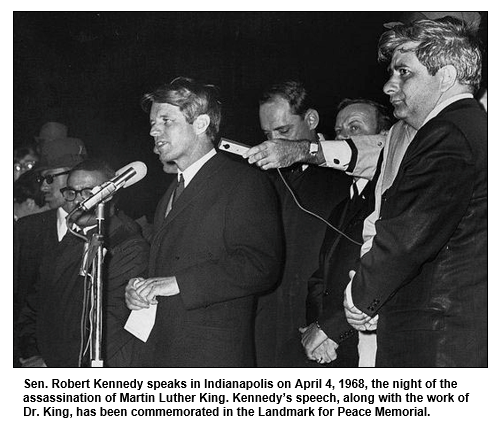 Guest Roadtripper Rachel Hill Ponko of the Indiana Historical Society says there is no time like 2018 to visit the Landmark for Peace Memorial, located in the Dr. Martin Luther King Jr. Park in Indianapolis.
"April 4, 2018, marks the 50th anniversary of Dr. King's tragic death in Memphis and Sen. Robert Kennedy's extraordinary speech here in Indianapolis," says Rachel. "A growing group of community members and leaders are now working with the Kennedy King Memorial Initiative (KKMI) on upgrades to the site, as well as a series of special events."
Fifty years ago, Kennedy delivered news of King's shooting in an impromptu speech from the back of a flatbed truck. Kennedy had been urged to cancel his appearance in Indianapolis that evening; local police feared he might face a riot. Instead of cancelling, however, Kennedy used the occasion to deliver a message of peace that calmed the crowd and left a deep impression on those who heard it.
Today, the Landmark for Peace Memorial at 17th and Broadway Streets features the outstretched hands of Kennedy and King reaching toward each other. Visitors can also enjoy playgrounds, picnic shelters and green space. Come April, a banner will be added to the Visitors Center, courtesy of KKMI, in partnership with IHS.
Special events include a screening of the documentary A Ripple of Hope on Tuesday, April 3, at the Eugene and Marilyn Glick Indiana History, as well as two commemorative events onWednesday, April 4, at MLK Park.
"Some will choose to attend the events, while others may seek out a quiet moment in the park," says Rachel. "Whatever your preference, there is no place like the memorial to reflect on the lasting influence of these two men."
From the scrap heap of history: the Jewish salvage industry in Indiana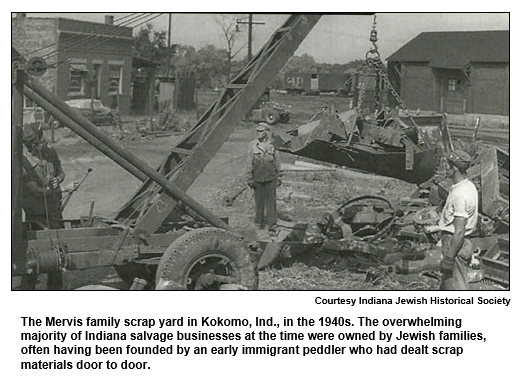 (Jan. 27, 2018) The American dream takes many forms. For many Jewish Hoosiers during the early to middle years of the 20th century, it took the form of the family-owned scrap yard, independently operated and passed down from one generation to the next.
For many of these families, the road from impoverished immigrant to wealth and social prominence was paved with the detritus of an industrial economy: Crushed automobile frames. Mangled copper wiring. Smashed aluminum cans. All were to be melted down and turned into raw materials that fed the booming American economy during the second half of the 20th century.
This week's Hoosier History Live show explores the prominent role of scrap metal recycling among Jewish families in Indiana. Guest host Mick Armbruster is joined in studio by three guests, each with a unique perspective on the history of the Jewish salvage industry in Indiana:
Trent Pendley, amateur historian, retired fine jeweler and fifth-generation Hoosier. He is past president of the Indiana Jewish Historical Society and lives in Furnessville in the Indiana Dunes. Trent was a previous guest on Hoosier History Live for a show on Jewish immigration to Indiana. He also wrote the historical novel Toys in the Closet, which is set in a beach home among the Indiana Dunes.
Marty Kroot of Indianapolis, former owner of K&F Industries salvage business. Marty began working in his family's scrap yard as a teenager and honed his skills over five decades in salvage.
Joan Wolf of Indianapolis, philanthropist and board member of the Indiana Jewish Historical Society. Inspired by her sister-in-law's work on a book on the Jewish history of Madison, Ind., Joan initiated and coordinated the compilation of Bonds as Strong as Steel: A History of Indiana Scrap Metal Dealers and their Families.
Before a wave of consolidation changed the industry in the late 1990s, almost 90 percent of American scrap yards were owned by Jewish families, a statistic that seems to hold true for Indiana as well. Why did so many prominent scrap businesses in Indiana and the Midwest carry Jewish family names? What was it about salvage that attracted Jewish entrepreneurs and encouraged them to build thriving businesses in this field?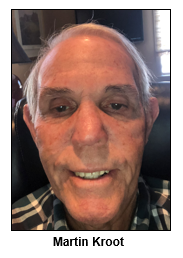 To answer these questions, we dig into aspects of American history that include a strong Jewish contingent among fur trappers and traders in the Midwest during Colonial and Pioneer eras. Later, Jewish peddlers helped settle the frontier territories. Historians have called Jewish peddlers "foot soldiers in the far-reaching revolution" that brought manufactured consumer goods to far-flung residents of the American frontier.
Coming from a tradition of entrepreneurship in the Old Country, Jewish immigrants often were well-suited for the role of peddler in their new homeland, and low start-up costs made the profession accessible to even the poorest among them. In some cases, anti-Semitism played a role in shaping the economic destiny of Jews during the frontier era and early Hoosier statehood; as Trent will explain, Jews were forbidden from owning property in some areas of Indiana, making the nomadic life of the peddler one of their few options for engaging in trade.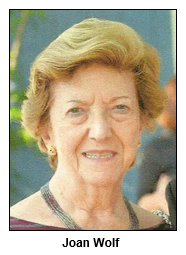 The same economic and historical forces that made peddling a common career choice among Jewish immigrants to America applied to the scrapping trade as well. Rather than sell goods to customers, the scrappers purchased the rags, metal, and animal hides consumers cast off, but that still had value as raw materials. As the businesses of the early horse-and-wagon scrappers grew, they evolved into the scrap yards that eventually became a major force in the U.S. industrial economy.
Guests Marty Kroot and Joan Wolf both grew up in Jewish families that owned salvage businesses. They share some of their early memories of the family junk yard, including Marty's experience learning the trade while still a teenager. He cut his salvage teeth at the Alex Cohen's Sons Inc. scrap yard on the southside of Indianapolis, which his father, the late Sam Kroot, purchased in 1949. Joan explains the important philanthropic role played by many Jewish scrap business families in Indiana.
Marty also shares his perspective on how the salvage business has evolved over the years, from predominantly family-owned companies to the huge global conglomerates that dominate the industry today.
History Mystery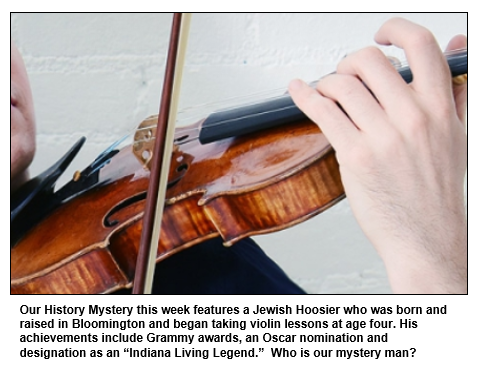 Among Jewish Hoosiers who have gone on to achieve national prominence, some stand out as true celebrities. Robert Wise, who was born in Winchester, grew up in Connersville and made his mark in Hollywood directing such hit films as West Side Story and The Sound of Music. Nobel Prize-winning economist Paul Samuelson, born in Gary, served as adviser to President John Kennedy and popularized the term "stagflation" in the '70s. In more recent years, Hoosiers have taken pride in Indianapolis native and astronaut David Wolf, who graduated from North Central High School and Purdue University and has served on four space missions.

For today's History Mystery, we turn to a star in the realm of classical music. Our mystery Jewish Hoosier was born and raised in Bloomington and began taking violin lessons at age four. Ten years later he appeared as a soloist with the Philadelphia Orchestra, and at age 17 he made his Carnegie Hall debut with the St. Louis Symphony.

A complete list of his musical prizes and accomplishments would stretch on for pages and would include Grammy awards, Oscar-nominated performances and a presidential appointment. We hope that among his proudest achievements, however, are being designated an "Indiana Living Legend" in 2000 and receiving the Indiana Governor's Arts Award in 2003.

Question: What is the name of this Jewish Hoosier, widely regarded as one of the most celebrated violinists of his era?
The prize is two passes to the Indiana History Center, courtesy of the Indiana Historical Society, and two passes to Story Inn in Brown County, courtesy of Story Inn.
Roadtrip: Ahavath Sholom Temple in Ligonier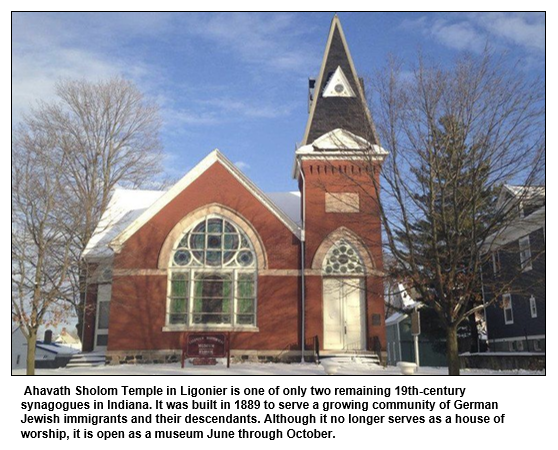 This week's guest Roadtripper Wendy Soltz invites us to the northeast corner of the state to reflect on the legacy of the Jewish community of Ligonier, specifically the Ahavath Sholom Temple, one of only two remaining 19th-century synagogues in Indiana.

The temple was built in 1889 to serve a growing community of German Jewish immigrants and their descendants, and its name Ahavath Sholom means "peace-loving" in Hebrew. The brick synagogue was constructed in typical German Gothic style and features details specific to a Jewish place of worship, such as the protruding Torah ark at the back of the building, which at one time would have held the Torah scrolls inside.


Visitors to Ahavath Sholom temple are immediately struck by three large leaded-glass windows displaying scenes of Biblical King David's life, along with menorahs and the Star of David. On either side of the Torah ark, the stained-glass windows depict the Ark of the Covenant and burnt offerings.

Due to a shrinking of Ligonier's Jewish population starting in the 1930s, Ahavath Sholom reduced their religious services to high holy days and eventually closed by the 1950s. The building was used by other congregations for several decades but eventually was purchased by the Ligonier Public Library and now serves as a museum of the town's history and its Jewish heritage.


Wendy welcomes Hoosier History Live listeners to come visit Ahavath Sholom, but you'll have to wait until summer to complete this Roadtrip; the temple is open from June through October on Saturdays 1-4 p.m. and on Sunday and Tuesday afternoons by appointment (call 260-894-4511 to arrange a time).
Indy wife of Treasure Island's Robert Louis Stevenson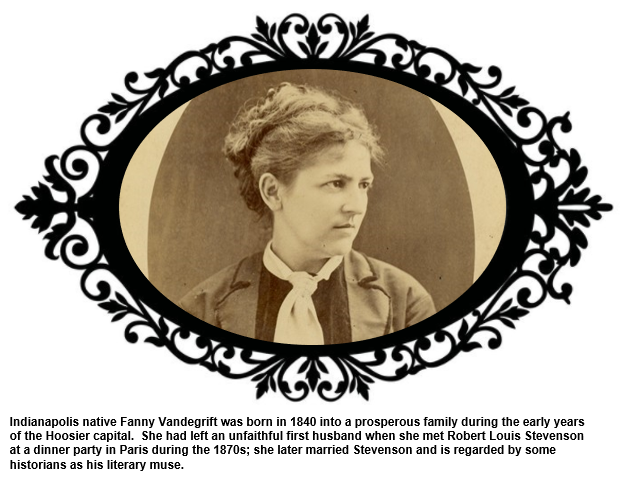 (Jan. 20, 2018 ) Unlikely as it may seem, Scottish novelist, poet and essayist Robert Louis Stevenson - author of such classics as Treasure Island (1883) - married an Indianapolis native.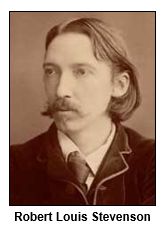 Fanny Vandegrift was more than 10 years older than Stevenson. Born in 1840 to a prosperous family during the early years of the Hoosier capital, she had left an unfaithful first husband (whom she later divorced) when she met Stevenson at a dinner party in Paris during the 1870s.
Stevenson, the author of The Strange Case of Dr. Jekyll and Mr. Hyde (1886), wrote most of his best-known works after he met Fanny Vandegrift; some historians even regard her as his muse.
Indianapolis historian Sharon Butsch Freeland, who has researched and written about Fanny Vandegrift's colorful life, is Nelson's studio guest.
Fanny's father, a prosperous lumber dealer in Indianapolis, was a close friend of Rev. Henry Ward Beecher, the preacher at Second Presbyterian Church during the 1840s. (Beecher, the brother of Uncle Tom's Cabin novelist Harriet Beecher Stowe, eventually moved to New York and became one of the best-known clergymen in America.) In fact, Beecher baptized young Fanny in the White River.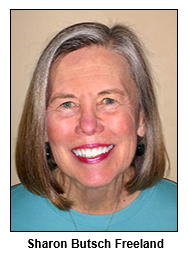 According to Sharon's research, the Vandegrifts initially lived in a red brick home across from Monument Circle, then known as Governor's Circle. At the time, Second Presbyterian was adjacent to the house; since the late 1950s, the church has been in the 7700 block of North Meridian Street.
Also unearthed by Sharon: the Vandegrifts owned a farm in Hendricks County, the farmhouse of which still stands. Fanny stayed with her parents at the farmhouse during a rocky period with her first husband, Sam Osbourne, who lived in Nevada and California, where he patronized saloons and brothels, according to historians.
In the 1870s, Fanny and the couple's three children moved to Europe. She eventually enrolled as an art student at an academy in Paris, where she met Robert Louis Stevenson, who was in frail health. When they married in 1880, she had just turned 40 and he was 29. The couple honeymooned in California, where they decided to live during the first years of their marriage.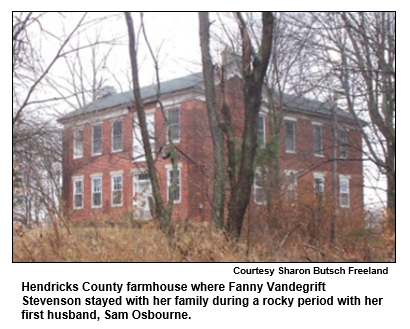 Although the marriage initially upset Stevenson's family in Scotland, Sharon writes that they were won over after the novelist took Fanny to Edinburgh to meet them. "Fanny's father-in-law was so impressed with her literary judgment that he made his son promise never to publish anything without Fanny's approval."
In 1880, the Stevensons moved to Samoa in search of a climate that would provide relief for his respiratory problems. Robert Louis Stevenson died on his village estate in Samoa in 1894 at age 44. Fanny lived until 1914 and is buried next to Stevenson on Mount Vaea, which overlooks the Samoan capital of Apia and its harbor.
Some history facts:
Our guest Sharon Butsch Freeland has served as a guide for Robert Louis Stevenson devotees visiting from out of state who want to see sites associated with Fanny. They have included California relatives of Sam Osbourne, Fanny's first husband.
Fanny was just 17 years old when she married Osbourne, who then was working as the secretary to Indiana's governor, according to Sharon's research.
Before settling in Samoa, the Stevensons "traveled constantly for nearly a decade," Sharon writes. "They spent time in health resorts in England, Scotland, France, the United States and Hawaii."
According to an article in the spring 2007 issue of Traces, the Indiana Historical Society's magazine, Robert Louis Stevenson and Fanny served an "American-style Thanksgiving dinner" in Samoa a few weeks before he died. During the feast, Stevenson raised his glass and proposed a toast to his Hoosier wife. He said she had been "all in all to me."
History Mystery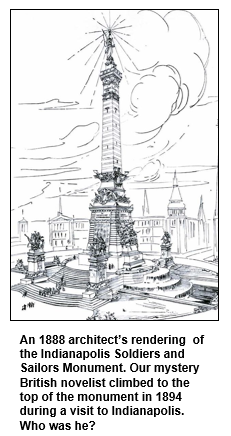 In 1894, an internationally famous British novelist - not Robert Louis Stevenson - visited Indianapolis during a lecture tour. The British novelist met with Hoosier poet James Whitcomb Riley and climbed to the top of the Soldiers and Sailors Monument during his stay in the Hoosier capital.
In 1994, on the 100th anniversary of the novelist's visit, a plaque was installed at Union Station, where he disembarked from his train.
Question: Who was the British novelist?
Hint: He created a fictional character who continues to enjoy widespread popularity in modern times. A major motion picture released in 2009 is the most recent of scores of movies featuring the character,
The call-in number is (317) 788-3314. Please do not call in to the show until you hear Nelson pose the question on the air, and please do not try to win if you have won any other prize on WICR during the last two months. You must be willing to give your first name to our engineer, you must answer the question correctly on the air and you must be willing to give your mailing address to our engineer, so we can mail the prize pack to you. The prize is two passes to the Indiana History Center, courtesy of the Indiana Historical Society, and two passes to GlowGolf, courtesy of GlowGold.
Roadtrip: Hindostan whetstone grave markers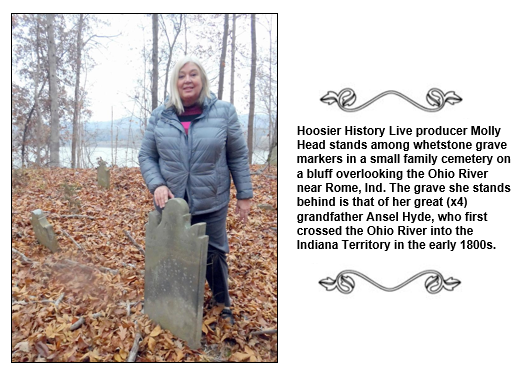 Jeannie Regan-Dinius of the Indiana Department of Natural Resources, Division of Historic Preservation, suggests a Roadtrip to seek out pioneer-era tombstones made from Hindostan whetstone. Whetstone grave markers were among the first commercial gravestones used in Indiana; they are made of sedimentary stone quarried from ancient river beds in southwestern Indiana. The term "whetstone" can be traced to the practice of using these flat, smooth stones to sharpen tools.
Whetstone grave markers were seen as an improvement over their wooden or fieldstone predecessors and were widely employed in Indiana in the first four decades of the 19th century. However, production peaked during the 1840s and began to decline due to competition from white marble grave markers that could be transported from distant quarries via the growing regional railroad system. The Indiana limestone industry also began to produce and market commercial gravestones around this time, as well.
Whetstone grave markers are among the oldest preserved graves in the southern part of the state, and they're not hard to spot in old cemeteries. They usually have a specific tombstone shape (see photo above), and their color is often tan, buff or light brown and streaked with rust (in contrast to the white or off-white of marble or limestone). The inscriptions on whetstone grave markers are usually still legible because the stone's relative softeness allowed for a deep carve; unfortunately, due to the layered nature of the stone, the grave markers are also prone to splitting and flaking away over time.
More than 1,400 whetstone headstones have been identified in cemeteries throughout southern Indiana and southeastern Illinois near the Wabash River. Jeannie tells us that we might find some of these treasures in Greenlawn Cemetery in Vincennes, which is the oldest established cemetery in the state, or in Rose Hill in Bloomington.
Learn more:
House of Tomorrow and other 1933 Chicago World's Fair homes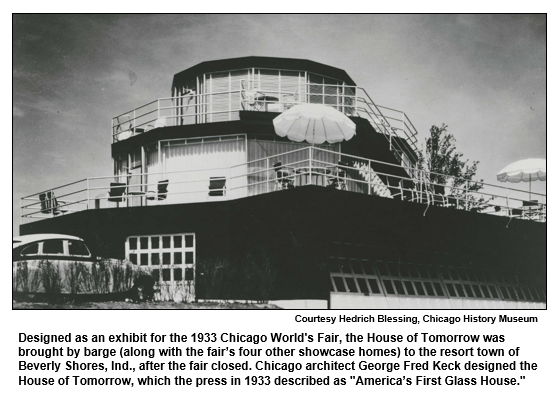 (Jan. 13, 2018) On the shores of Lake Michigan at the Indiana Dunes, five distinctive houses - including the legendary House of Tomorrow - are the focus of nearly as much public interest as the famous sand dunes. Designed as showplace homes for the 1933 Chicago World's Fair, the houses were brought by barge to the resort town of Beverly Shores, Ind., after the fair closed.
During the 80-plus years since arriving at their permanent location, the former exhibit houses - which include residences known as the Florida House and the Cyprus House - have had their share of ups and downs.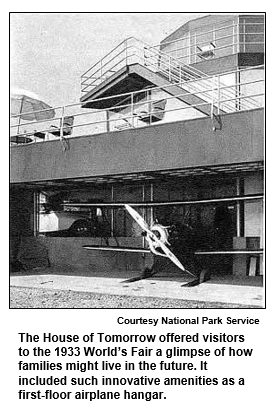 That's particularly true for the House of Tomorrow, which was built to embody futurists' ideas about how Americans would live during the 21st Century. With floor-to-ceiling glass walls, the 12-sided house had the world's first General Electric dishwasher, an automatic garage-door opener and central air conditioning. Its first-floor service area even included a small airplane hangar, on the assumption that personal air travel would be common in the years ahead.
"In the midst of the Great Depression, the House of Tomorrow ... offered millions a hopeful vision of a brighter, easier future," notes Indiana Preservation, a publication of Indiana Landmarks.
Perched on the Dunes, the five former exhibit houses are the only remaining structures from the 1933 Chicago World's Fair, which had a "Century of Progress" theme. Since the mid 1960s, the houses have been part of the Indiana Dunes National Lakeshore. Owned by the National Park Service, the houses are leased to Indiana Landmarks, the historic preservation organization. Landmarks, in turn, subleases them to tenants who agree to maintain them.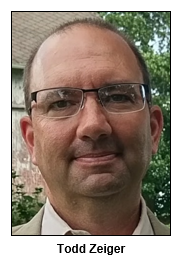 Four of the houses - including the pink Florida House, which has patios with sweeping views of Lake Michigan - are in good shape. But not the House of Tomorrow, which fell into shocking disrepair during the 1990s and is currently unoccupied. A $2.5 million fund-raising campaign is underway by Indiana Landmarks to finance the major restoration that is already in progress at the house. It no longer has an airplane hangar.
Todd Zeiger, director of Indiana Landmarks' northern regional office in South Bend, is Nelson's studio guest to describe the colorful saga of the five distinctive homes in Beverly Shores.
At the 1933 Chicago World's Fair, 1.2 million people paid 10 cents apiece to tour the House of Tomorrow.
In 2016, the National Trust for Historic Preservation designated the house a "National Treasure," a label "reserved for significant structures in dire straits," according to a story in the Indianapolis Star. Because of their location on the Dunes, the houses take a beating from Mother Nature;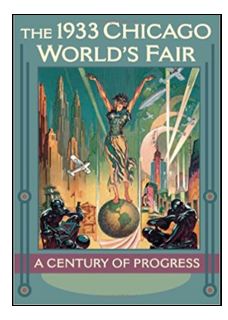 wind, sand and the harsh winters of far-northern Indiana conspire to make preservation an on-going challenge.
The town of Beverly Shores was created during the late 1920s and early '30s by two brothers, Chicago-based developers Frederick and Robert Bartlett, as an exclusive resort for "affluent individuals interested in escaping their crowded urban environment," according to Beverly Shores: A Suburban Dunes Resort (Arcadia Publishing) by Jim Morrow, a preservationist in northern Indiana. The town, which has a population today of about 600 residents, was named for Robert Bartlett's daughter, Beverly.
"The House of Tomorrow's nationwide publicity made it an extremely attractive promotional addition to Beverly Shores from Robert Bartlett's perspective," Morrow writes. "Bartlett had the house sited high on a dune overlooking the lake to take advantage of its transparent walls."
Chicago architect George Fred Keck designed the House of Tomorrow, which the press in 1933 described as "America's First Glass House."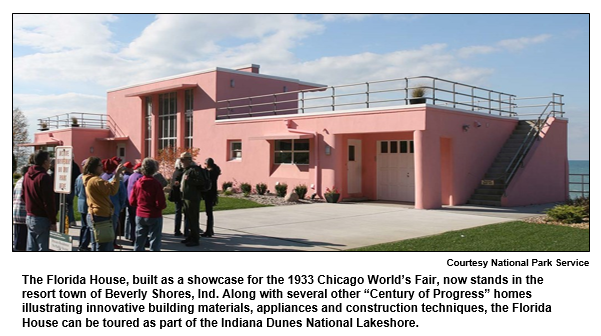 The Florida House was designed by a Miami-based architect. The pink, Modernist-style house at the Chicago World's Fair captivated visitors, many of whom were living in houses built in Tudor, Queen Anne, Italianate and other architectural styles prevalent during the Victorian and Edwardian eras.
History Mystery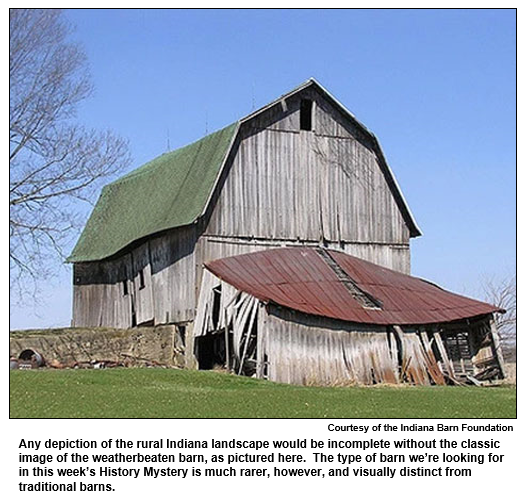 When the House of Tomorrow fell into disrepair, the former showplace house was listed periodically on the "10 Most Endangered" sites, Indiana Landmark's annual index of historically significant structures in jeopardy of survival. A rare type of barn is on the current "10 Most Endangered" list.
Less than 100 of this kind of barn remain across the Hoosier state. A county in northern Indiana calls itself the "world capital" of the unusual barn style. Most of these barns in Indiana were built between 1874 and 1936.
Question: What type of barn is it?
Cowboy actors and Trigger's owner: Indiana natives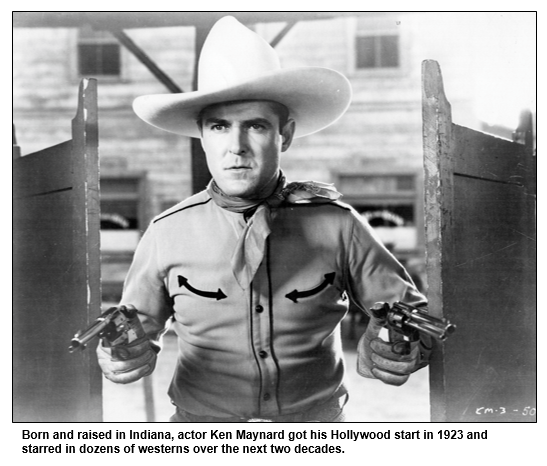 (Jan. 6, 2018) To kick off the 10th year of Hoosier History Live, we will spotlight Indiana natives who had an impact on Western movies. Specifically, we will look at three Hoosier-born actors who portrayed cowboys during the early years of Hollywood. We're also champing at the bit to share facts about the Indiana connections of the most beloved horse in movie history.
Although Trigger is eternally associated with Roy Rogers, the breeder who initially owned and trained the famous horse grew up in Noblesville. Even before Roy Rogers mounted the golden stallion in movies and a long-running TV series, the horse - originally named Golden Cloud - was ridden by Olivia de Havilland (as Maid Marian) in the classic The Adventures of Robin Hood (1938).
Before Trigger rode into viewers' hearts as Rogers' faithful steed, three well-known stars of early Westerns had grown up in Indiana:
Buck Jones, the star of more than 60 movies, including Hearts and Spurs (1925), The Fighting Sheriff (1931) and The Cowboy and the Kid (1936), grew up in Vincennes. His name at his birth there in 1891 was Charles Frederick Gebhart.
Ken Maynard, the hot-tempered star of such movies as The Canyon of Adventure (1928), was born in Vevay on the Ohio River (although studio publicity material incorrectly put his birthplace in Texas). He grew up in Columbus, Ind.
And Allan "Rocky" Lane, whose movies included various serials for Republic Studios during the 1930s (including one about the Royal Canadian Mounted Police) and Bandit King of Texas (1949). Born in Mishawaka in 1909, Lane worked on a family farm as a boy.
To discuss the Hoosier roots of these actors and Trigger's owner, Noblesville native Roy Fletcher Cloud, Nelson will be joined by two studio guests.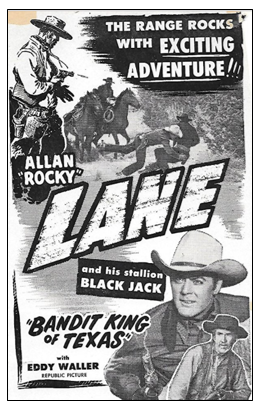 David Smith, well-known to many Hoosiers following a long career in central Indiana TV, is the author of Hoosiers in Hollywood (Indiana Historical Society Press, 2006), which features profiles of Jones, Maynard and Lane. For 10 years, David was the host of the When Movies Were Movies program on WISH-TV in Indianapolis.
Hamilton County historian David Heighway has researched and written about Roy Cloud (1881-1940), who headed west around 1900 after growing up in Noblesville. In a blog post about Cloud that David Heighway wrote for the Hamilton East Public Library, where he works in collections services, he reports that Cloud managed a farm in southern California. Cloud purchased and trained the palomino stallion that later became nationally famous as Trigger.
Speaking of fame: In Hoosiers in Hollywood, David Smith describes Buck Jones as "the most beloved and idolized" of early Western stars, topped only by Tom Mix. Mix wasn't a Hoosier, but he had connections to Indiana that David Heighway will discuss during our show.
At the peak of his fame during the 1920s, Mix created a sensation when he visited Indianapolis, where he was greeted by the governor and mayor before dropping in to see patients at Riley Hospital for
Children. Among those who interacted with Mix was an old Hoosier friend: Noblesville native Otis Bart, who had performed with the movie star in Wild West shows before Mix made it big in Hollywood.
According to a blog post David Heighway has written, Otis Bart even loaned money to Tom Mix during their Wild West show days. An Indianapolis News account of the 1925 visit, which David includes in his blog post, describes Mix as one of the highest-paid Hollywood stars at the time, earning nearly $7,500 weekly.
In contrast, Ken Maynard apparently had a hard-scrabble youth in Columbus; according to Hoosiers in Hollywood, he even ran away briefly at age 12 with a traveling medicine show. In his teens, he toured with Wild West shows and a circus, perfecting a rope-twirling trick.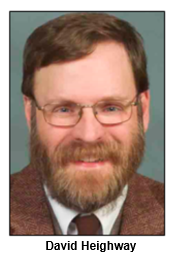 In Hollywood, Maynard had a rapid rise to stardom, with his horse-riding prowess showcased in a string of Westerns. His brother, Kermit Maynard, also became an actor in cowboy movies. According to Hoosiers in Hollywood, however, "the brothers did not get along well." David Smith's book also describes how Ken Maynard's short temper and alcoholism contributed to the demise of two marriages as well as turbulence on his movie sets.
Buck Jones, though, is "fondly remembered as one of the most well-liked cowboy stars," David writes. "He was a kind and sincere person." According to reports, many cast and crew members of Jones' final film wept when they learned of his death in a nightclub fire in 1942.
History fact: Among the young actors who had small parts in Westerns of the 1930s starring Buck Jones was Marion Mitchell Morrison, known professionally as John Wayne.
History Mystery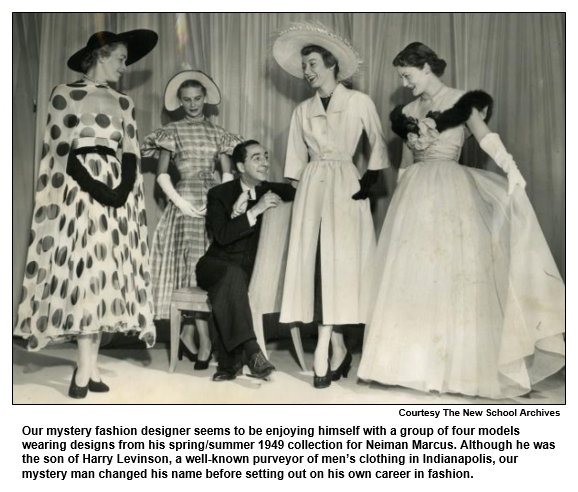 In addition to being the origin of Trigger's original owner, Noblesville was the hometown of a top American fashion designer whose glamorous clients - beginning in the 1940s - included movie stars such as Marilyn Monroe, Lauren Bacall, Doris Day and Lena Horne. He was considered one of the first American fashion designers to become as revered in the world of haute couture as his counterparts in Europe.
He was born in Noblesville in 1900 and, as a boy, worked in his father's hat shop.
Hint: The designer was part of the Harry Levinson family that became well-known in Central Indiana as a retailer of men's clothing. But he changed his surname as a young man.
Question: Who was our mystery fashion designer?
The call-in number is (317) 788-3314. Please do not call in to the show until you hear Nelson pose the question on the air, and please do not try to win if you have won any other prize on WICR during the last two months. You must be willing to give your first name to our engineer, you must answer the question correctly on the air and you must be willing to give your mailing address to our engineer, so we can mail the prize pack to you. The prize is a gift certificate to Story Inn, courtesy of Story Inn; and a Family 4 Pack to the Indiana History Center, courtesy of the Indiana Historical Society.
Roadtripper: Pine Hills Nature Preserve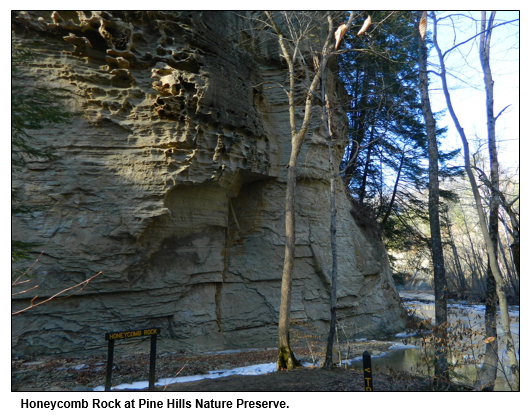 Michael Homoya of the Indiana Department of Natural Resources suggests a Roadtrip to Pine Hills Nature Preserve for an outstanding winter hiking experience and a spectacular walk atop the Devil's Backbone.
Pine Hills, which is now a part of Shades State Park, offers rugged hills covered with scattered stands of evergreens mixed with hardwood trees. The area's white pine, hemlock and Canada yew trees are relics which have persisted since the period following the last glacier, when the climate was much colder.
Indiana's mountain-free landscape is not exactly known for inspiring excitement, but Pine Hills offers some of the most dramatic topography in the Hoosier state. Deep ravines, technically known as "incised meanders," cut through the hills and create steep-sided ridges, often called "backbones." As Michael explains, the ridges were formed by melting glacial water thousands of years ago and are recognized as some of the most remarkable examples of this type of geographic formation in the eastern United States.
If you decide to go walking on the Devil's Backbone, however, be careful! You'd have a devil of a time escaping serious injury from the 70-100 foot drop to the valley floor below!

Sponsorship opportunity: History Mystery prizes
Do you own a business or work for an organization that could use a marketing boost? Contributing prizes for our weekly History Mystery on-air giveaway can be a great way to spur interest among the educated, affluent listeners of Hoosier History Live. In exchange for your prize contribution, you get a linked reference to your organization in the History Mystery section of our website and weekly email newsletter, as well as a mention by Nelson on the live show.

If you are interested in contributing, contact molly@hoosierhistorylive.org for more details. The prize or voucher must be something that can be mailed in a regular business-size envelope and must also arrive in advance to our office before being offered in our newsletter. Tickets to dated performances are great, but must be offered well in advance.