August 24, 2019
Bootleg King and his Indiana connections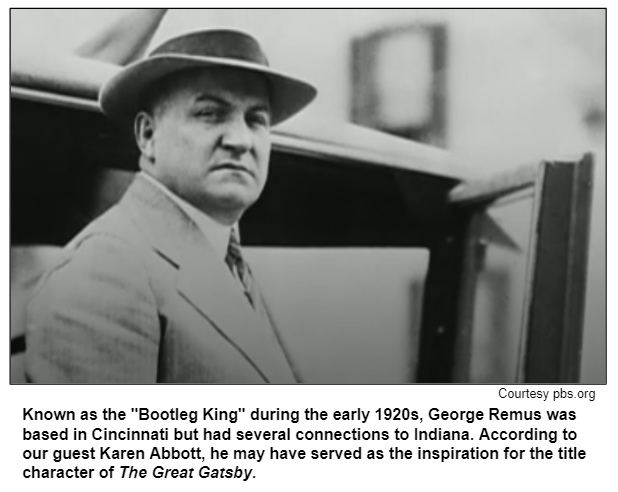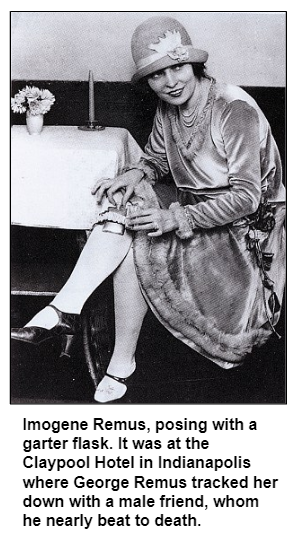 In the early years of Prohibition, nearly 35 percent of all of the illegal liquor in the country was controlled by a teetotaler, a lawyer-turned-entrepreneur who owned a chain of distilleries and pharmacies across nine states.
Known as the "Bootleg King" during the early 1920s, George Remus was based in Cincinnati but had several connections to Indiana, including one of his top revenue sources, the Squibb distillery in Lawrenceburg on the Ohio River.
Many of his rum-runners came from Indiana and stayed at "Death Valley," his heavily-guarded farm just west of Cincinnati that served as a storage area for his vast quantities of alcohol.
The posh Claypool Hotel in downtown Indianapolis was one of the favorite lodging spots for Remus and his glamorous wife, Imogene.
The Claypool also was where, in the middle of the night, Remus tracked down Imogene when she was staying at the hotel with a car salesman. Remus, in a jealous rage, nearly beat the salesman to death in the elegant hotel.
The social history, national impact and Indiana connections of the colorful "Bootleg King" will be the focus of our show when New York-based author Karen Abbott joins Nelson by phone. Abbott (as she prefers to be called), is the author of The Ghosts of Eden Park (Crown Publishing), a new book about Remus, his lavish lifestyle and his crimes.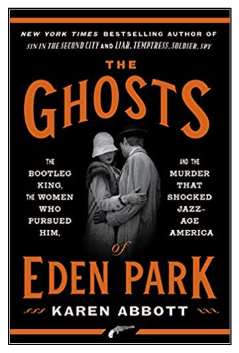 Abbott shared insights about Remus and the era of Prohibition during a recent presentation at the Indiana History Center.
Abbott noted that a courthouse in Indianapolis was the setting for one of his federal trials; in 1925, he was accused of crimes associated with a Jack Daniels distillery.
During the trial, Remus stayed at the lavish Claypool, which, with its rival, the Hotel Lincoln, was the focus of a Hoosier History Live show in March.
According to Abbott, Remus probably was the inspiration for the fictional character of Jay Gatsby, the central figure in The Great Gatsby, the classic novel by F. Scott Fitzgerald published in 1925. Like Gatsby, Remus owned a string of pharmacies, lived in an opulent mansion and, as Abbott puts it, "was obsessed with an enigmatic woman."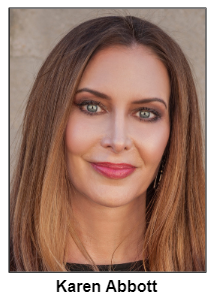 Remus, the son of impoverished German immigrants, came to the United States as a child in the 1870s. Because his father was an alcoholic, Remus vowed as a boy that he would never "drink a drop" of liquor, according to The Ghosts of Eden Park.

Although he stuck to that vow on a personal level, he oversaw a bootleg operation based in Cincinnati that was so massive he had 3,000 people on his payroll and a fleet of 147 trucks.


His chief adversary was Mabel Walker Willebrandt, the assistant attorney general for the U.S. Department of Justice based in Washington DC. According to our guest Karen Abbott, Willebrandt was "the most powerful woman in the country" during the early 1920s and was in charge of thousands of alcohol-related cases during Prohibition.

Her challenges in bringing Remus to justice included his bribes to federal agents and what Abbott describes as his "cozy relationships" with top federal administrators, including Willebrandt's coworkers and supervisors.




Roadtrip: Lydick Bog, a new Indiana State Nature Preserve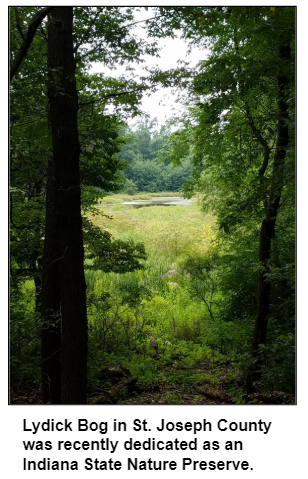 Feeling swamped at work? Stuck in a quagmire of irksome responsibilities? Up to your neck in the quicksand of life's challenges?
Leave those figurative swamplands behind and join Guest Roadtripper Chris Taelman of South Bend as he takes us on a visit to a literal swamp: the Lydick Bog near South Bend in St. Joseph County.
As Chris tells us, the 178-acre parcel of land known as Lydick Bog was recently dedicated an Indiana State Nature Preserve, part of the Shirley Heinze Land Trust, which has been protecting and preserving natural land since 1981.
Located just west of South Bend at the northern edge of North Chain Lake, Lydick Bog contains a variety of habitat types, including wetlands interspersed with high ridges and islands of upland forest. Many interesting plant species characteristic of bog habitats have been identified on the site, including round-leaved sundew, pitcher plant, winterberry, tamarack and large cranberry.
Approximately 20 acres of agricultural fields are being restored to forest habitat, and a hiking trail is now on the site so that the public can enjoy this natural resource, one of the last remaining sphagnum or peat bogs in Indiana.
But rather than get bogged down in the details, we'll let Chris cover the terrain of this immersive Roadtrip!
History Mystery
A county in Indiana is considered by many historians to have been the site of the country's first successful commercial winery. European immigrants to the county set up vineyards and established the winery during the early 1800s. Some historians say the immigrants may even be credited with introducing grape cultivation to the United States.
As a salute to its wine-making heritage, the Indiana county celebrates an annual wine festival. It typically features a grape stomp, riverboat cruises and music, as well as tents showcasing Indiana wineries.
Question: What Indiana county is considered the site of the country's first winery?
The call-in number is (317) 788-3314. Please do not call into the show until you hear Nelson pose the question on the air, and please do not try to win the prize if you have won any other prize on WICR during the last two months. You must be willing to give your name and address to our engineer and be willing to be placed on the air.
The prizes this week are two admissions to the Indiana State Museum, courtesy of the Indiana State Museum, and two admissions to the Indianapolis Scottish Highland Games on October 12 in German Park, courtesy of the Scottish Society of Indianapolis.
Talking with Dave Blase, who inspired Breaking Away
August 31 2019 - coming up
On the road to Lincoln-related sites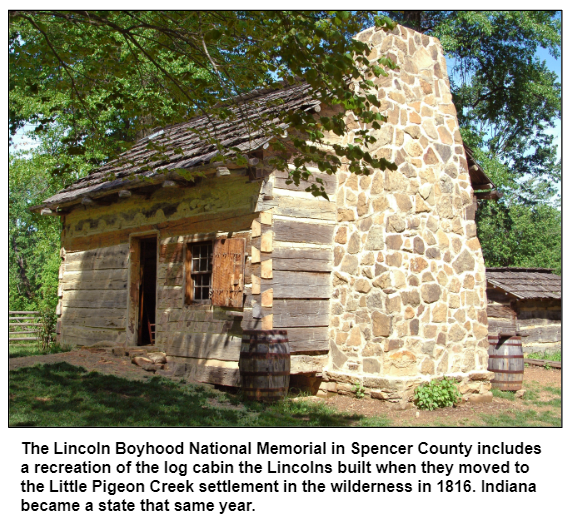 "I love that there are still inns where Lincoln stayed," says travel writer Jane Ammeson, who has been a popular Roadtrip correspondent on Hoosier History Live for several years.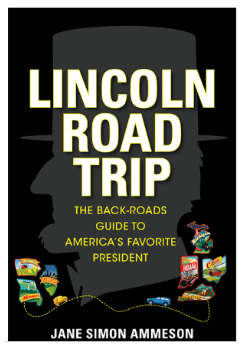 Although her radio reports, magazine articles and books cover a range of historic topics, Jane has narrowed her focus in her newest book, Lincoln Road Trip: The Back-Roads Guide to America's Favorite President (Red Lightning Books).

As most Hoosiers know, Abraham Lincoln grew up in southern Indiana. As a 7-year-old, he and his family moved from Kentucky to the wilderness area that became Spencer County; the Lincolns arrived in 1816, the same year Indiana achieved statehood.

We will reach beyond the boundaries of Indiana when Jane joins Nelson as a studio guest to explore some of the inns, homes, mills and recreated historic sites with a connection to Lincoln (1809-1865), his extended family and the historical events associated with his life.


Our itinerary for the show will include traveling to Kentucky to explore the Old Talbott Tavern in Bardstown, which opened as an inn in 1779. Abe Lincoln was about five when he stayed at the inn; according to Lincoln Road Trip, it is considered "one of the oldest taverns in continuous operation in the United States and the oldest stagecoach stop west of the Allegheny Mountains."
Guests at an inn in Corydon, Indiana's first state capital, included Josiah Lincoln, Abe's uncle. Josiah (the brother of Thomas Lincoln, father of the future president) visited the Kintner Tavern after he moved to Harrison County to establish a 160-acre farm near Corydon in the early 1800s, according to Lincoln Road Trip. Although the original tavern was destroyed by a fire, its owner, Jacob Kintner, later opened the Kintner House Inn, which still stands.


And here's another Lincoln-connected bit of trivia about Harrison County: Because there are no direct descendants remaining of Abraham Lincoln - the last, his great-grandson Robert Todd Lincoln Beckwith, died in 1985 - descendants of Josiah Lincoln are considered, as Jane puts it, "among the closest living kin of the greatest American president." Many of Josiah Lincoln's descendants continue to live in Harrison County or nearby.

Thousands of visitors from across the country have seen the burial sites of Abraham Lincoln's mother, Nancy Hanks Lincoln, and his older sister, Sarah Lincoln Grigsby, at the Lincoln Boyhood National Memorial in Spencer County. The site includes a recreation of the log cabin the Lincolns built when they moved to the Little Pigeon Creek settlement in the wilderness.


"It was a region with many bears and other wild animals still in the woods," Lincoln recalled later in life. "There I grew up."



They're singing our praises!
"Hoosier History Live is the best Americana-themed show anywhere on radio!"
So says John Guerrasio, a professional actor who lives in London, England. We met John in 2008 when he played a role in the Indiana Repertory Theatre's production of The Ladies Man, a French farce by Georges Feydeau.
Even though he no longer lives in Indiana, John stays current with Hoosier History Live by listening to the show via podcast. He encourages other listeners to do the same - wherever they live. Listening by podcast means you can catch up on old shows, post shows on your social media accounts, and fit your listening to your own schedule.
Just go to hoosierhistorylive.org and look for recent shows linked in bold typeface at the top of the site. For older shows check out our archive page, where podcast links are available along with the original newsletter material for each show. You can also access Hoosier History Live podcasts via Apple's podcast app on your phone or iPad, or many other podcasting apps as well.
Whether you listen live on Saturdays or via podcast, we think you'll agree with John that Hoosier History Live is worth making a part of your day!
Want to support Hoosier History Live?
We offer a permanent and growing archive of quality online content, including easily accessible podcasts available a week after live air. Thanks to associate producer Mick Armbruster for directing our online audio distribution.
If you are interested in becoming a sponsor, click here or call Molly Head at (317) 927-9101. Sponsorship includes logos and links on our enewsletter and website, and voiced credits in the show. You can also of course make an individual contribution on the yellow button on the left side of this page. Support local journalism.

Feedback from our supporters
"...great value to sponsors"
"Hoosier History Live has amassed a vast library of content over the years, both with the show audio and newsletter material. I believe that the Hoosier History Live content has great value to sponsors and advertisers via widespread online distribution. Nowhere else do you find the fresh new material each week, the depth of stories, the richness of detail, and the long-term consistency."
- John McDonald, CEO, ClearObject in Fishers, Indiana, Inc. Magazine's fastest-growing IT company in Indiana for 2014, 2015, 2016 and 2017.
"...always a great show"
"Hoosier History Live is always a great show. We did a small sponsorship as a gesture of support, and I didn't think a little history show would have much impact. But many people mentioned to me that they had heard our credit on the radio."
G.B. Landrigan, Realtor, Certified Residential Specialist
August 2018
"...a great way to represent what I do..."
"I have thoroughly enjoyed my experiences with Nelson Price and the Hoosier History Live team. I feel being on the show was a great way to represent what I do with motorsports history. I am particularly excited by the show's new distribution through a podcast and making it accessible live through the Web."
-Mark Dill, owner, FirstSuperSpeedway.com
July 2018
What people are saying about Hoosier History Live
"Hoosier History really is 'Live'--and 'Lively' as well. The program brings to new audience the delight and wisdom that comes with knowing more of our past and our connections as Hoosiers."
James H. Madison
Emeritus History Professor
Indiana University
"Hoosier History Live does more to promote Indiana history than does any single source."
Andrea Neal, Indianapolis author and educator
"Hoosier History Live is a fun and interesting way to learn about the heart and soul of Indiana. No boring classes or books here! The production team does an outstanding job."
Judy O'Bannon, civic leader and public broadcasting producer
"Distilling life experience into stories is an art. Telling stories of life experience for Hoosiers past and present will shape the lives of young people and enrich the lives of all in our state. Mr. Nelson Price brings alive the life experience of notable Hoosiers in Hoosier History Live."
David T. Wong, Ph.D., President
DT Wong Consulting, LLC
Former Lilly research scientist who developed Prozac
"Nelson Price, more than anyone I know, infuses joy into the pursuit of history. And that joy rings out loud and clear on the radio show, Hoosier History Live."
Marsh Davis
President, Indiana Landmarks
"As museums and educational institutions scramble to make their offerings more interactive, more entertaining and more 'relevant', Hoosier History Live seems to have mastered that formula."
Glynis Worley, rural Bartholomew County listener
"Hoosier History Live is a perfect place to consider and reconsider history ... not just what happened in the past, but what it may mean in the present. Nelson Price is the perfect host: enthusiastic, curious and knowledgeable. Tune in to Hoosier History Live and be prepared to be surprised."
James Still, playwright in residence, Indiana Repertory Theatre
"Hoosier History Live is a fantastic opportunity for people to not only learn about history, but also become a part of the conversation. Much like our mission, the telling of Indiana's stories, Nelson and his guests wonderfully connect people to the past!"
John Herbst
President and CEO, Indiana Historical Society
"The links on the Friday Hoosier History Live enewsletter are a great way to learn more about history, and from a variety of sources."
Jill Ditmire
Omni Media Specialist
"No, I haven't heard of another call-in talk radio show about history. Our airwaves are now full of the worst vitriol! Give me the phone number for the show. I want to call in!"
Ken Burns, speaking at a preview of his film "The War" at Indianapolis Hebrew Congregation, April 18, 2007