Oct. 1, 2016 show
All about Ben-Hur
First, it was an enormously popular novel of the 1880s written by Lew Wallace, an adventurous, flamboyant Hoosier who was a Civil War general, attorney, diplomat and politician. Many historians believe that, other than the Bible, Ben-Hur was read by more people in its era than any other book.
Ben-Hur also has been the basis for blockbuster movies and theatrical productions. The 1959 film version starring Charlton Heston won a then-record eleven Academy Awards.
In the wake of yet another movie remake (released in August) of Ben-Hur, Nelson will be joined by three experts to explore all aspects of the cultural phenomenon associated with chariot races, the Roman Empire and slave ships.
Wallace (1827-1905), the son of Indiana's sixth governor, wrote Ben-Hur without ever having visited the Middle East - although, following his book's spectacular success, President James Garfield appointed him diplomat to Turkey. Earlier, President Rutherford B. Hayes had appointed him governor of the New Mexico Territory.
Our guests will be:
Larry Paarlberg, director of the Gen. Lew Wallace Study & Museum in Crawfordsville. In addition to housing an array of Wallace's personal possessions, the museum has artifacts from the various movie versions of Ben-Hur, including a silent film in 1925 that became one of the top-grossing motion pictures of its era.
Chandler Lighty, director of the Indiana Historical Bureau. A native of Montgomery County, Chandler was the public historian at the Gen. Lew Wallace Study & Museum early in his career.
And Howard Miller, an emeritus professor at the University of Texas-Austin and a renowned Ben-Hur scholar. He is working on a book about its cultural impact and will join us during a visit to Crawfordsville, Wallace's adopted hometown.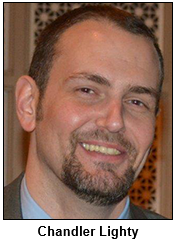 The title character in Ben-Hur is a Jewish prince who lives in Roman-occupied Jerusalem during the coming of Christ.
Some history facts: Wallace apparently wrote most of the novel underneath a beech tree near his Crawfordsville home; he completed it while serving as governor of the New Mexico Territory. (During his stint in the West, Wallace dealt with various gunslingers, including Billy the Kid.)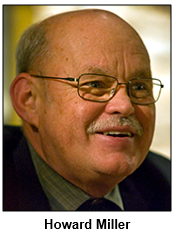 And by 1900, Ben-Hur had become the best-selling novel of the 19th century, exceeding the legendary Uncle Tom's Cabin.
The subtitle of Ben-Hur is A Tale of the Christ. Set during the early Roman Empire, the novel intertwines the story of Judah Ben-Hur, a former galley slave, with the coming of Christ. In addition to chariot racing scenes, the saga involves pirates, lepers, camels, gladiators and pageantry, and historical figures.
According to our guest Chandler Lighty, the recently released remake of Ben-Hur is the fifth movie version of the novel.
Although the 1959 epic with Heston is the best-remembered, Chandler prefers a 1925 silent movie, explaining that the earlier adaptation is closer to the book. (He also feels the chariot race is better in the 1925 version.) An even earlier film version, released in 1907, resulted in a landmark U.S. Supreme Court decision protecting "copyrighted works from unauthorized motion picture adaptation," Chandler noted in an Indiana Historical Bureau blog.
Lew Wallace was born in Brookville in southeastern Indiana in 1827. His father, David Wallace, became the state's governor in 1836. By his own account later in life, Lew Wallace was an indifferent student (a frequent truant) and a thrill seeker.
But in order to write Ben-Hur without having visited Rome or the Middle East, he became an avid reader and researcher. He is said to have benefited from, as Chandler puts it, "a boom in biblical scholarship during the era".
The epic novel was first published in 1880. A stage production of Ben-Hur first opened in New York in 1899.
Learn more:
Roadtrip: Genealogy Center in Fort Wayne
October is Family History Month at the Genealogy Center at the Allen County Public Library Center in Fort Wayne, Indiana. Our guest Roadtripper, author Kay Reusser of Bluffton in northeastern Indiana, will tell us more about what's going on this month.
Open seven days a week, the Genealogy Center is world-renowned for its immense collection, which includes 370,000 printed volumes, 590,000 microforms, military records that go back to the 1700s, city directories, census records, passenger lists, and so much more. And expect the staff to treat you like family, especially if you are new to genealogy!
The Genealogy Center is also active in several initiatives to make significant public domain portions of its collection available online. Learn more on Saturday.
History Mystery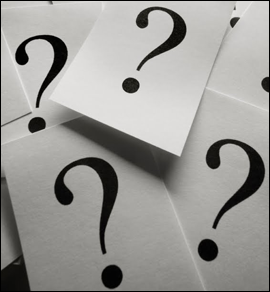 In 1902, a spectacular theatrical production of Ben-Hur was performed at a magnificent theater on Monument Circle in downtown Indianapolis.
Audiences at the theater - which featured the largest stage then in the entire state of Indiana - were thrilled by the lavish production of Ben-Hur, particularly the chariot races scenes. They involved eight horses running on treadmills on the stage. According to a blog by our guest Chandler Lighty, the Indianapolis production in 1902 featured - in addition to the horses on treadmills - "cycloramic scenery and other apparatus."
He writes: "All of this equipment and animals imposed an estimated weight of over 50 tons on the stage, which required pouring a special cement foundation."
The ornate theater was part of a majestic opera house and hotel complex on Monument Circle. Amid public outcry, the theater, hotel and opera house were torn down in the late 1940s.
Question: What was the name of the lavish theater?
The call-in number is (317) 788-3314. Please do not call into the show until you hear Nelson pose the question on the air, and please do not try to win the prize if you have won any other prize on WICR during the last two months. You must be willing to give your name and address to our engineer and be willing to be placed on the air.
The prize is a Family 4-Pack to Conner Prairie, including 4 tickets to the 1859 Balloon Voyage, courtesy of Conner Prairie.
Thanks!
Underwriting the project
We are not staff members of any organization; rather, we are a small, independent production group trying to keep Hoosier History Live on the air, on the web and in your inbox. Your gift goes primarily to support those individuals who are working so hard on the project, as well as to help defray the costs of maintaining our website, our email marketing software and our audio editing costs.
If you believe in supporting local artists, writers, historians and performers, look no further!
It takes only seconds to help us out. Just click the yellow "Donate" button, above. Or, if you prefer the paper method, you may make out a check to "Hoosier History Live" and mail it to Hoosier History Live, P.O. Box 44393, Indianapolis, IN 46244-0393.
We also try to maintain some of those old-fashioned journalism principles about trying to keep editorial content separate from financial contributions.
For questions about becoming an underwriting sponsor (the underwriter level includes logos on our website and newsletter and spoken credits in the live show), contact our producer, Molly Head, at molly@hoosierhistorylive.org, or (317) 927-9101, or Garry Chilluffo, our media+development director, at gchill@hoosierhistorylive.org.
Also, the Irvington Library Listening Group continues to meet on a regular basis from noon to 1 p.m. on Saturdays to listen to and discuss the live show. If you think you would enjoy listening with fellow history lovers, just stop by the library at 5626 E. Washington St. in Indianapolis and ask for the listening group.
If you are interested in forming your own listening group, all you need is a relatively quiet room with comfortable chairs and either a radio or an online listening device. A weekly listening group is an easy way to get "regulars" into your organization or place of business.
The Central Library in Indianapolis is willing to provide a space for a listening group if someone would volunteer to host the group. For more info, contact producer Molly Head.
Oct. 8, 2016 show
Notorious murders in 1868 near White River
A gruesome scene was discovered on the banks of the White River just northwest of Indianapolis in September 1868: the mutilated bodies of a married couple.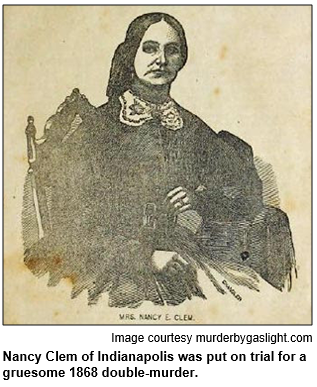 The unlikely suspect in the murders was Nancy Clem, an Indianapolis housewife and businesswoman who has been described as "the supposed originator of the Ponzi scheme." The sensational crimes, which put Indianapolis in the national spotlight, are the focus of a new book, The Notorious Mrs. Clem: Murder and Money in the Gilded Age (Johns Hopkins University Press), by Wendy Gamber, an Indiana University history professor.
Wendy will be Nelson's guest to explore the social history involved with the crimes and Mrs. Clem's subsequent trials. Her prosecutors included none other than Benjamin Harrison, who in 1888 became the only U.S. president elected from Indiana.
The murders of Jacob and Nancy Young (he was killed with a shotgun, she with a pistol) drew national attention for several reasons, including the unusual suspect in the double homicide (a woman) and the rare method involved. According to Wendy Gamber, only 5 percent of women murderers in the 19th century used firearms.
The shocking episode - with business dealings as the alleged motive - also is illuminating about, as Wendy puts it, "women's active participation in 19th-century economics." She describes Mrs. Clem as, "by turns, a farm girl, respectable urban housewife, boardinghouse keeper, street broker, supposed originator of the Ponzi scheme, peddler of patent medicines and 'female physician'."
At one point, Mrs. Clem presented herself as a physician and sold various tonics.
According to The Notorious Mrs. Clem, her father was one of the earliest white settlers of Pike Township in Marion County. At the time of the murders in 1868, Mrs. Clem was in her mid-30s and had been married twice.
The murders were covered by one of Indiana's first woman journalists, Laura Ream, the Indianapolis-based correspondent for a Cincinnati-based newspaper. According to The Notorious Mrs. Clem, Benjamin Harrison's courtroom skills during the trials "did much to secure the future president's reputation as a brilliant attorney, a reputation that launched his political career."
Learn more:
Additional research courtesy Michael Armbruster.
8-year soiree on Feb. 25 was historical fun
Photos continue to roll in from the Feb. 25 Hoosier History Live party to celebrate our 8 years on the air. This week's featured image is of Indianapolis Mayor Joe Hogsett with the four fine young musicians of the Herron String Quartet who provided such lovely music in the entry hall at Indiana Landmarks Center as the event got under way.
If you have a good photo that you would allow us to use for publication in our e-newsletter and website, please consider emailing it to us at news@hoosierhistorylive.org. Do include the name that is to receive credit.
Thanks again to corporate supporters Indiana Landmarks and Jacquie's Gourmet Catering, as well as event sponsor Core Redevelopment.
Thanks also to individual contributors Anne Laker, Jim and Marjorie Kienle, Dennis Arbuckle, Joe Young, Kathleen Angelone, J. Scott Keller, Jennifer Q. Smith of AvantGarb, Georgia Cravey and Jim Lingenfelter, Barbara and Michael Homoya, Margaret Smith, Peggy Hollingsworth, Lorraine Vavul, Rita Kohn and William McNiece.
Presenters included CEO of Indiana Landmarks Marsh Davis, Indianapolis Mayor Joe Hogsett, WICR program director Henri Pensis and Indiana Bicentennial Commission Executive Director Perry Hammock, as well as host Nelson Price and producer Molly Head of Hoosier History Live.
Catering was provided by Jacquie's Gourmet Catering, and entertainment was provided by Shirley Judkins, Herron High School String Quartet and Janet Gilray of Voices in Time. Thanks to corporate supporters Indiana Landmarks and Core Redevelopment.
As a nod to the many Indiana ethnic heritage shows produced by Hoosier History Live over the years, guests were invited to dress to portray their ethnic heritage. A shout-out to the Scots, Greeks, and Germans in attendance! And thanks to Jan Wahls for portraying May Wright Sewall.
Your encouragement and participation, on all fronts and in myriad ways, are what keep us going - on the air, in your in-box and on the web. Thanks!
Volunteers needed
Calendar itemkeeper, listening-group host opportunities
Would you be interested in placing the Hoosier History Live show topic and dates and times and ways to listen on the Bicentennial calendar and various other free community calendars across the state? This is rather detailed online weekly public relations work, but it would help get the word out about our show. If interested, please email molly@hoosierhistorylive.org, and please include your phone number.
Would you be interesting in hosting or facilitating a listening group at Central Library in Indianapolis each week? You would be responsible for being there each week during the live show and making sure a listening device is available. And generally facilitating the discussion. If interested, please email molly@hoosierhistorylive.org, and please include your phone number.
A note of support
'We hope to see it broadcast far and wide'
A particularly nice letter of support came in some time ago from authors James Alexander Thom and Dark Rain Thom. We like to re-read it from time to time!
To Whom it May Concern:

Last Spring, my wife and I were interviewed by Nelson Price on his Hoosier History radio program, as authors of frontier and Native American history books. Mr. Price's program was so well prepared and conducted that we feel it should be made available to students and general audiences as widely as possible. His program is well-researched, all questions pertinent to the chosen theme, and moves along briskly. Listeners called in with questions and comments that were intelligent and relevant, a sign of an avid audience.

As historical writers, we try to overcome the public's indifference to history, to bring alive in any way we can the important lessons of the past, and are enthusiastic about programs and writings that make those lessons interesting. The Hoosier History Live program does that so well that we hope to see it broadcast far and wide over this historically significant State of Indiana. It is an excellent program, worthy of extensive distribution and strong support.

James Alexander Thom & Dark Rain Thom, authors
Bloomington, Indiana
July 14, 2011
Shows, we got shows
We have more than 300 Hoosier History Live! radio shows completed, as a matter of fact. And we need to get show audio onto the website, which we are doing by and by, but we sure could use some sponsorship assistance as we edit and publish audio for each archived show. Take a look at the list below and check out all the opportunities for sponsoring a slice of original Hoosier History Live! content on the Web.
No one else is doing anything quite like what we're doing. We are the nation's only live call-in radio program about history. We offer a permanent and growing archive of quality content, available for sponsorship opportunities.
If you are interested in becoming a sponsor of Hoosier History Live!, click here or call Molly Head at (317) 927-9101 for more info.
What people are saying about Hoosier History Live!
"Hoosier History Live does more to promote Indiana history than does any single source."
Andrea Neal, Indianapolis author and educator
"Hoosier History Live is a fun and interesting way to learn about the heart and soul of Indiana. No boring classes or books here! The production team does an outstanding job."
Judy O'Bannon, civic leader and public broadcasting producer
"The folks at Hoosier History Live! are able to find great stories and the people to tell them - people and stories that you seldom hear on the national air."
Dr. James H. Madison, author and IU history professor
"As museums and educational institutions scramble to make their offerings more interactive, more entertaining and more 'relevant' to today's digitally obsessed consumers, Hoosier History Live! seems to have mastered that formula."
Glynis Worley, rural Bartholomew County listener
"Hoosier History Live! is a perfect place to consider and reconsider history ... not just what happened in the past, but what it may mean in the present. Nelson Price is the perfect host: enthusiastic, curious and knowledgeable. Tune in to Hoosier History Live! and be prepared to be surprised."
James Still, playwright in residence, Indiana Repertory Theatre
"Hoosier History Live! is a fantastic opportunity for people to not only learn about history, but also become a part of the conversation. Much like our mission, the telling of Indiana's stories, Nelson and his guests wonderfully connect people to the past!"
John Herbst
President and CEO, Indiana Historical Society
"The links on the Friday Hoosier History Live! enewsletter are a great way to learn more about history, and from a variety of sources."
Jill Ditmire
Omni Media Specialist
"Distilling life experience into stories is an art. Telling stories of life experience for Hoosiers past and present will shape the lives of young people and enrich the lives of all in our state. Mr. Nelson Price brings alive the life experience of notable Hoosiers in Hoosier History Live!"
David T. Wong, Ph.D., President
DT Wong Consulting, LLC
Former Lilly research scientist who developed Prozac
"Nelson Price, more than anyone I know, infuses joy into the pursuit of history. And that joy rings out loud and clear on the radio show, Hoosier History Live!"
Marsh Davis
President, Indiana Landmarks
"No, I haven't heard of another call-in talk radio show about history. Our airwaves are now full of the worst vitriol! Give me the phone number for the show. I want to call in!"
Ken Burns, speaking at a preview of his film "The War" at Indianapolis Hebrew Congregation, April 18, 2007