July 14, 2018 - Upcoming
Lighthouse heritage and the Eastland maritime tragedy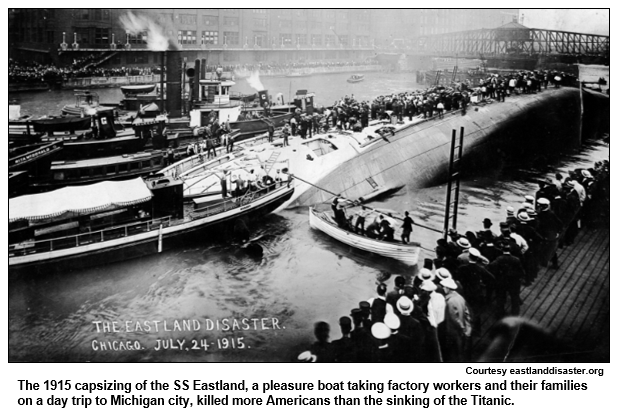 About 845 factory workers and their families aboard an excursion ship on a day trip to Michigan City, Ind., for a picnic were killed in a tragedy in July 1915 that's been mostly forgotten - even though more Americans perished that day than during the Titanic shipwreck three years earlier.
The SS Eastland, which overturned while still tied to a dock in the Chicago River, had a total of 2,501 passengers on board that day. A memorial to the Eastland victims - and exhibits about the ill-fated excursion ship - can be seen at the Old Lighthouse Museum on the historic lakefront in Michigan City.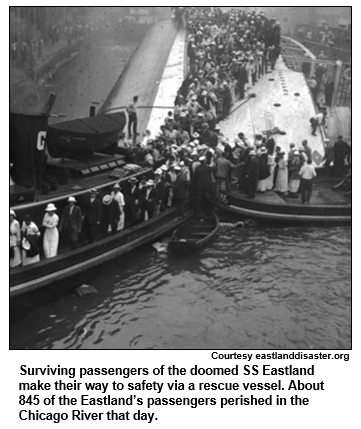 As we explore the Eastland maritime tragedy, we will also spotlight the Indiana heritage of lighthouses that were so crucial for navigators on watercraft ranging from small boats to large cruise ships on Lake Michigan.
Jim Retseck, president of the Michigan City Historical Society, which oversees the Old Lighthouse Museum, will be Nelson's guest. The museum is located in the former Michigan City Lighthouse built in 1858 that housed a live-in lighthouse keeper until the U.S. Coast Guard took over operations in 1939. According to Jim, the definition of a lighthouse is a building in which the keeper actually resides; contemporary structures on Lake Michigan, the Ohio River and other waterways that people refer to as lighthouses should technically be called "navigational devices," Jim says, because they are unoccupied.
The best-known lighthouse keeper at the Michigan City Lighthouse was colorful Harriet Colfax, who served (and lived in) the lighthouse from 1861 until her retirement at age 80 in 1904. She climbed steep, narrow steps to the top of the structure until her final day on the job. The Chicago Tribune hailed Colfax as "the oldest, staunchest, and most reliable lighthouse keeper in the United States." She was the cousin of Schuyler Colfax, an equally colorful South Bend politician who served as U.S. vice president under President Ulysses S Grant.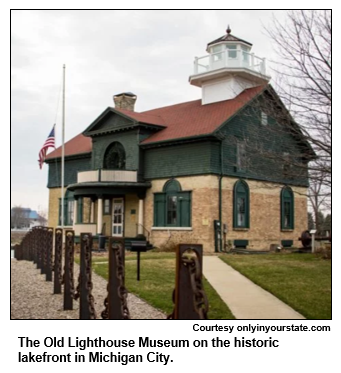 The lighthouse heritage in Michigan City dates to the mid-1830s, when a "postlight" - defined as a lantern on a tall pole - was erected near the site of an initial lighthouse, a whitewashed tower built in 1837 that preceded the 1858 structure. According to the Michigan City Historical Society, the site's beacon "served as a guiding light for Great Lakes sailors for more than 100 years."
A series of anniversary events are set for later this month, including a memorial service July 21 commemorating the 103rd anniversary of the Eastland tragedy. The U.S. Coast Guard will place a wreath near the Old Lighthouse Museum, and Patricia Sutton, author of Capsized: The Forgotten Story of the SS Eastland Disaster, will speak. More information on the events is available at the Michigan City Historical Society's website.
Most of the passengers aboard the Eastland, which overturned in the Chicago River, were family members and employees of a Western Electric factory in Cicero, Ill. The company had planned a massive picnic at Michigan City, a popular destination for day trips at the turn of the century. Most of the fatalities in the Eastland disaster were passengers, unlike the sinking of the Titanic in 1912, in which scores of crew members perished as well. We explored the lives of passengers with Indiana connections aboard the Titanic on a show originally broadcast in 2010.
A note of support
'We hope to see it broadcast far and wide'
A particularly nice letter of support came in some time ago from authors James Alexander Thom and Dark Rain Thom. We like to re-read it from time to time!
To Whom it May Concern:

Last Spring, my wife and I were interviewed by Nelson Price on his Hoosier History radio program, as authors of frontier and Native American history books. Mr. Price's program was so well prepared and conducted that we feel it should be made available to students and general audiences as widely as possible. His program is well-researched, all questions pertinent to the chosen theme, and moves along briskly. Listeners called in with questions and comments that were intelligent and relevant, a sign of an avid audience.

As historical writers, we try to overcome the public's indifference to history, to bring alive in any way we can the important lessons of the past, and are enthusiastic about programs and writings that make those lessons interesting. The Hoosier History Live program does that so well that we hope to see it broadcast far and wide over this historically significant State of Indiana. It is an excellent program, worthy of extensive distribution and strong support.

James Alexander Thom & Dark Rain Thom, authors
Bloomington, Indiana
July 14, 2011
Shows, we got shows
We have more than 470 Hoosier History Live radio shows completed, as a matter of fact. We certainly welcome underwriting support to get more of our show audio online. Let's help support the hardworking Hoosiers who do the writing and editing for Hoosier History Live!
No one else is doing anything quite like what we're doing. We are the nation's only live call-in radio program about history. We offer a permanent and growing archive of quality content, available for sponsorship opportunities.
If you are interested in becoming a sponsor of Hoosier History Live, click here or call Molly Head at (317) 927-9101 for more info.
What people are saying about Hoosier History Live
"Hoosier History Live does more to promote Indiana history than does any single source."
Andrea Neal, Indianapolis author and educator
"Hoosier History Live is a fun and interesting way to learn about the heart and soul of Indiana. No boring classes or books here! The production team does an outstanding job."
Judy O'Bannon, civic leader and public broadcasting producer
"The folks at Hoosier History Live are able to find great stories and the people to tell them - people and stories that you seldom hear on the national air."
Dr. James H. Madison, author and Indiana University history professor
"As museums and educational institutions scramble to make their offerings more interactive, more entertaining and more 'relevant' to today's digitally obsessed consumers, Hoosier History Live seems to have mastered that formula."
Glynis Worley, rural Bartholomew County listener
"Hoosier History Live is a perfect place to consider and reconsider history ... not just what happened in the past, but what it may mean in the present. Nelson Price is the perfect host: enthusiastic, curious and knowledgeable. Tune in to Hoosier History Live and be prepared to be surprised."
James Still, playwright in residence, Indiana Repertory Theatre
"Hoosier History Live is a fantastic opportunity for people to not only learn about history, but also become a part of the conversation. Much like our mission, the telling of Indiana's stories, Nelson and his guests wonderfully connect people to the past!"
John Herbst
President and CEO, Indiana Historical Society
"The links on the Friday Hoosier History Live enewsletter are a great way to learn more about history, and from a variety of sources."
Jill Ditmire
Omni Media Specialist
"Distilling life experience into stories is an art. Telling stories of life experience for Hoosiers past and present will shape the lives of young people and enrich the lives of all in our state. Mr. Nelson Price brings alive the life experience of notable Hoosiers in Hoosier History Live."
David T. Wong, Ph.D., President
DT Wong Consulting, LLC
Former Lilly research scientist who developed Prozac
"Nelson Price, more than anyone I know, infuses joy into the pursuit of history. And that joy rings out loud and clear on the radio show, Hoosier History Live."
Marsh Davis
President, Indiana Landmarks
"No, I haven't heard of another call-in talk radio show about history. Our airwaves are now full of the worst vitriol! Give me the phone number for the show. I want to call in!"
Ken Burns, speaking at a preview of his film "The War" at Indianapolis Hebrew Congregation, April 18, 2007