November 28, 2020
Have you heard of The Hoosier Hot Shots? encore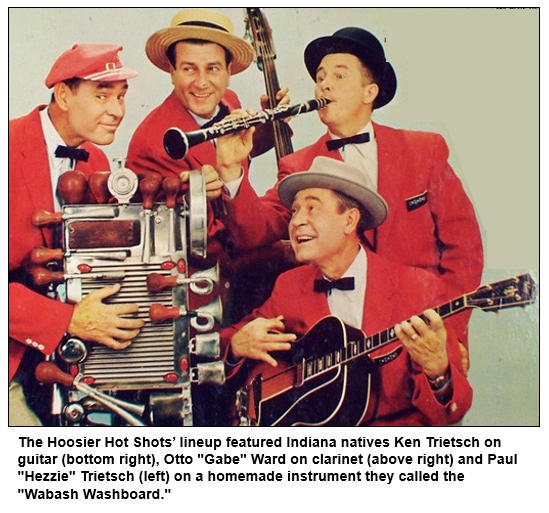 With percussion instruments that included a makeshift washboard and a stage routine punctuated by comic banter between their musical numbers, they were nationally known entertainers from the 1920s through the mid-1940s.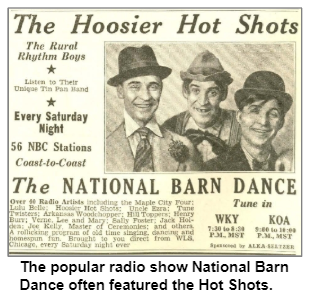 The Hoosier Hot Shots were regulars on National Barn Dance, one of the most popular radio shows in the country, broadcast on WLS-AM in Chicago. They were featured as a novelty act in Western movies starring Gene Autry and slapstick comedies with the Three Stooges. They were headliners in vaudeville venues and recorded much of their music at Gennett Studios in Richmond, Ind., which launched the recording careers of many American jazz, blues, country and gospel stars during the era.
The three primary members of the Hot Shots band were Otto "Gabe" Ward, who was born in Knightstown and grew up in Elwood, and two brothers, Ken and Paul "Hezzie" Trietsch, who hailed from the small town of Arcadia in Hamilton County. The Indiana State Museum periodically has exhibited Gabe Ward's clarinet and Hezzie's unusual washboard instrument, which he made by hand; the exhibits also have included vintage posters for some of their 21 movies.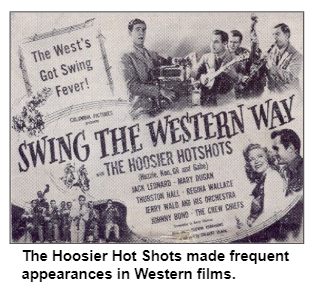 In this encore broadcast of a show from 2018, we turn our spotlight on the colorful and quirky Hoosier Hot Shots. Nelson is joined in studio by Todd Gould, a senior producer/director at WTIU-TV in Bloomington and a broadcasting instructor at Indiana University. In working with his WTIU colleagues on a documentary about Gennett, where emerging stars like Hoagy Carmichael, Louis Armstrong and Jelly Roll Morton recorded, Todd researched the Hot Shots. (Hoosier History Live explored the impact of the recording history made at Gennett Studios on a show in 2013.)
In an article about the Hoosier Hot Shots in the Fall 2018 issue of Traces, the Indiana Historical Society's magazine, Todd wrote:
"During two of the most tumultuous times in our nation's history, the Great Depression and World War II, Americans found comfort in the silly songs and crazy antics of a band from the flatlands of central Indiana ... Their sound and lyrics were unlike anything Americans in the early 20th century had ever heard before."
A sample lyric from a Hot Shots song:
From the Indies to the Andes in his undies
And he never took a shave except on Mondays
He didn't eat a thing but chocolate sundaes
'Twas a very, very daring thing to do.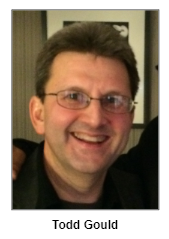 In addition to Todd Gould, Nelson is joined in studio by Hamilton County historian David Heighway, who has researched the deep roots of the Trietsch family in the county. Ken Trietsch (rhymes with "beach") played the guitar and banjo while Hezzie played the washboard - as well as cowbells, horns, pie tins and, as Todd put it in his Traces article, "other assorted gear that looked more at home in a farmhouse kitchen than on a stage."
Periodically during our show, we feature brief excerpts of the Hoosier Hot Shots' recordings to give listeners a flavor of their distinctive routines.
Their signature line was a question - "Are you ready, Hezzie?" - posed by Ken Trietsch to his jokester brother just as the Hot Shots were about to kick off a routine.
Ken (1903-1987) and Hezzie (1905-1980) Trietsch came from a musical family in Hamilton County of five sons, all of whom played multiple instruments.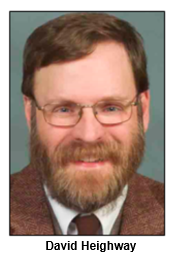 They met Gabe Ward (1904-1992) in the 1920s when all of them became members of the Rube Band, a vaudeville troupe known for playing "wildly extemporaneous, comical versions of the day's popular songs," according to Todd's article in Traces. After the Rube Band dissolved, the three Hoosiers eventually started performing on radio with the Hot Shots name.
Major success followed on National Barn Dance, which also launched the careers of Gene Autry, Patti Page and other entertainers. By the mid-1930s, the Hoosier Hot Shots had added a fourth member, Illinois native Frank Kettering, who played the bass fiddle, organ, piccolo and other instruments.
Among the quartet's most popular songs was Whistlin' Joe from Kokomo. According to Todd's article, the song was one of several Hot Shots' tunes featuring the names of Indiana towns.
During World War II, the Hoosier Hot Shots joined USO tours of North Africa and Italy. (Kettering, though, was drafted. He was replaced by a series of musicians who also weren't from Indiana.) The band's popularity waned by the early 1960s.
Click on the links below to listen to samples of songs from the Hoosier Hot Shots catalogue:
Roadtrip: Eleutherian College in Jefferson County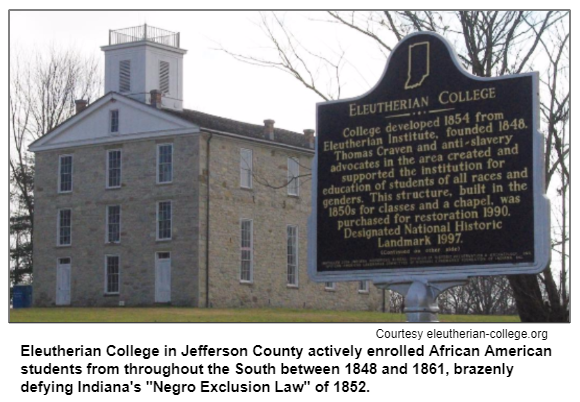 Guest Roadtripper Mark Furnish invites listeners to join him on a journey to learn about the short but significant life of Eleutherian College, one of only three institutions in antebellum Indiana to provide education regardless of race or gender.
Located in Lancaster Township of Jefferson County, only ten miles north of the Ohio River and the slave state of Kentucky, the school actively enrolled black students from throughout the South between 1848 and 1861, brazenly defying Indiana's "Negro Exclusion Law" of 1852, which prohibited the migration of free African Americans into the state.
As Mark explains, "The school was the product of a community of white abolitionists, largely but not exclusively New England in origin and Baptist in faith, who battled slavery for roughly thirty years by means legal and illegal, including working closely with free blacks and whites throughout the region as part of the Underground Railroad." Mark wrote a dissertation on Eleutherian College while completing a PhD at Purdue University
The nonprofit organization Historic Eleutherian College Inc. was established in 1994 to restore the original building and educate the public about its historical significance. Those interested in witnessing first-hand this important site of African-American history in Indiana can do so by contacting the organization and making an appointment to see it in person.
Check the websites linked above for current information on hours and possible Covid-related closures.
History Mystery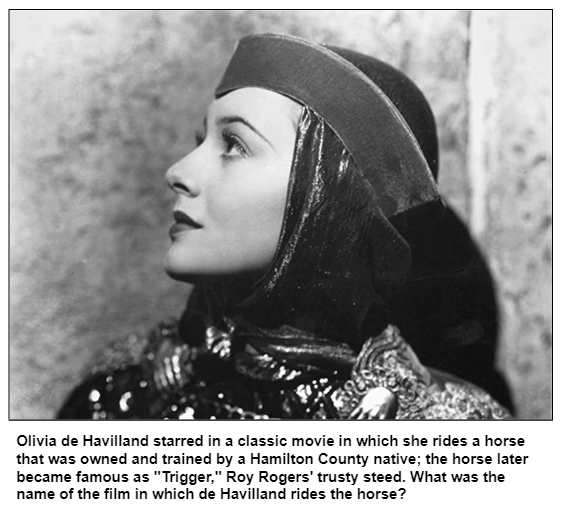 Not only did two of The Hoosier Hot Shots grow up in Hamilton County, so did the breeder who initially owned and trained Trigger, the horse who became famous in Hollywood. Hamilton County historian David Heighway was among our guests when Hoosier History Live explored the Indiana roots of Trigger's owner, Noblesville native Roy Fletcher Cloud.
Although Trigger is eternally associated with Roy Rogers, the celebrity stallion initially appeared in a classic move in 1938 that didn't star the cowboy actor. The movie wasn't a Western; in fact, it wasn't even set in the United States. And Trigger was known then by his original name, Golden Cloud.
Question: What was the classic movie in which the stallion made his debut before becoming Roy Rogers' faithful steed?
Hint: In the mystery movie, the horse was ridden by Olivia de Havilland.
As this is an encore show, please do not try to call in for the History Mystery..
December 5, 2020 - coming up
Rising Sun and Indiana's smallest county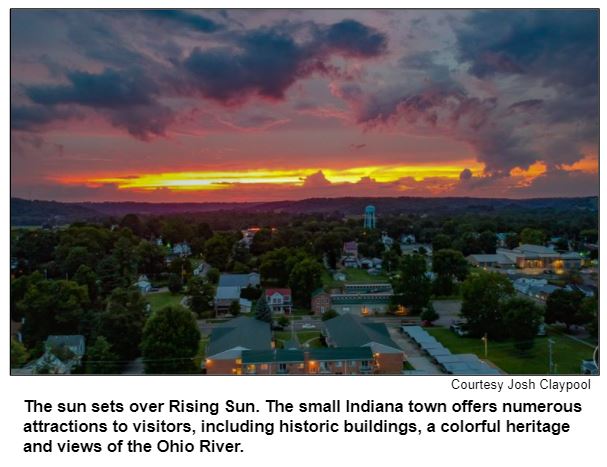 Both in population and geographic size, it's the smallest county in Indiana. But it's considered among the most scenic.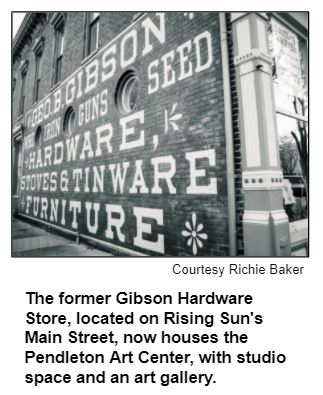 Ohio County, located in the far-southeastern corner of the Hoosier state, along with its only incorporated city, Rising Sun, have a colorful heritage that will be the focus of our show.
One of the few harp factories in the world is housed in a historic building on Main Street in Rising Sun, where Riverfront Park is a popular destination to savor views of the Ohio River.
In the Rising Sun Historic District, the Greek Revival-style Ohio County Courthouse, which was built in 1845, is the oldest county courthouse in continual use in Indiana.
Ohio County historian Cliff Thies, a lifelong resident of Rising Sun, will be Nelson's guest to share insights about his home turf. Cliff is the executive director of the Ohio County Historical Society and the Rising Sun History Museum, which occupies a 20,000 square foot structure that was built in the 19th century as a plow factory.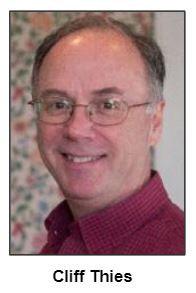 The harp factory is Rees Harps Inc., which makes and ships harps around the world to symphony orchestras, amateur musicians and a range of in-between enthusiasts. Harps are hand-crafted in a range of sizes and styles, but Rees is particularly known for creating a small, lightweight version they call a Harpsicle. The harp factory was founded by William and Rebecca Rees, who moved from California to Rising Sun after being captivated by the beauty of the riverfront city.
Ohio County also has a heritage in furniture-making that stretches back to the mid-1800s. Also in the 19th century, renowned silversmith Samuel Best moved from Cincinnati to Rising Sun.
So what's the population in 2020 of our state's smallest county?
According to our guest Cliff Thies, the current estimate is 6,128.
Podcast Listening 101: The Basics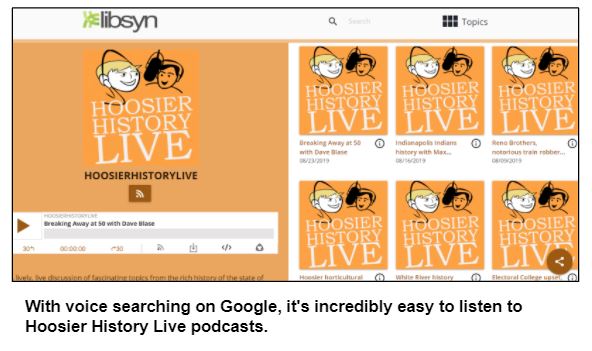 We still broadcast live every Saturday on WICR 88.7, but more and more of our listeners are getting their Hoosier History Life shows by podcast - and it's easier than ever!
It's really this simple: If you have a smartphone, go to the Google search engine, click on the microphone button, and say "Hoosier History Live podcasts." Or if you don't use the microphone, type in the words "Hoosier History Live podcasts" at the Google search bar.You'll immediately get a list of recent shows to choose from. Click on one of them - and let the listening begin!
If you have a preferred podcast provider like Apple Podcasts or Stitcher, you can use their search function to call up Hoosier History Live as well. When you see our yellow Hoosier History Live logo, just click on the episode you want to listen to.
And don't forget to share! You can post links to our podcast on your social media page or send them by email or text.

Get involved with Hoosier History Live!
Would you like to contribute prizes for our History Mystery? It's a great public relations move for your business or organization. Hoosier History Live listeners are an educated, sophisticated bunch - just the kind of customers or supporters you'd like to reach.
If you would like to contribute a History Mystery prize, we prefer items that can be mailed in a standard business envelope, such as a gift certificate or tickets.
Also, we are looking for a downtown or southside (near UIndy) restaurant that would like to host our show guests for lunch about 1:30 pm Saturdays after the live show. In exchange we will offer show underwriting.
And finally, if you would like to start a listening group to listen to the live show Saturday from noon to 1, it's a fun way to get people into your business or organization. Great for libraries, small businesses, and senior centers, too. All you need is a quiet room and a listening device. And an organizer.
Interested in any of these ideas? Contact molly@hoosierhistorylive.org for details.
Feedback from our supporters
"I love the podcasts..."
"I love the podcasts! I work on Saturdays and cannot always hear the live broadcasts. Sometimes I also like to listen a second time."


- Terri Gorney, Fort Wayne listener
"... a compelling and engaging media project..."
"Molly Head and Nelson Price are Indiana-based visionaries who have created a compelling and engaging media project with Hoosier History Live. Podcasts, website, enewsletter, and live call-in radio show; it's all there!"


- Keira Amstutz, President and CEO, Indiana Humanities
"...best Americana-themed show..."
"Hoosier History Live is the best Americana-themed show anywhere on radio!"
-John Guerrasio, former IRT actor
"...great value to sponsors..."
"Hoosier History Live has amassed a vast library of content over the years, both with the show audio and newsletter material. I believe that the Hoosier History Live content has great value to sponsors and advertisers via widespread online distribution. Nowhere else do you find the fresh new material each week, the depth of stories, the richness of detail, and the long-term consistency."
- John McDonald, CEO, ClearObject in Fishers, Indiana, Inc. Magazine's fastest-growing IT company in Indiana for 2014, 2015, 2016 and 2017.
"...always a great show"
"Hoosier History Live is always a great show. We did a small sponsorship as a gesture of support, and I didn't think a little history show would have much impact. But many people mentioned to me that they had heard our credit on the radio."
G.B. Landrigan, Realtor, Certified Residential Specialist

"...a great way to represent what I do..."
"I have thoroughly enjoyed my experiences with Nelson Price and the Hoosier History Live team. I feel being on the show was a great way to represent what I do with motorsports history. I am particularly excited by the show's new distribution through a podcast and making it accessible live through the Web."
-Mark Dill, owner, FirstSuperSpeedway.com

"...'Live'--and 'Lively' as well..."
"Hoosier History really is 'Live'--and 'Lively' as well. The program brings to new audiences the delight and wisdom that comes with knowing more of our past and our connections as Hoosiers."
James H. Madison, Emeritus History Professor, Indiana University
"...does more to promote Indiana history..."
"Hoosier History Live does more to promote Indiana history than does any single source."
Andrea Neal, Indianapolis author and educator
"...fun and interesting..."
"Hoosier History Live is a fun and interesting way to learn about the heart and soul of Indiana. No boring classes or books here! The production team does an outstanding job."
Judy O'Bannon, civic leader and public broadcasting producer
"...infuses joy into the pursuit of history..."
"Nelson Price, more than anyone I know, infuses joy into the pursuit of history. And that joy rings out loud and clear on the radio show, Hoosier History Live."
Marsh Davis, President, Indiana Landmarks
"...interactive, more entertaining and more 'relevant'..."
"As museums and educational institutions scramble to make their offerings more interactive, more entertaining and more 'relevant', Hoosier History Live seems to have mastered that formula."
Glynis Worley, rural Bartholomew County listener
"...enthusiastic, curious and knowledgeable..."
"Hoosier History Live is a perfect place to consider and reconsider history ... not just what happened in the past, but what it may mean in the present. Nelson Price is the perfect host: enthusiastic, curious and knowledgeable. Tune in to Hoosier History Live and be prepared to be surprised."
James Still, playwright in residence, Indiana Repertory Theatre
"...a great way to learn more about history..."
"The links on the Friday Hoosier History Live enewsletter are a great way to learn more about history, and from a variety of sources."
Jill Ditmire, Omni Media Specialist
"...I want to call in!

..

"No, I haven't heard of another call-in talk radio show about history. Our airwaves are now full of the worst vitriol! Give me the phone number for the show. I want to call in!"

Ken Burns, speaking at a preview of his film "The War" at Indianapolis Hebrew Congregation, April 18, 2007