March 18, 2023
Funeral business evolution and civic involvement in Indy
Ever since the 1820s, when David Buchanan arrived by covered wagon in the Indianapolis area and opened a tavern before becoming a farmer, the Flanner and Buchanan families have been intertwined with city history. Flanner and Buchanan Funeral Centers is a 142-year-old, family-owned business that began during an era when funerals and visitations typically were held in the parlors of private homes (hence, the derivation of the term funeral parlor). Before that, in the mid-1800s, undertakers often were carpenters.
As the funeral business evolved (Flanner and Buchanan opened the first crematorium in Indianapolis in 1904), so did the civic impact of members of the Flanner and Buchanan families, who were brought together by marriage in the 19th century. Frank Flanner, who began in the mortuary business in 1881, founded Flanner House (initially known as Flanner Guild House), a nonprofit to assist African Americans, including former enslaved people who had come to Indianapolis. His sister, Anna Flanner Buchanan, helped start the first YWCA in the city.
All of that and more will be explored during our show when Bruce Buchanan, the CEO of Buchanan Group Inc. (which includes Flanner and Buchanan Funeral Centers), the fourth generation owner, is Nelson's studio guest. The massive Community Life Center on the city's far eastside, a multi-purpose event space owned by Flanner and Buchanan, and adjacent Washington Park East Cemetery are on the site of David Buchanan's farmland in the 1830s. The multi-generational impact of the families on the funeral business and civic affairs is described in a lavishly illustrated book, Building Community: The Flanner and Buchanan Families of Indianapolis written by local author Julie Young.
The book describes the prominence of literary great Janet Flanner (1892-1978), Frank Flanner's daughter, who became famous beginning in the 1920s as a Paris-based writer. During our show with Bruce Buchanan, we will explore Janet's impact (she documented the early rise of Adolph Hitler) as well as family tragedies. They include the suicide in 1912 of mortician Frank Flanner, who drank a poisonous concoction, and the drowning deaths of two young Buchanan brothers in Fall Creek during the 1930s.
By then, Flanner and Buchanan had opened Fall Creek Mortuary, a structure that was built as a funeral center during an era when that was unusual; most were located in converted houses. Fall Creek Mortuary, which had a built-in organ and served as the flagship of the Flanner and Buchanan operation for decades, eventually was demolished in the 1990s.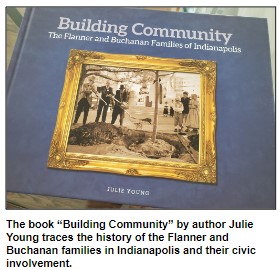 According to Building Community, the word "undertaker" was coined in the 19th century to describe someone, typically a carpenter, who was willing to "undertake the unpleasant duty" of handling the final presentations of the deceased. By 1887, when Frank Flanner persuaded his brother-in-law Charles Buchanan, Anna's husband, to join him in the business, the term undertaker was being dropped in favor of the more professional term of "funeral director". Like the Flanners, Charles Buchanan became immersed in civic affairs, including crusading for the creation of the Indiana Dunes State Park.
Frank Flanner convinced other civic leaders to help launch Flanner House, a nonprofit that continues to this day. Its dedication ceremony in the early 1900s was attended by Booker T. Washington, who stayed at Frank Flanner's house when he was turned down by local hotels. Frank Flanner's other civic involvement included helping launch what became the Herron School of Art and Design.
Janet Flanner, Frank Flanner's daughter, became one of the first movie critics in the country, writing about silent films for the Indianapolis Star. Beginning in the 1920s, though, she was a correspondent for The New Yorker magazine based in Paris. That's where she befriended other American expatriates including legendary novelists Ernest Hemingway and F. Scott Fitzgerald.
Other members of the extended Flanner and Buchanan families also carved out careers beyond the funeral business. Paul Buchanan Jr., the father of our guest Bruce Buchanan, was a well-known judge and an art collector until his death in 2008. His vast collection of Brown County artwork now is displayed at Flanner and Buchanan funeral centers.
The family's heritage is Scottish. David Buchanan, the pioneer who came to the new city of Indianapolis in the 1820s, had been born in Virginia. The farm that he started in far-eastern Marion County was on the National Road (now U.S. 40, or Washington Street, as it's known in the city). The Community Life Center that opened in 2001 on the farm's site is a building of 20,000 square feet that has become a venue for weddings, receptions and community events as well as celebrations of life and funeral visitations.

Roadtrip: Trinity Springs and the "Mustering Elm" in Martin County
Guest Roadtripper and veteran broadcaster and educator Ken Marshall suggests we head south from Indianapolis to visit Trinity Springs in Martin County. Trinity Springs was known for its 3 natural springs in this region of Southern Indiana. It was a popular tourist destination in the early 1900s, and at one point, seven different hotels operated in the community. Many tourists came to "take the healing waters''.
French Lick spring in West Baden survives today as a tourist destination spot.

Trinity Springs can still be found eight miles north of Shoals, Indiana in the Hoosier National Forest. Trinity is a group of three springs, with a water temperature of fifty-seven and a half degrees year-round. These well-known springs produce clear, sparkling water that is pleasant to drink compared to other springs, with the taste being only very slightly bitter.

New railroad routes altered the ease of access to the springs in Martin County, and over time the tourism faded away.

Earlier the area was known for its "Mustering Elm" of 1862. Though the tree no longer stands, this was a recruitment site for 112 local men to join the Union Army to fight in the Civil war. Many of these new soldiers carved their names and dates of the recruitment in the nearby rock, and the names are still visible today.

Unfortunately, most of the men died in battle, disease or in the POW camp at Andersonville, a brutal Confederate POW camp. The few that survived had an annual reunion at the site of the Elm. There is a dedicated stone in memory of the enlistment location.

Nearby is the famed Jug Rock, and Ken says you can also visit Velma's Diner in Shoals for great hometown cooking.
Hoosier History Live is an independent production group

We probably can't say often enough that we are an independent production group, and that we make our own business and editorial decisions! Please don't necessarily contact the radio station for help. Our contact information is on our website at www.hoosier history live.org, where you can also sign up for our free weekly enewsletter. You can also follow us on Facebook or Twitter at Hoosier History Live. Look for our yellow logo to make sure you are at the right place!
Would your business or organization like to offer prizes for the History Mystery on air question? Your business or organization gets an on-air mention by Nelson! Prizes must fit in a standard business envelope, as they are "snail mailed" to winners. Email our producer at molly@hoosierhistorylive.org for more info.
Here's a marketing idea. Would your business or library or residence like to have a listening group to listen to the live show on Saturdays noon to one pm? It's a great way to get people involved. All you need is a listening device, such as a laptop or radio or cell phone, and a quiet place with chairs to listen, and someone to facilitate the group. As an example, before Covid there were listening groups at the Irvington Library and the Central Library in Indianapolis.
This is an activity that you must organize yourselves! However, if you ARE hosting a listening group, email molly@hoosierhistorylive.org so we can promote it. This is especially a good activity for seniors.
Are you a restaurant near the University of Indianapolis on the south side, or is your restaurant downtown? Is your restaurant open Saturdays at 1 pm? Are you willing to offer a place for Nelson and guests to go lunch after the show? If so, please contact molly@hoosierhistorylive.org.
Who can you see in this "Hoosier History Live Photo Album" . . .
Swipe through these photos gleaned from the last fourteen years of Hoosier History Live production!
And would you believe that radio technology has completely changed tech wise since we first went on the air in 2008 at WICR? Can you find Bobby Plump, Chris Gahl, Connie Zeigler, Tom Ridley, Bonnie Britton, Tiffany Benedict Browne, Eunice Trotter, David Baker, Lefty Huntzinger, Keira Amstutz, Cowboy Bob, Janie of "Popeye and Janie", K.P. Singh, Pam Fraizer, and Dark Rain Thom? The voices of so many Hoosiers blended together over the years to make Hoosier History Live such a unique archive.
And thanks to Richard Sullivan of Monomedia for creating this group of images.

Who We Are
Hoosier History Live is an independent production group. We raise our own money and we control our content. We make our own editorial decisions, much like a newspaper. Our goal is to deliver an interesting and compelling show, newsletter, and show podcast to you every week. Regardless of the challenges.
You can always visit the yellow contribution button here, which we believe supports the quality journalism that Hoosier History Live offers.
What people are saying about Hoosier History Live
"From a Hoosier who knows her books..."
"Fills a niche for the lover of Indiana history."
- Kathleen Madinger Angelone, retired bookstore owner
"...a great way to learn more about history..."
"The links on the Friday Hoosier History Live enewsletter are a great way to learn more about history, and from a variety of sources."
- Jill Ditmire, Omni Media Specialist
"...'Live' - and 'Lively' as well..."
"Hoosier History really is 'Live' - and 'Lively' as well. The program brings to new audiences the delight and wisdom that comes with knowing more of our past and our connections as Hoosiers."
- James H. Madison, Emeritus History Professor, Indiana University
"Another Hoosier History Live endorsement from a Hoosier in California ..."
"Hoosier History Live is a bright spot in my media constellation. I also frequently forward your weekly enewsletters to friends around the globe. I may now be a Californian, but my Hoosier interest is endless. The podcasts and streaming are good tools. By all means, persevere!"
- Tom Cochrun, former news anchor, WTHR-TV Channel 13 Indianapolis
"... a compelling and engaging project..."
"Molly Head and Nelson Price are Indiana-based visionaries who have created a compelling and engaging media project with Hoosier History Live. Podcasts, website, enewsletter, and live call-in radio show; it's all there!"
- Keira Amstutz, President and CEO, Indiana Humanities
"...does more to promote Indiana history..."
"Hoosier History Live does more to promote Indiana history than does any single source."
- Andrea Neal, Indianapolis author and educator
"...always a great show"
"Hoosier History Live is always a great show. We did a small sponsorship as a gesture of support, and I didn't think a little history show would have much impact. But many people mentioned to me that they had heard our credit on the radio."
- G.B. Landrigan, Realtor, Certified Residential Specialist
"... an intelligent, well-researched program..."
"I've loved listening to Hoosier History Live during the pandemic as an intelligent, well-researched program to escape the news for an hour."


-Lee Little, JD, MLS, Research Librarian, Indiana University
"...a great way to represent what I do..."
"I have thoroughly enjoyed my experiences with Nelson Price and the Hoosier History Live team. I feel being on the show was a great way to represent what I do with motorsports history. I am particularly excited by the show's new distribution through a podcast and making it accessible live through the Web."
-Mark Dill, owner, FirstSuperSpeedway.com



"...great value to sponsors..."
"Hoosier History Live has amassed a vast library of content over the years, both with the show audio and newsletter material. I believe that the Hoosier History Live content has great value to sponsors and advertisers via widespread online distribution. Nowhere else do you find the fresh new material each week, the depth of stories, the richness of detail, and the long-term consistency."
- John McDonald, CEO, ClearObject in Fishers, Indiana, Inc. Magazine's fastest-growing IT company in Indiana for 2014, 2015, 2016 and 2017.
"I love the podcasts..."
"I love the podcasts! I work on Saturdays and cannot always hear the live broadcasts. Sometimes I also like to listen a second time."


- Terri Gorney, Fort Wayne listener
"...infuses joy into the pursuit of history..."
"Nelson Price, more than anyone I know, infuses joy into the pursuit of history. And that joy rings out loud and clear on the radio show, Hoosier History Live."
- Marsh Davis, President, Indiana Landmarks
"...enthusiastic, curious and knowledgeable..."
"Hoosier History Live is a perfect place to consider and reconsider history ... not just what happened in the past, but what it may mean in the present. Nelson Price is the perfect host: enthusiastic, curious and knowledgeable. Tune in to Hoosier History Live and be prepared to be surprised."
- James Still, playwright in residence, Indiana Repertory Theatre
"...I want to call in!

..

"No, I haven't heard of another call-in talk radio show about history. Our airwaves are now full of the worst vitriol! Give me the phone number for the show. I want to call in!"

- Ken Burns, speaking at a preview of his film "The War" at Indianapolis Hebrew Congregation, April 18, 2007
"...interactive, more entertaining and more 'relevant'..."
"As museums and educational institutions scramble to make their offerings more interactive, more entertaining and more 'relevant', Hoosier History Live seems to have mastered that formula."
- Glynis Worley, rural Bartholomew County listener
Podcast Listening 101: The Basics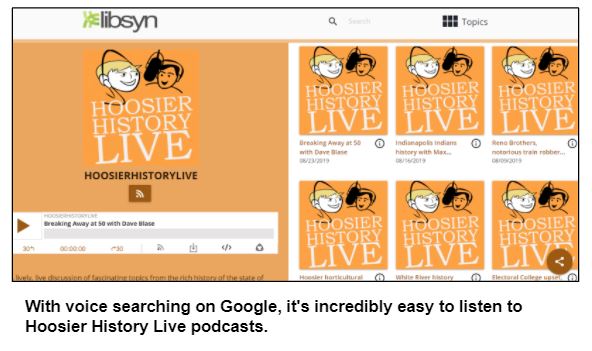 We still broadcast live every Saturday on WICR 88.7, but more and more of our listeners are getting their Hoosier History Live shows by podcast, and it's easier than ever!

It's really this simple: If you have a smartphone, go to the Google search engine, click on the microphone button, and say "Hoosier History Live podcasts." Or if you don't use the microphone, type in the words "Hoosier History Live podcasts" at the Google search bar.You'll immediately get a list of recent shows to choose from. Click on one of them and let the listening begin!

If you have a preferred podcast provider like Apple Podcasts or Stitcher, you can use their search function to call up Hoosier History Live as well. When you see our yellow Hoosier History Live logo, just click on the episode you want to listen to.

And don't forget to share! You can post links to our podcast on your social media page or send them by email or text.