December 04, 2021
A teacher's insights about engaging kids with Indiana history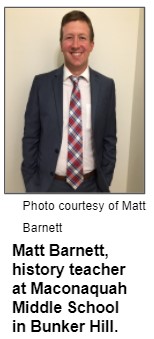 Hands-on learning is an ever-popular catch phrase, but who thinks of having eighth graders do laundry the way Indiana pioneers did in the early 1800s? And who brings in a churn for middle school students to make butter?
Matt Barnett, a history teacher at Maconaquah Middle School in Miami County, is preparing to do both as ways to engage and immerse his eighth grade students in daily life in early Indiana. Last year, when Matt taught at Lewis Cass Jr./Sr. High School, his students built an 1816-style flatboat, then floated it down the Eel River in Logansport.
Known for using storytelling techniques to teach history, Matt also has reenacted as historical figures, including a Union Army infantry soldier in the 19th Regiment Indiana, which became part of the famous Iron Brigade during the Civil War.
Matt, who lives in Peru, Ind., will be Nelson's guest to share ways to spark interest in Indiana history among young people. In recognition of his inspirational teaching, he has won multiple honors and awards, including from the Society of Indiana Pioneers.
In partnership with the, Benjamin Harrison Presidential Site, Matt is preparing to have his students shape and paint holiday ornaments inspired by the only president elected from Indiana. A veteran of the Civil War, Harrison decorated his Christmas tree with toy wooden soldiers as a way to remember his comrades.
Some history facts from Matt about upcoming and previous projects with his students:
Laundry: During the early 1800s, doing laundry involved hard labor. 'Clothes would need to be presoaked with hot water,' Matt notes. 'Then (the settlers) would scrub the clothes with soap and water, and beat the clothes with a washing bat. This would drive out the soap and dirt . . . The students will be using a washtub and washing bat to wash some clothes in class.'
1816 flatboat: Matt told his students how early Indiana pioneers often arrived on the Ohio River via flatboats, which he described as 'large, barge-like watercrafts'. He added: 'You would put all of your belongings on the boat, and float downriver.' With the help of a local woodworker, Matt and his eighth grade students built a 14-foot x 7-foot flatboat of the type used in 1816, the year Indiana became the 19th state.

Butter churning: Noting that pioneers would use the cream from cows' milk to make butter, Matt plans to have his students create butter through the churning process. He also plans to have them make cornmeal by pounding corn using a mortar and pestle.
Roadtrip: Bonneyville Mill near Elkhart
Guest Roadtripper and attorney Tim Shelly of Elkhart suggests we head to northern Indiana to the picturesque Bonneyville Mill in Elkhart County. The mill was built in 1837 by Edward Bonney, who came to the Bristol, Indiana area from New York State. In 1833 Edward was hoping to establish a community or business center along the Little Elkhart River, where lumber could be sawed and grain ground. As years went by, Edward Bonney began to have financial trouble, in part because the expected canal never came to the nearby area. Learn more on Saturday.
Work opportunities available at Hoosier History Live
Sometimes people ask if there are opportunities to help us out work-wise and to help with the efforts of Hoosier History Live.
If you'd like to solicit History Mystery prizes, and keep Nelson informed of the prizes to be given out, and mail out the prizes, that would be real help. And financial compensation possible. For more information please contact molly@hoosierhistorylive.org.
And in the meantime, if your organization or business would like to offer prizes we would love to discuss that we well! contact molly@hoosierhistorylive.org
Would you be interested in being the Roadtrip Producer? We do have a list of Roadtrippers, and this work is primarily done via email. As Roadtrip Producer, you would need to solicit and schedule the Roadtrippers, get their notes and possible images, and prepare the final Roadtrip article and image to go to our newsletter editor. You do need to have management and editing skills for this job, and the ability to meet deadlines. Financial compensation available. If interested contact molly@hoosierhistorylive.org
From the Hoosier History archive
"Vonnegut and an array of misconceptions" was our Hoosier History Live show on Feb. 15, 2020. We still had guests in studio, pre-Covid! Now all guests are call in. Guests were Julia Whitehead, CEO of the Vonnegut Library, and, by phone, Dan Simon of New York, founder of Seven Stories Press, publisher of Vonnegut's final three books
Click here to listen to "Vonnegut and an array of misconceptions" podcast.
What people are saying about Hoosier History Live
"...'Live' - and 'Lively' as well..."
"Hoosier History really is 'Live' - and 'Lively' as well. The program brings to new audiences the delight and wisdom that comes with knowing more of our past and our connections as Hoosiers." James H. Madison, Emeritus History Professor, Indiana University
"...best Americana-themed show..."
"Hoosier History Live is the best Americana-themed show anywhere on radio!"
- John Guerrasio, former IRT actor
"...always a great show"
"Hoosier History Live is always a great show. We did a small sponsorship as a gesture of support, and I didn't think a little history show would have much impact. But many people mentioned to me that they had heard our credit on the radio."
G.B. Landrigan, Realtor, Certified Residential Specialist
"... an intelligent, well-researched program..."
"I've loved listening to Hoosier History Live during the pandemic as an intelligent, well-researched program to escape the news for an hour."


-Lee Little, JD, MLS, Research Librarian, Indiana University
"... a compelling and engaging media project..."
"Molly Head and Nelson Price are Indiana-based visionaries who have created a compelling and engaging media project with Hoosier History Live. Podcasts, website, enewsletter, and live call-in radio show; it's all there!"


- Keira Amstutz, President and CEO, Indiana Humanities
"...a great way to represent what I do..."
"I have thoroughly enjoyed my experiences with Nelson Price and the Hoosier History Live team. I feel being on the show was a great way to represent what I do with motorsports history. I am particularly excited by the show's new distribution through a podcast and making it accessible live through the Web."
-Mark Dill, owner, FirstSuperSpeedway.com



"...great value to sponsors..."
"Hoosier History Live has amassed a vast library of content over the years, both with the show audio and newsletter material. I believe that the Hoosier History Live content has great value to sponsors and advertisers via widespread online distribution. Nowhere else do you find the fresh new material each week, the depth of stories, the richness of detail, and the long-term consistency."
- John McDonald, CEO, ClearObject in Fishers, Indiana, Inc. Magazine's fastest-growing IT company in Indiana for 2014, 2015, 2016 and 2017.
"I love the podcasts..."
"I love the podcasts! I work on Saturdays and cannot always hear the live broadcasts. Sometimes I also like to listen a second time."


- Terri Gorney, Fort Wayne listener
"...fun and interesting..."
"Hoosier History Live is a fun and interesting way to learn about the heart and soul of Indiana. No boring classes or books here! The production team does an outstanding job."
Judy O'Bannon, civic leader and public broadcasting producer
"...does more to promote Indiana history..."
"Hoosier History Live does more to promote Indiana history than does any single source."
Andrea Neal, Indianapolis author and educator
"...infuses joy into the pursuit of history..."
"Nelson Price, more than anyone I know, infuses joy into the pursuit of history. And that joy rings out loud and clear on the radio show, Hoosier History Live."
Marsh Davis, President, Indiana Landmarks
"...enthusiastic, curious and knowledgeable..."
"Hoosier History Live is a perfect place to consider and reconsider history ... not just what happened in the past, but what it may mean in the present. Nelson Price is the perfect host: enthusiastic, curious and knowledgeable. Tune in to Hoosier History Live and be prepared to be surprised."
James Still, playwright in residence, Indiana Repertory Theatre
"...a great way to learn more about history..."
"The links on the Friday Hoosier History Live enewsletter are a great way to learn more about history, and from a variety of sources."
Jill Ditmire, Omni Media Specialist
"...I want to call in!

..

"No, I haven't heard of another call-in talk radio show about history. Our airwaves are now full of the worst vitriol! Give me the phone number for the show. I want to call in!"

Ken Burns, speaking at a preview of his film "The War" at Indianapolis Hebrew Congregation, April 18, 2007
"...interactive, more entertaining and more 'relevant'..."
"As museums and educational institutions scramble to make their offerings more interactive, more entertaining and more 'relevant', Hoosier History Live seems to have mastered that formula."
Glynis Worley, rural Bartholomew County listener
Podcast Listening 101: The Basics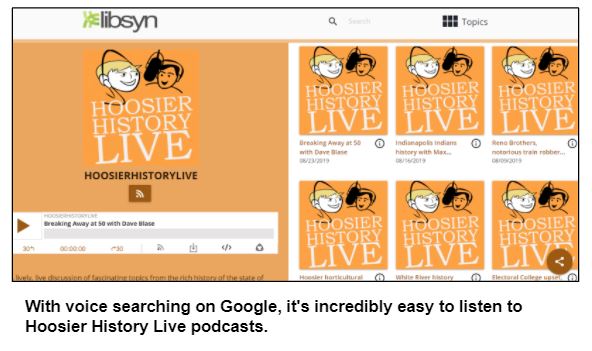 We still broadcast live every Saturday on WICR 88.7, but more and more of our listeners are getting their Hoosier History Live shows by podcast - and it's easier than ever!
It's really this simple: If you have a smartphone, go to the Google search engine, click on the microphone button, and say "Hoosier History Live podcasts." Or if you don't use the microphone, type in the words "Hoosier History Live podcasts" at the Google search bar.You'll immediately get a list of recent shows to choose from. Click on one of them - and let the listening begin!
If you have a preferred podcast provider like Apple Podcasts or Stitcher, you can use their search function to call up Hoosier History Live as well. When you see our yellow Hoosier History Live logo, just click on the episode you want to listen to.
And don't forget to share! You can post links to our podcast on your social media page or send them by email or text.