November 26, 2022
Artist who crusaded to save the Dunes - Encore
Just as steel mills and other industrial developments were threatening the Indiana Dunes during the early 1900s, a crusader for their preservation was galvanized into action.
As an activist, his tools were a canvas and a paintbrush.
Captivated by the scenic beauty of the natural wonders on the shoreline of Lake Michigan, artist Frank Dudley (1868-1957) devoted the rest of his life to creating landscape paintings of the Indiana Dunes and rallying the public to protect them.
Although based in Chicago, Dudley and his wife Maida built a Dunes studio that they opened to the public for 33 years "to convert visitors, one by one, into Dunites," according to a new biography of the painter. His mid-life decision to refocus his career made Dudley one of the era's preeminent artists with an Indiana connection.
Acclaimed art historian Rachel Berenson Perry, the author of Painter of the Dunes (Indiana Historical Society Press), is Nelson's guest on this encore broadcast of a show that initially aired on Aug. 7, 2021, to share insights about Dudley and his impact on the preservation of the Dunes.
This show dives deeper into an influential artist mentioned during a Hoosier History Live program in 2019, when we explored the heritage of the distinctive shoreline following its designation as the state's first national park, the Indiana Dunes National Park.
Included within the 15,000 acres of the national park is the Indiana Dunes State Park, which was established in the 1920s. According to Painter of the Dunes, a dozen Indiana lawmakers discussed the idea of creating a state park during a gathering at Duneland, Dudley's studio.
By then, the biodiversity of the Indiana Dunes - which includes wildflowers, swamps and even woodlands in addition to the iconic sand dunes - was catching the interest of scientists as well as preservationists, outdoor enthusiasts and artists like Dudley. He had been introduced to the Dunes by his brother Clarence, a Chicago-based photographer who began making expeditions with Jens Jensen, a famous landscape architect.
In 1917, Frank Dudley was among the thousands of attendees at the
Dunes Pageant
, an enormously influential event; he "vowed on that day to dedicate his art and his persuasive efforts to preserving the Dunes," according to Rachel's book. She writes that Dudley persisted with his "almost obsessive subject matter as well as his activism" even though colleagues warned him about limiting his artistic focus.
Rachel Berenson Perry has been a frequent guest on Hoosier History Live shows that have explored Indiana artists, often in connection with her previous books. They have included William J. Forsyth: The Life and Work of an Indiana Artist (Indiana University Press, 2014) and Paint and Canvas: A Biography of T.C. Steele (Indiana Historical Society Press, 2014).
Live talk radio
Roadside Architecture across Indiana was the topic on May 10, 2016.
The show featured discussions about such memorable bits of roadside architecture as the Coffee Pot in Pennville, Char-Bett Drive In in Logansport, XXX Family Restaurant in W. Lafayette, and more.
Left to right are Paul Diebold with Indiana DNR Division of Historical Preservation, host Nelson Price, and public historian Glory-June Greiff, sporting a Dinosaur Land T-shirt. We're not sure what Paul's T-shirt is about!

A Legendary Roadtrip: T.C. Steele and Waveland, Indiana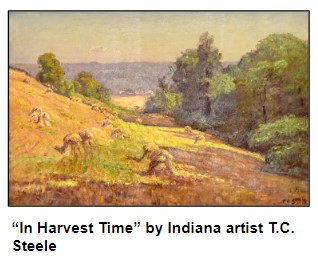 Guest Roadtripper Tim Shelly of South Bend says it's worth the drive to go to the small town of Waveland in far southwestern Montgomery County to see the painting "In Harvest Time" by Hoosier artist T.C. Steele. This might be a bit of an exaggeration, but then Waveland captures the spirit of small-town Indiana of yesteryear, and the painting is in a magnificent Carnegie library there. And besides, Waveland is also quite near to Turkey Run and Shades State Parks.
The small town is also home to T.C. Steele's Boyhood Home, which is on the National Register of Historic Places. And many of T.C. Steele's relatives are buried in the Waveland Methodist Cemetery, which is just east of the Carnegie library.
Who can you see in this "Hoosier History Live Photo Album" . . .
Swipe through these photos gleaned from the last fourteen years of Hoosier History Live production!
And would you believe that radio technology has completely changed tech wise since we first went on the air in 2008 at WICR? Can you find Bobby Plump, Chris Gahl, Connie Zeigler, Tom Ridley, Bonnie Britton, Tiffany Benedict Browne, Eunice Trotter, David Baker, Lefty Huntzinger, Keira Amstutz, Cowboy Bob, Janie of "Popeye and Janie", K.P. Singh, Pam Fraizer, and Dark Rain Thom? The voices of so many Hoosiers blended together over the years to make Hoosier History Live such a unique archive.
And thanks to Richard Sullivan of Monomedia for creating this group of images.

Who We Are
Hoosier History Live is an independent production group. We raise our own money and we control our content. We make our own editorial decisions, much like a newspaper. Our goal is to deliver an interesting and compelling show, newsletter, and show podcast to you every week. Regardless of the challenges.
You can always visit the yellow contribution button here, which we believe supports the quality journalism that Hoosier History Live offers.
What people are saying about Hoosier History Live
From a Hoosier who knows her books...
"Fills a niche for the lover of Indiana history."
- Kathleen Madinger Angelone, retired bookstore owner
Another Hoosier History Live endorsement from a Hoosier in California ...
"Hoosier History Live is a bright spot in my media constellation. I also frequently forward your weekly enewsletters to friends around the globe. I may now be a Californian, but my Hoosier interest is endless. The podcasts and streaming are good tools. By all means, persevere!"
- Tom Cochrun, former news anchor, WTHR-TV Channel 13 Indianapolis
"... a compelling and engaging project..."
"Molly Head and Nelson Price are Indiana-based visionaries who have created a compelling and engaging media project with Hoosier History Live. Podcasts, website, enewsletter, and live call-in radio show; it's all there!"
- Keira Amstutz, President and CEO, Indiana Humanities
"...'Live' - and 'Lively' as well..."
"Hoosier History really is 'Live' - and 'Lively' as well. The program brings to new audiences the delight and wisdom that comes with knowing more of our past and our connections as Hoosiers."
- James H. Madison, Emeritus History Professor, Indiana University
"...always a great show"
"Hoosier History Live is always a great show. We did a small sponsorship as a gesture of support, and I didn't think a little history show would have much impact. But many people mentioned to me that they had heard our credit on the radio."
- G.B. Landrigan, Realtor, Certified Residential Specialist
"... an intelligent, well-researched program..."
"I've loved listening to Hoosier History Live during the pandemic as an intelligent, well-researched program to escape the news for an hour."


-Lee Little, JD, MLS, Research Librarian, Indiana University
"...a great way to represent what I do..."
"I have thoroughly enjoyed my experiences with Nelson Price and the Hoosier History Live team. I feel being on the show was a great way to represent what I do with motorsports history. I am particularly excited by the show's new distribution through a podcast and making it accessible live through the Web."
-Mark Dill, owner, FirstSuperSpeedway.com



"...great value to sponsors..."
"Hoosier History Live has amassed a vast library of content over the years, both with the show audio and newsletter material. I believe that the Hoosier History Live content has great value to sponsors and advertisers via widespread online distribution. Nowhere else do you find the fresh new material each week, the depth of stories, the richness of detail, and the long-term consistency."
- John McDonald, CEO, ClearObject in Fishers, Indiana, Inc. Magazine's fastest-growing IT company in Indiana for 2014, 2015, 2016 and 2017.
"I love the podcasts..."
"I love the podcasts! I work on Saturdays and cannot always hear the live broadcasts. Sometimes I also like to listen a second time."


- Terri Gorney, Fort Wayne listener
"...does more to promote Indiana history..."
"Hoosier History Live does more to promote Indiana history than does any single source."
- Andrea Neal, Indianapolis author and educator
"...infuses joy into the pursuit of history..."
"Nelson Price, more than anyone I know, infuses joy into the pursuit of history. And that joy rings out loud and clear on the radio show, Hoosier History Live."
- Marsh Davis, President, Indiana Landmarks
"...enthusiastic, curious and knowledgeable..."
"Hoosier History Live is a perfect place to consider and reconsider history ... not just what happened in the past, but what it may mean in the present. Nelson Price is the perfect host: enthusiastic, curious and knowledgeable. Tune in to Hoosier History Live and be prepared to be surprised."
- James Still, playwright in residence, Indiana Repertory Theatre
"...a great way to learn more about history..."
"The links on the Friday Hoosier History Live enewsletter are a great way to learn more about history, and from a variety of sources."
- Jill Ditmire, Omni Media Specialist
"...I want to call in!

..

"No, I haven't heard of another call-in talk radio show about history. Our airwaves are now full of the worst vitriol! Give me the phone number for the show. I want to call in!"

- Ken Burns, speaking at a preview of his film "The War" at Indianapolis Hebrew Congregation, April 18, 2007
"...interactive, more entertaining and more 'relevant'..."
"As museums and educational institutions scramble to make their offerings more interactive, more entertaining and more 'relevant', Hoosier History Live seems to have mastered that formula."
- Glynis Worley, rural Bartholomew County listener
Podcast Listening 101: The Basics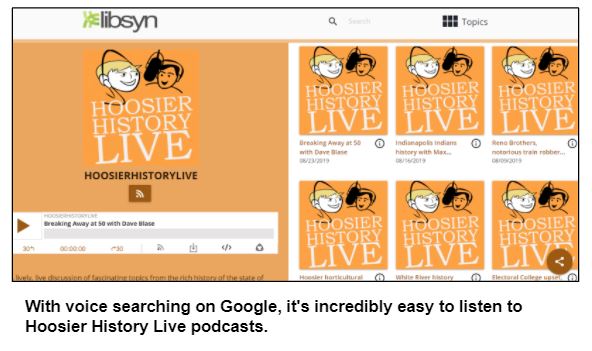 We still broadcast live every Saturday on WICR 88.7, but more and more of our listeners are getting their Hoosier History Live shows by podcast, and it's easier than ever!

It's really this simple: If you have a smartphone, go to the Google search engine, click on the microphone button, and say "Hoosier History Live podcasts." Or if you don't use the microphone, type in the words "Hoosier History Live podcasts" at the Google search bar.You'll immediately get a list of recent shows to choose from. Click on one of them and let the listening begin!

If you have a preferred podcast provider like Apple Podcasts or Stitcher, you can use their search function to call up Hoosier History Live as well. When you see our yellow Hoosier History Live logo, just click on the episode you want to listen to.

And don't forget to share! You can post links to our podcast on your social media page or send them by email or text.